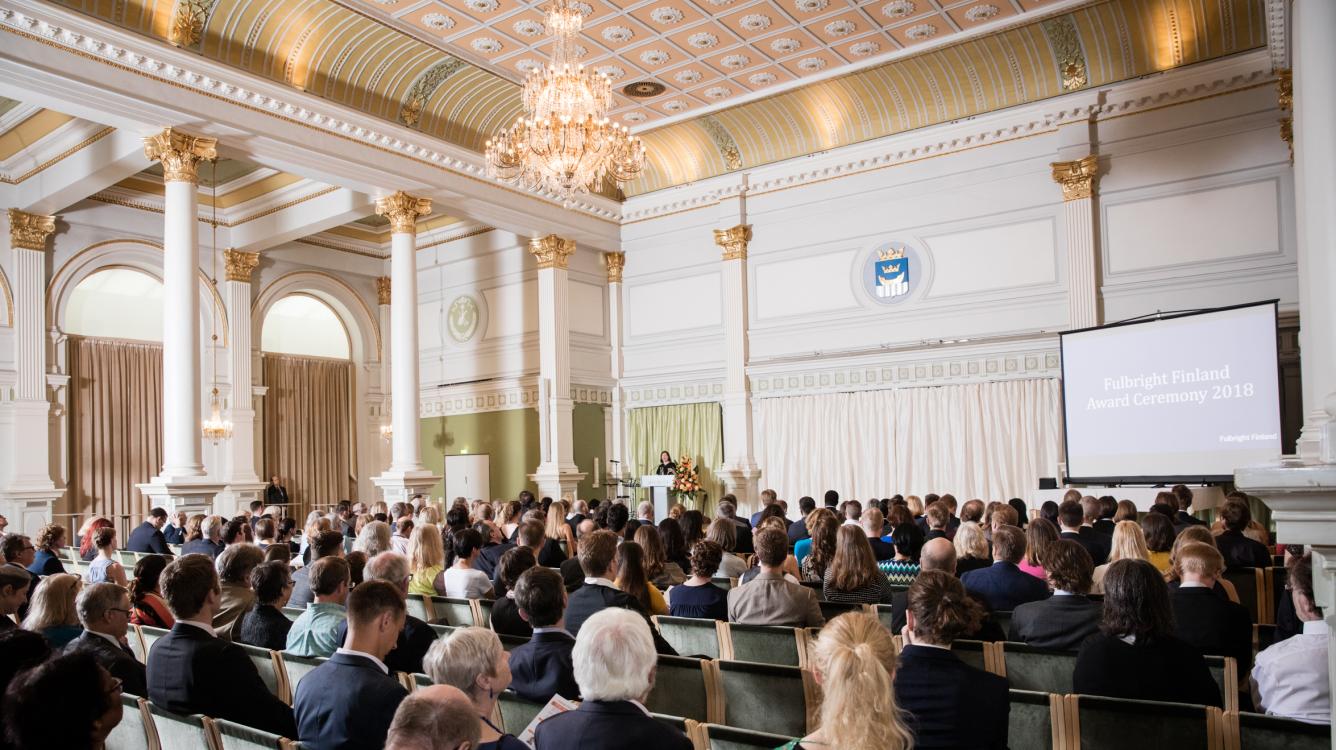 The Fulbright Finland Foundation awardees to the United States for the next academic year will receive their grants at the Fulbright Finland Award Ceremony at the Helsinki City Hall on May 14. The event is hosted jointly by the Ministry for Foreign Affairs of Finland and the City of Helsinki.
Altogether nearly 50 scholars, teachers, students and professionals will be going to the United States on a Fulbright Finland grant next year to study, lecture, or for research or professional projects. 43 of them will receive their grants at the Fulbright Finland Award Ceremony at the City Hall. This year the event celebrates also the 70th anniversary year of the ASLA-Fulbright Program and 100th anniversary year of the Finnish-U.S. diplomatic relations.
The awards are made possible by support from the Finnish and U.S. governments, the Finland-America Educational Trust Fund, Fulbright Finland Foundation's partners from the higher education and private sector both in Finland and the United States, as well as individual donors. The 2019-2020 awards to the United States are supported by U.S. Department of State, KAUTE Foundation, University of Turku, University of Eastern Finland, University of Helsinki, Aalto University, Hanken School of Economics, Technology Industries of Finland Centennial Foundation, University of Colorado Denver, and University of South Florida.
This year the Foundation is pleased to announce its first Fulbright Finland Travel Grants for Institutional Partnership Building and the Fulbright Finland Partnership Award with University of South Florida.
The Fulbright Finland Foundation is an independent not-for-profit organization based in Helsinki, Finland. Its purpose is to promote a wider exchange of knowledge and professional talents through educational contacts between Finland and the United States. The Foundation collaborates with a range of government, foundation, university and corporate partners on both sides of the Atlantic to design and manage study and research scholarships, leadership development programs and internationalization services.
In total, Fulbright Finland Foundation expects to award over 90 grants for Finns and Americans for 2019-2020.
Additional information:
Fulbright Finland Foundation, www.fulbright.fi, tel. 044 5535 286
Chief Executive Officer Terhi Mölsä tel. 050 570 5498