Mid-Career Professional Development Grant
The Mid-Career Professional Development Grant program (MCPD) is intended for professionals and specialists in various fields.
Purpose of the Grant
The aim of the grant is to allow professionals in various fields to take a sabbatical leave of four to five months from normal work duties to pursue further education or training that would enhance their professional development and the field at large. The applicants should be at a point in their careers when maximum benefit will ensue from this period of professional enrichment. The focus of the grant cannot be aimed at academic research or lecturing projects.

The applicant should create a project that may include studies, practical experience in actual operations, visits to organizations in the applicant's professional field, public lectures or other appropriate professional experiences. The applicant's project plan should include a concrete description of the planned activities during the grant period as well as the expected benefits for completing the project for the applicant and their professional field.

Please note that the MCPD awards, which are unique to Finland, use the Fulbright U.S. Scholar application form. However, the MCPD award is not meant for academic research.
Benefits
The Mid-Career Professional Development Grant program is available for visits of 4–5 months. It includes:
Monthly grant of 2,700 EUR  (approx. 3,000 USD*), paid out in euro in monthly installments.
One-time travel allowance of 1,800 USD.
Residence permit allowance based on the actual permit fees (incl. grantee and accompanying family members)
Orientation and support services provided by the Fulbright Finland Foundation in Helsinki. For example, the Foundation will arrange a four-day arrival orientation in Helsinki for all U.S. Fulbright grantees at the end of August each year (orientation is also arranged in January for grantees arriving for the spring semester).
Fulbright Finland Foundation mid-year activities and networking opportunities (such as the American Voices Seminar at the University of Turku) each year.
* amounts in USD are subject to change due to currency fluctuations.
Housing benefits are not available for the Mid-Career Professional Development Program participants who should arrange and pay for their own housing.
Eligibility
The grant is meant for professionals in all fields. The program is meant for mid-career professionals with a minimum of seven years of experience. Emphasis is on professional qualifications and expertise. A university degree is not required.
Applicants must arrange affiliation and include a letter of invitation to their application. The invitation should conform to the project and dates of visit and state facilities offered.
The candidate must be a U.S. citizen. Proposals for medical research involving clinical training, patient care or patient contact are not eligible. Please contact the Fulbright Finland Foundation if you have any questions about the eligibility of your project.
U.S. Scholar Program eligibility guidelines and review criteria are published on the Fulbright Scholar Program website.
In Finland, the applications are evaluated according to the evaluation criteria set by the Fulbright Finland Foundation Board.
Applicants residing in Finland are not eligible for a Fulbright grant.
Host Institution
Applicants must arrange affiliation and include a letter of invitation from the host institution in Finland. Possible affiliations include government organizations, universities, museums, art institutions, nonprofits and private businesses, among others.
How to Apply?
The application period for the academic year 2024-25 is now open. Apply by September 15, 2023!
The U.S. program partner in the Fulbright Scholar Program is the Institute of International Education IIE. Applications are submitted through IIE and forwarded to discipline-based peer review committees in the United States. Applications that pass this initial peer review in the United States are forwarded to the Fulbright Finland Foundation in Helsinki to be reviewed by the Fulbright Finland Foundation's review committees. The Fulbright Finland Foundation makes the funding decisions and final selections of grantees.
Additional information and detailed application instructions are available from the Fulbright Finland Foundation and Fulbright Scholar Program websites.
Resources for Hosts:
Timeline
|   |   |
| --- | --- |
| Application period starts: | February 1, 2023 |
| Application period ends: | September 15, 2023 |
| Earliest possible starting date: | August 2024 |
| Orientation seminar in Helsinki: | TBC (expected in mid-August 2024 and mid-January 2025) |
Alumni Experiences
Sylvia Gale, 2022-23 Mid-Career Professional Development Awardee
From U.S. Coast Guard to World's Capital of Icebreaking
William Woityra, 2017-18

Mid-Career Professional Development Awardee
Mid-Career Professional Development Program Grantees in Finland:
2022-2023
Gale, Sylvia
Civic Engagement
From 'Volunteer' to 'Peer': Learning From a Finnish Model for Community Empowerment
University of Richmond, VA
Deaconess Foundation, Helsinki; Tampere University of Applied Sciences
5 months, beginning January 2023
2021-2022
Benson, Erika
Public Health
A Comparison of Nordic and U.S. Sex Education Towards Reduction of Teen Pregnancy
La Familia Medical Center, NM
The Family Federation of Finland, Helsinki
4 months, beginning August 2021
Carter, Peter
Urban Planning
Evolving Mobility and Its Implications for Urban Plans
Los Angeles County Metropolitan Transportation Authority, CA
Finnish Transport and Communications Agency, Helsinki
5 months, beginning January 2022
Johnson, Kent
Engineering
An Investigation of Finnish Hiking Trail Designs and Cross-Sector Partnerships That Support Outdoor Recreation for People With Disabilities
City of Ithaca, NY
Metsähallitus, Vantaa
4 months, beginning August 2021
2019-2020
Alicia Fedewa
School Psychology
Th Intersection of Physical Activity and Education: Optimizing Global Learning Through a Finnish Blueprint
University of Kentucky, KY
University of Jyväskylä
4 months, beginning January 2020
2018-2019
Benjamin Filene
Public History and Museum Studies
Museums, Public Memory, and Civic Life
North Carolina Museum of History, Raleigh, NC
University of Helsinki
4,5 months, beginning January 2019
2017-2018
Woityra, William
Transportation
A Study of Icebreaking Infrastructure and Management as They Relate to Arctic Maritime Safety
U.S. Coast Guard, DC
Finnish Transport Agency, Helsinki
4 months, beginning January 2018
2016-2017
Beeferman, Leah
Art
Project: Non-Measureable Objects
Independent Artist
Titanik Gallery; University of the Arts Helsinki, Academy of Fine Arts; and Sorbus Gallery
8 months, beginning October 2016
2015-2016
Doyle, William
Business
Project: Global Education Forum: The Schools of Tomorrow
New York Public Library, NY
University of Eastern Finland, Joensuu
5 months, beginning August 2015
2013-2014
Hoddie, Matthew
International Relations
Project: Designed for Democracy: Power Sharing and Democracy in Post-Civil War States
Towson University , Towson, MD
The Finnish Institute of International Affairs
4 months, beginning February 2014
Mikulec, Erin
Education
Project: An immersion experience in Finnish secondary teacher education
Illinois State University, Normal, IL
University of Helsinki
5 months, beginning January 2014
2012-2013
Kadish, Lesley
Anthropology
Project: Evaluating the Impact of Design and Geospatial Technologies on History Museum Audiences
Minnesota Historical Society
WeeGee Exhibition Center
5 months, beginning September 2012. Received an extension grant from February until May 2013
2011-2012
Helling, John
Library and Information Science
Project: Finnish National Library Policy as Model for Best Practices in the United States
Bloomfield Public Library
Helsinki City Library
5 months, fall semester
Lindquist, Thea
Library and Information Science
Project: Digital Historical Collections, Geospatial-Temporal Approaches and the Semantic Web
University of Colorado, Boulder
Aalto University
4 months, fall semester
What is the Fulbright Finland Foundation?
The Fulbright Finland Foundation is a private, independent, not-for-profit organization based in Helsinki, Finland. The Foundation's aim is
to promote a wider exchange of knowledge and professional talents through educational contacts between Finland and the United States, and

to support the internationalization of education and research in Finland, and help U.S. and Finnish institutions create linkages.
What Makes the Fulbright Finland Foundation Program Unique?
In addition to the grant, the Fulbright Finland Foundation offers the grantees several additional benefits and free support services, as well as an access to a global, multi-professional network.

We are looking for applicants who want to impact the future and to make a difference – applicants who want to facilitate positive change, develop and advance their own profession or discipline, and find solutions to national and international challenges in their field.
The grantees also act as ambassadors for the Fulbright Finland Foundation, their home country, and their home organization and, in this way, do their part in sharing their home country and culture and contributing to the relations between Finland and the U.S.

Mid-Career Professional Development Grant program is part of the global Fulbright program operating in over 160 countries worldwide.
Questions?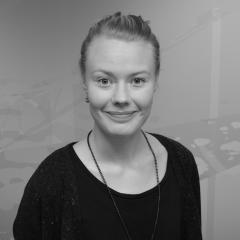 Emmi Jelekäinen
Program Manager, Scholar Programs (part-time)