Tutkimus ja opiskelu USA:ssa
Online-neuvontasivut
Näille sivuille olemme keränneet perustietoa korkeakoulutuksesta Yhdysvalloissa. Sivuilta löydät tietoa muun muassa Yhdysvaltain korkeakoulujärjestelmästä, opiskelupaikan hausta ja opintojen rahoituksesta. Tutustuthan sivuihin huolella ja ajan kanssa. Tarkemmissa kysymyksissä voit olla meihin yhteydessä.
Osallistu neuvonta-webinaareihin
EducationUSA -sivuilta löydät tietoa tulevista eri maiden EducationUSA -keskusten järjestämistä webinaareista, jotka käsittelevät opiskelua Yhdysvalloissa. Tutustu tuleviin webinaareihin.
Study in the U.S. - infosessio (20.10.2020)
Fulbright Suomi -säätiö tarjoamat mahdollisuudet
Opiskelu Vaderbiltin -yliopistossa ja stipendimahdollisuudet suomalaisille
Yhteystiedot
Kandidaattitason opinnot:
Emilia Holopainen
p. 044 703 5284
Maisteri- ja tohtoritason opinnot ja tutkimus:
Karoliina Kokko
p. 044 5535 268
Post-doc-tutkijavierailut:
Emmi Jelekäinen
p. 044 5535 275
Kaikki Fulbright Suomi -säätiön yhteystiedot
Fulbright Suomi -säätiön tapahtumat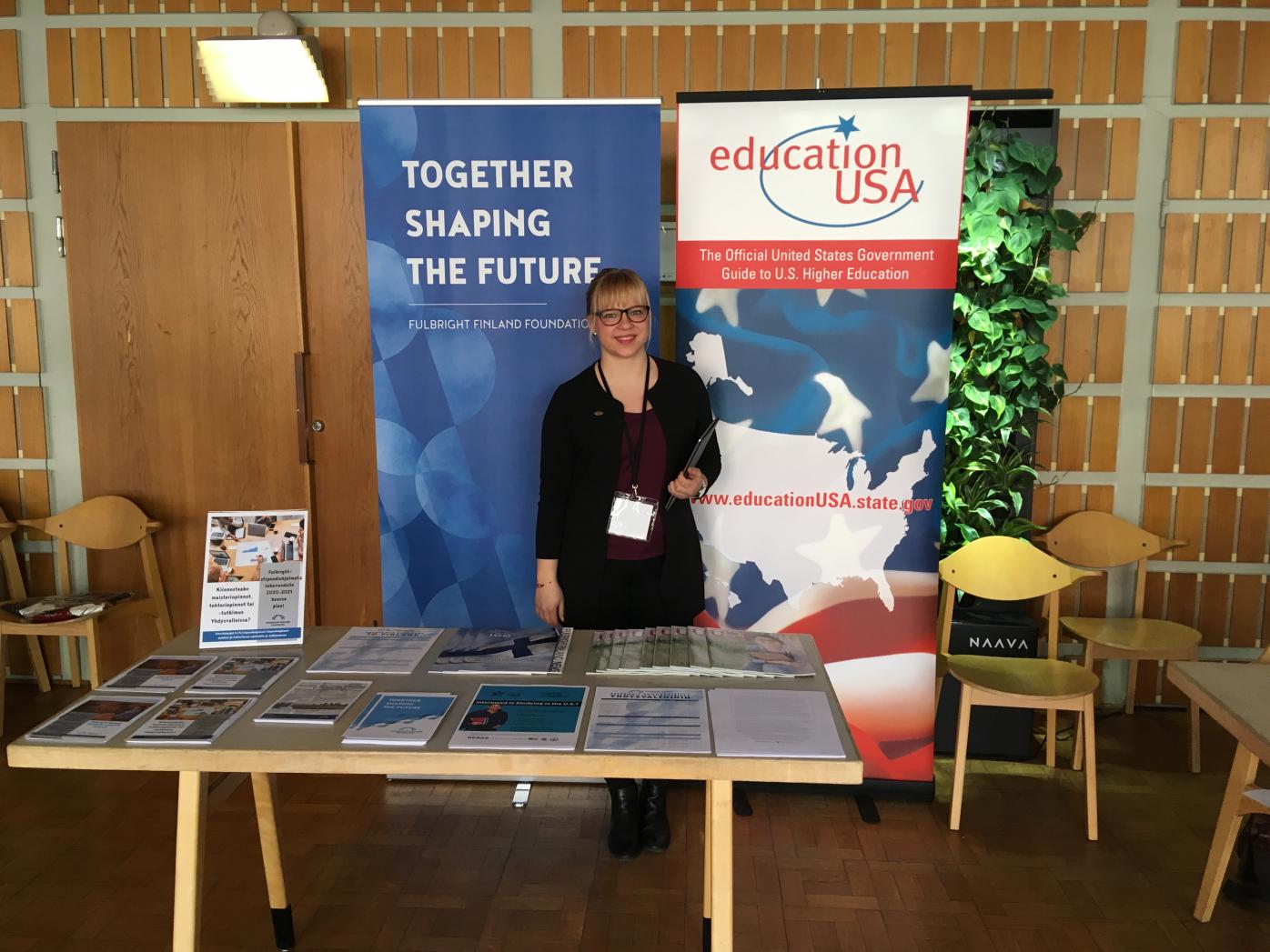 Tule keskustelemaan neuvojiemme kanssa infotilaisuuksiin. Järjestämme vuosittain muutamia opiskelua Yhdysvalloissa ja Fulbright Suomi -säätiön stipendiohjelmia koskevia infotapahtumia ja osallistumme erilaisiin neuvontatapahtumiin eri puolilla Suomea. Seuraa meitä myös sosiaalisessa mediassa, minkä avulla saat aina ajankohtaisimmat neuvonta- ja tapahtumatietomme.
Työharjoittelu Yhdysvalloissa
Työharjoitteluun liittyvissä kysymyksissä lisätietoa löytyy Opetushallituksen ylläpitämiltä Maailmalle.net -verkkosivuilta.
EducationUSA-verkosto
Fulbright Suomi -säätiö on osa maailmanlaajuista EducationUSA-neuvontaverkostoa.
EducationUSA-verkkosivustolta löydät paljon tietoa opiskelusta Yhdysvalloissa englanniksi.
Verkosto järjestää mm. verkkoneuvontasessioita, joihin osallistuu asiantuntijoita yhdysvaltalaisista yliopistoista. Aiheina voi olla esimerkiksi perustutkintoon haku, opintojen rahoitus tai tietoa eri aloista.
The Fulbright Finland Foundation provides accurate, unbiased information about all accredited U.S. higher education institutions.