Blog
Combining College Tennis and Undergraduate Studies at Northwestern University
College sports in the U.S. provide an excellent opportunity to continue playing at a high level while simultaneously pursuing undergraduate studies.
As high school graduation gets closer, athletes often face difficult choices pondering what role their sport will play in their next chapter. Can I pursue demanding university studies while also continuing my sport at a high level, or do I need to choose one? I realized that I didn't want to give up either and the opportunity to play Division 1 College Tennis at Northwestern seemed like a great way to combine tennis with university studies.
Role of athletics in U.S. colleges
In the U.S., college sports are an important part of university life. Athletes represent their university and compete as a team in regional conferences and nationwide competitions. Different sports have their main season either in the fall or in the spring, and for tennis we are in season from January through May.
During our season, on most weekends we are either traveling to play at another university or hosting a match at home. So far, I've gotten to travel to North Carolina, Georgia, Michigan, and Alabama. As an international student, the opportunity to see so many different places around the U.S. is one aspect I really enjoy about college tennis.
Tennis as a team sport
Coming from an individual sport to playing on a team of eleven players has been another great new experience. Every player is working hard at practice to help each other and our team get better, and whether it is a tough practice day or game day, you can always trust that your teammates will be there to support you. Not only has this helped me immensely athletically, but having an automatic support system after moving thousands of kilometers away from home has made the transition much easier.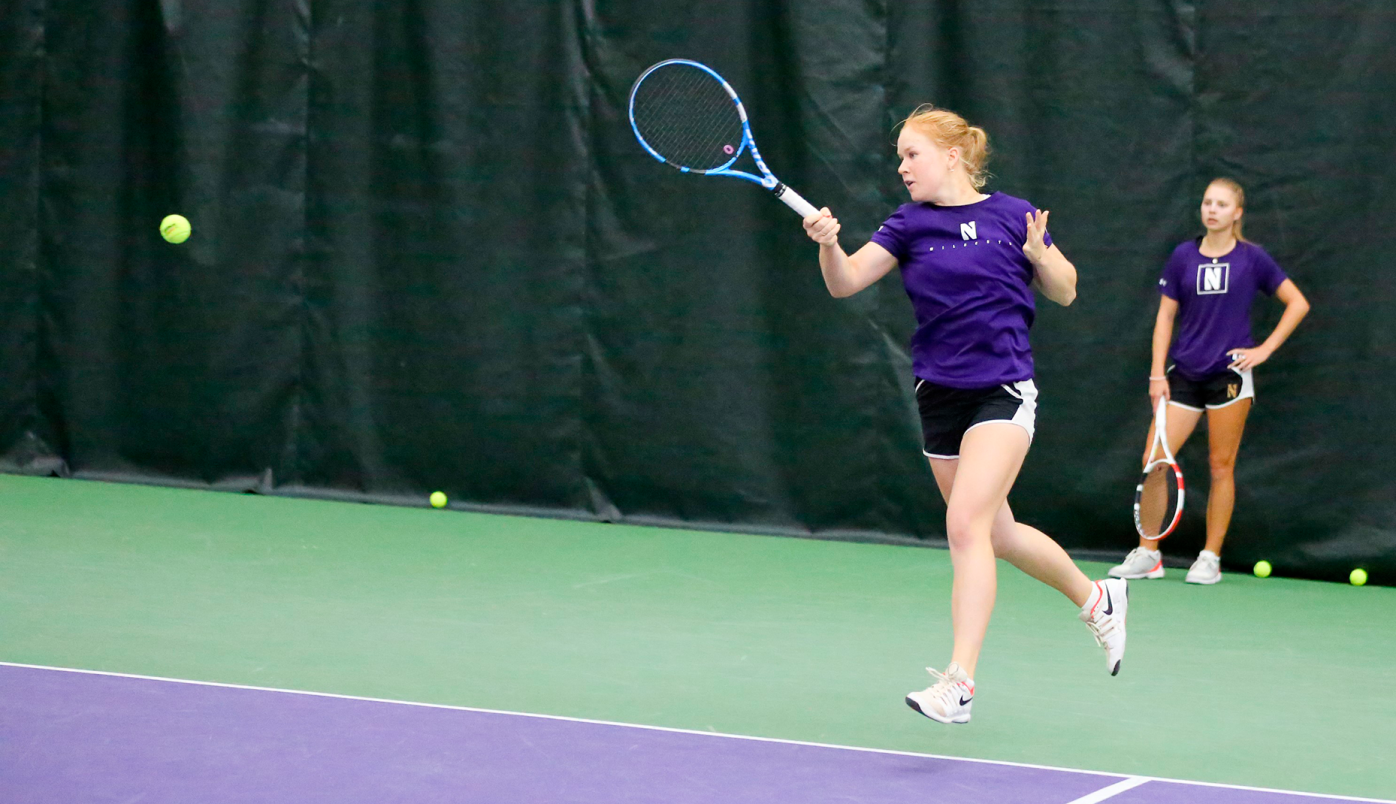 Balancing D1 sports with studies can still be very demanding and often the days start in the gym at 7.30 am and end in the library late at night. I was a little uncertain about how feasible it would be to combine tennis and engineering, but so far it has worked out well and with good time management it is definitely possible to study any major that you are interested in, even as an athlete.
The school is also extremely supportive in providing numerous academic resources, ranging from athletic advisors and tutors to career programs and mentors.
Learning outside of tennis and classes
While it can sometimes be hard to find the time for pursuits outside of school and tennis, all of the student organizations and research opportunities are also a significant part of college life in the U.S.
This quarter I got the opportunity to start a research project with two other students within the TREE lab, which studies the sociopolitical and ethical implications of new technologies. Our project focuses specifically on the environmental effects of technologies and their implications on local communities. It has been very interesting to learn more about climate change and environmental issues through this project and it has shown me how valuable it is to explore more opportunities to learn outside of classes.
Invaluable lessons
My first six months at Northwestern have been extremely valuable athletically, academically, and in terms of personal growth. I'm beyond grateful and excited for the opportunity to spend my undergraduate years here and would like to thank the Fulbright Finland Foundation for their continuous support in this process of moving to study in the U.S. and for all of their work in making these experiences possible!
Apply for the Fulbright Finland Undergraduate Grant by April 4, 2022!