Blog
Culture Shock - A Laundry Experience
I have experienced it all, or at least that is what I thought heading to Finland for my Fulbright experience. I had traveled pretty widely from the Tibet region of China, to the interior of Brazil near the Amazon and throughout Europe. I was pretty confident in my abilities to navigate the globe, adjust to new settings, meet people and make friends. Culture shock was a concept that had grown foreign to me. I never thought a tiny sink faucet diverter valve would do me in...
Heading to Finland during the pandemic was no easy task for myself or any Fulbrighter this year. First, I had to navigate traveling to a consulate in the U.S., that was actually open, to obtain a Finnish residence permit. Chicago was closed, New York was not open due to the travel restrictions in the State of New York, but luckily, I was able to get an appointment in Los Angeles with the aid of staff at the Fulbright Finland Foundation. Thank you so much! However, the appointment turned out to be the day the State of California and the city of Los Angeles instituted their own travel restrictions. The interview went well and I made it home just in time. Then I had to conquer my foreign travel clearances with the U.S. Departments of Veterans' Affairs and State and stay ahead of flight cancellations and quarantine timing.  
 
I stayed composed, handled those challenges and thought my difficulties were behind me when I left for Kuopio. My first week went by without incident and I thought my honeymoon stage was going to last throughout my one-month visit. 
That all changed when I tried to do my first load of laundry in Finland.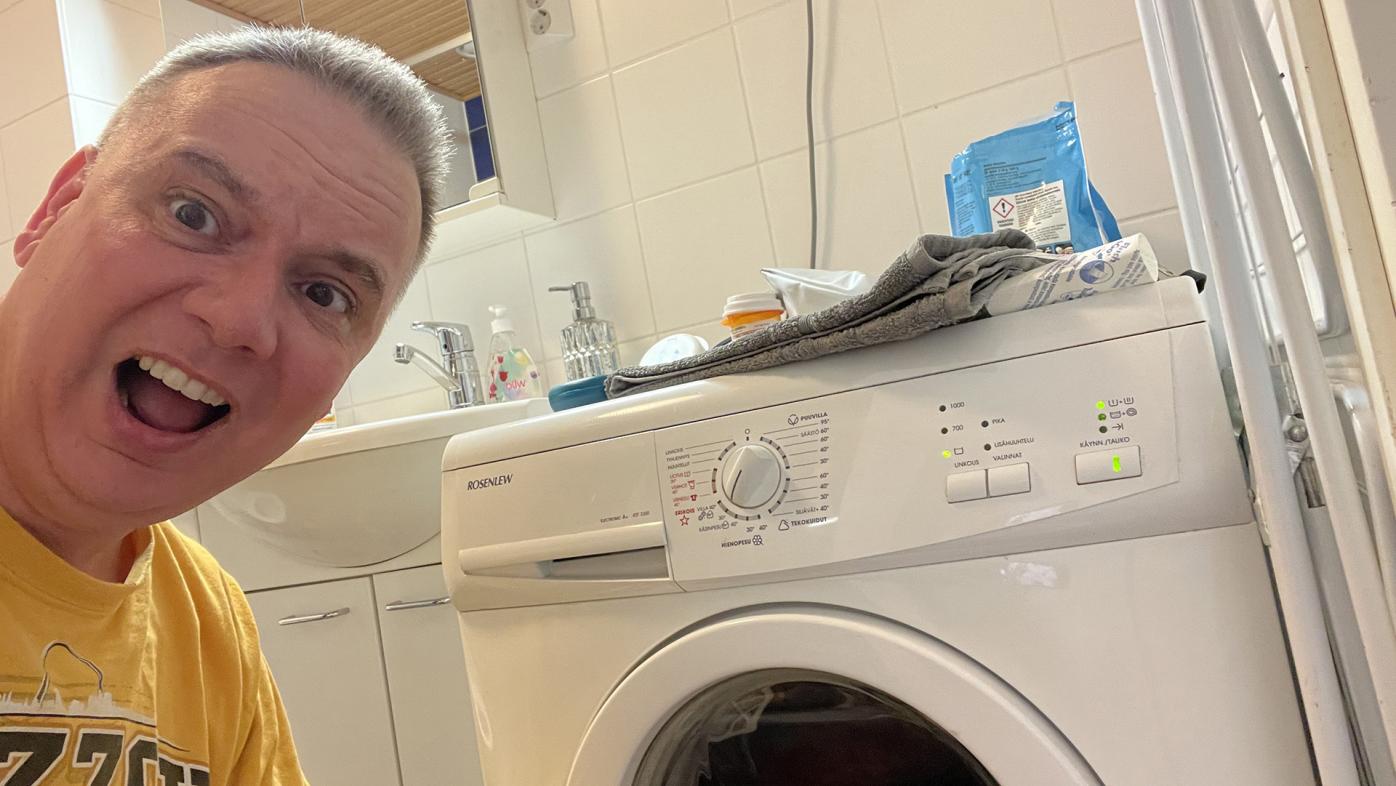 After approximately 8 hours and at 3 am I finally got my load of laundry out and ready to dry. I had entered very quickly into the frustration stage... the adjustment stage couldn't come soon enough.
 
Before starting my laundry, like any good traveler, I used Google search to find the manual and a Finnish translator app to translate it. As instructed, I loaded my clothes into the machine, got the right settings, pushed the right buttons and... nothing. The machine buzzed at me for a while. Confusion. I went back to the manual which was completely in Finnish with no English option. While Google search is good, the translation isn't always optimal and all I could discern was to ensure the water source was open.
So, I examined the lines going to the sink and the diverter valve on the sink faucet. I then figured out the issue – you must turn the valve open to the washing machine! Water poured in and the cycle started. Success, right? Not yet. When the load finished the door would not open because the water wouldn't completely drain! Confusion, frustration set in.
 
After almost 2 hours of trying to interpret the troubleshooting section of the manual I figured out I hadn't completely opened the valve and I had to repeat the load and/or run the cycle with a different spin cycle. Three additional cycles later and at 3 am the machine buzzed at me that I could finally get my clothes out. Frustration turned into relief.  
"I learned a lot about paying attention to the smaller details that highlight our cultural differences."
Over the following weeks I adjusted well and enjoyed my time with my host and colleagues. I thoroughly enjoyed learning about the Finnish culture (and mastering the art of washing my clothes in Finland).
 
I am pretty sure I violated every silent clause in my apartment contract that evening. However, I learned a lot about paying attention to the smaller details that highlight our cultural differences. It isn't always about the language, food, or travel, sometimes it can be something as simple as a diverter valve on a sink faucet. I hope others learn from this and make sure that the valve to your dishwasher or washing machine is wide open BEFORE you start!