Blog
Why We Need Data Visualization in Children's Picture Books, Too
Picture books, alongside graphic novels and comics, are the most visual form of literature. In picture books the story is told through visual and verbal narrative. Adults often have forgotten the proper way to read them: they focus on the text and consider illustrations decorative. Data visualizations tell their story with the visuality, text is usually only one of the components.
My Fulbright project "Data Visualization in Children's Nonfiction Picture Books" is a combination of the two main fields of my career. 
During my three visits to the Bologna International Children's Book Fair in 2017-2019 I found nonfiction picture books to be my niche, and ever since I had been searching for possibilities to explore them in a deeper way. Based on my experiences in Bologna, the top country to go do that deeper work would not have been the United States. "Your illustration style is very European," several American editors had told me at the Book Fair. My reference books were from Italy and France. 
I had been noticing something interesting, though: the kinds of nonfiction picture books the Americans did, were with far more variety than I had seen anywhere else.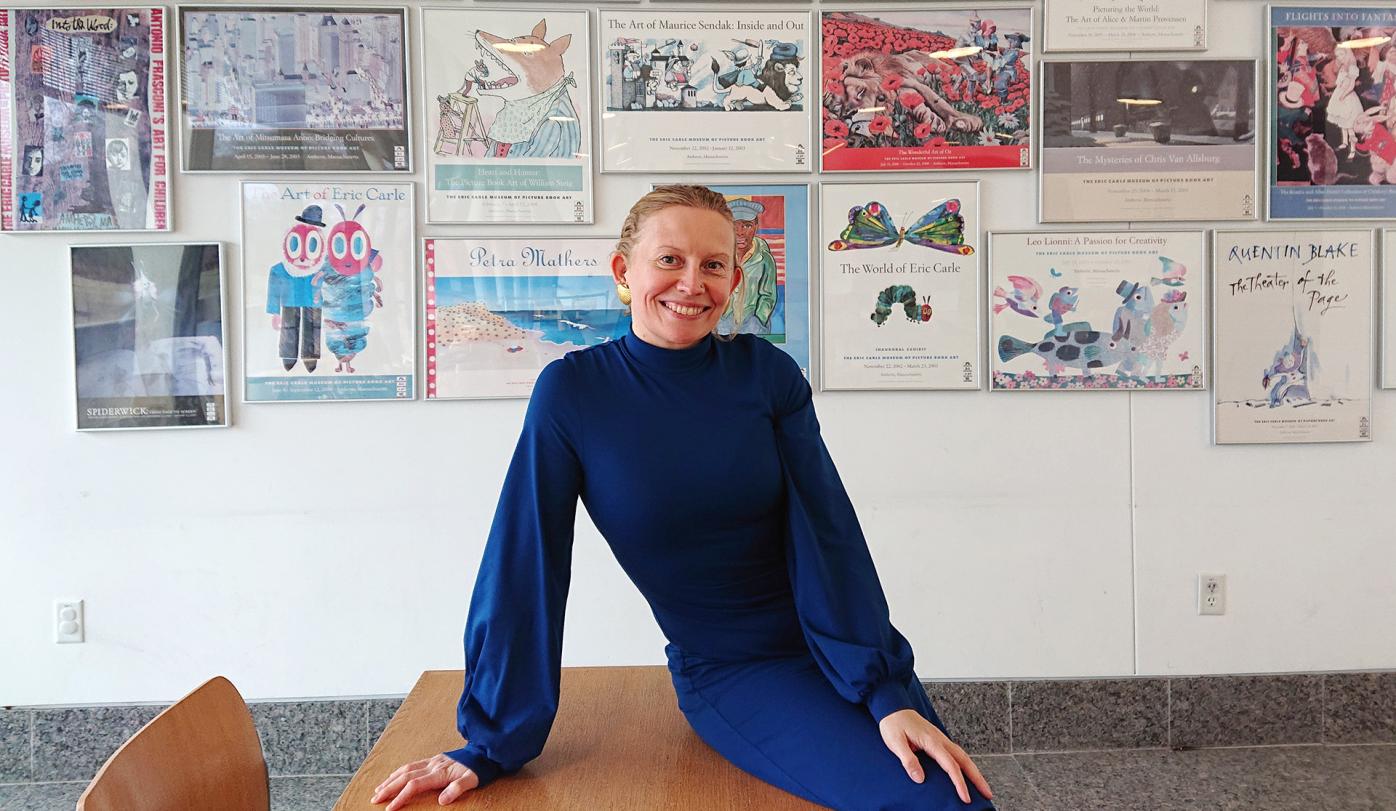 Would my project have happened without the pandemic?
2020 brought data visualization to the core of decision-making worldwide. I witnessed a lot of charts and graphs I found hard to understand. Even though I can work my way through them, the feeling it leaves you with is frustration and anger. 
The ones who are best equipped in reading and understanding different kinds of charts and graphs are the ones with good education and a job where they work with them on a daily basis. It's not an innate skill. 
I put together the grant application for the ASLA-Fulbright Mid-Career Professional Development program in the fall of 2020 - in the middle of the rising curves of the pandemic's second wave and the nerve-tearing following of the U.S. presidential election maps of blue and red. 
Picture books of all kinds 
Simmons University in Boston, MA, and the Center for the Study of Children's Literature collaborating with the Eric Carle Museum of Picture Book Art in Amherst, MA, felt like the perfect host organization for my project. 
That it has been. The Center with the lead of Cathryn Mercier has welcomed me more than warmly. The way teachers and students talk about children's books is passionate, rigorous, invigorating. "We take these books very seriously," told Shelley Isaacson, an alum of the M.A./M.F.A. programs, who teaches The Picturebook course in the spring semester 2022.
The kinds of nonfiction picture books I have seen here in the U.S. have definitely been with far more variety than I have ever encountered. I have met their makers, interviewed experts and publishers. I have looked into scholarly and historical work on picture books in America. 
And of course I have gotten to behold picture books of all kinds and gained surprising amounts of information on bees, sharks, wildfires and agents of the civil rights movement. 
I didn't know of a small bowerbird that builds elaborate structures from all kinds of materials they find near their habitats – just like Susan L. Roth with her collage illustrated books (Birds of a Feather 2019). 
I didn't know of Minidoka, a Japanese incarceration camp in Idaho during World War II, before I read a beautiful warm-toned nonfiction picture book set there (Love in the Library by Maggie Tokuda-Hall, illustration by Yas Imamura 2022). I haven't seen the Grand Canyon but beholding Jason Chin's nonfiction picture book – and the magnificent double gatefold illustration – (2017) made me feel like I kind of did. 
There are a lot of reasons to take these books seriously.
Can a picture book be a data visualization?
"Data visualization is much more than charts and graphs, but charts and graphs are crucial to understand in the world of today."
Nonfiction picture books are already full of creative clever ways of presenting data, only it feels the book makers might be a little shy to use the same approach on numerical data. 
Data visualization is much more than charts and graphs, but charts and graphs are crucial to understand in the world of today. When you are familiar with them you are prepared to behold more difficult ones. And perhaps better prepared to understand the wicked problems of the world of today and tomorrow.
To wonder at the different kinds of nonfiction in a country with a population 60 times bigger than your own is a unique experience. It certainly gives you more material to continue building your own elaborate structures.