Alumni Open Mic 2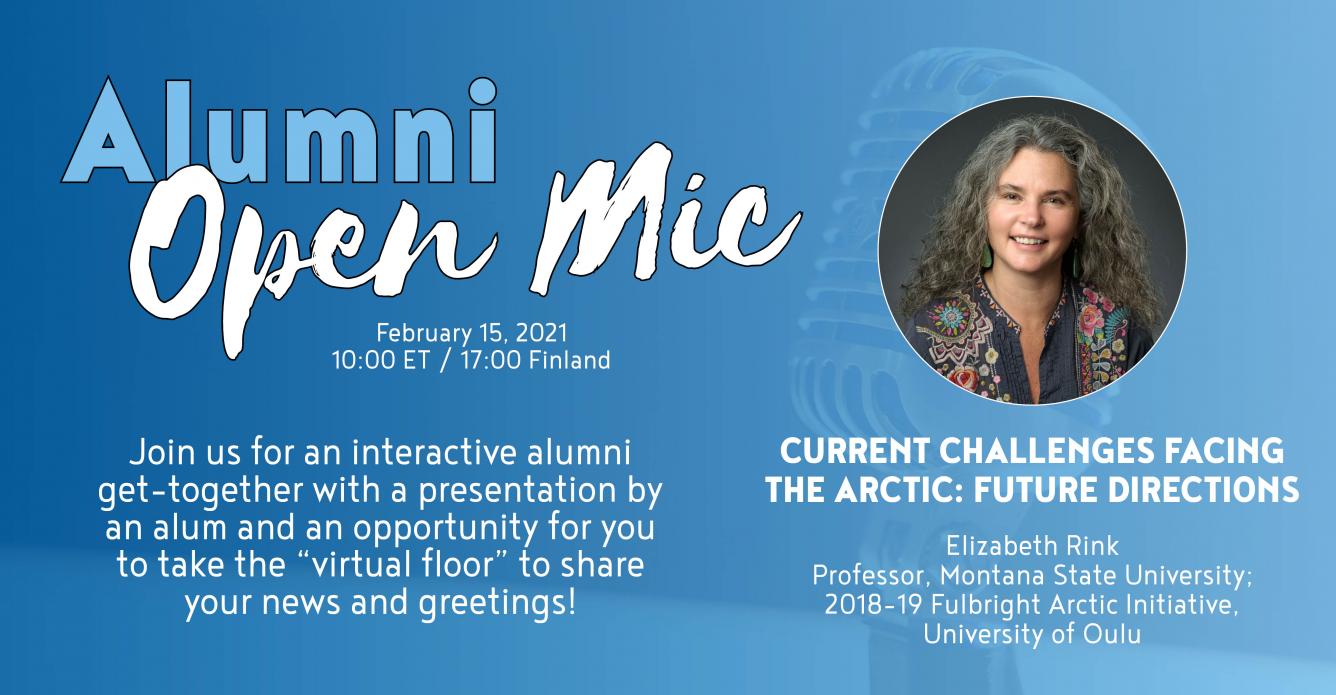 This event is by invitation only.
10:00 am ET / 9:00 am CT / 8:00 am MT / 7:00 am PT / 5:00 pm Finland 
Time for another alumni open mic! Join us, as we bring together the Fulbright Finland alumni community, from both the U.S. and Finland, for an inspiring event. Engage with an alumni expert speaker and then share your own news, greetings, and thoughts during the open mic.
The next speaker is Elizabeth Rink, 2018-19 Fulbright Arctic Initiative scholar and one of the two co-lead scholars of the current, third round of the Fulbright Arctic Initiative (2021-22). In her presentation she will talk about the biggest and most critical challenges the Arctic region is currently facing. The presentation is followed by Q&A. 
Read shortened version of Elizabeth's presentation on Fulbright Finland News magazine 1/2021: Future Directions in Arctic Research
We Want to Hear from You!
During the alumni open mic you will also have an opportunity to unmute yourself and let the Fulbright Finland community know what you have been up to. Share your latest news, look for new connections, or just say "hi" to everyone. The virtual floor is yours.
Registration is required, and space is limited!
Program:
(All times in ET)
9:50 Zoom Call Open
10:00-10:10 Welcome and Greetings from the Fulbright Finland Foundation
10:10-10:25 Presentation: Current Challenges Facing the Arctic: Future Directions
Elizabeth Rink, Professor, Montana State University; 2018-2019 Fulbright Arctic Initiative, University of Oulu
10:45-11:00 Alumni Open Mic - an Opportunity for You to Take the Floor
11:00-11:10 Brainstorming Activity: Share Your Ideas for the Next Alumni Open Mic Presentation Theme
11:10-11:15 Wrap-up
11:15 Event Ends