Alumni Open Mic 3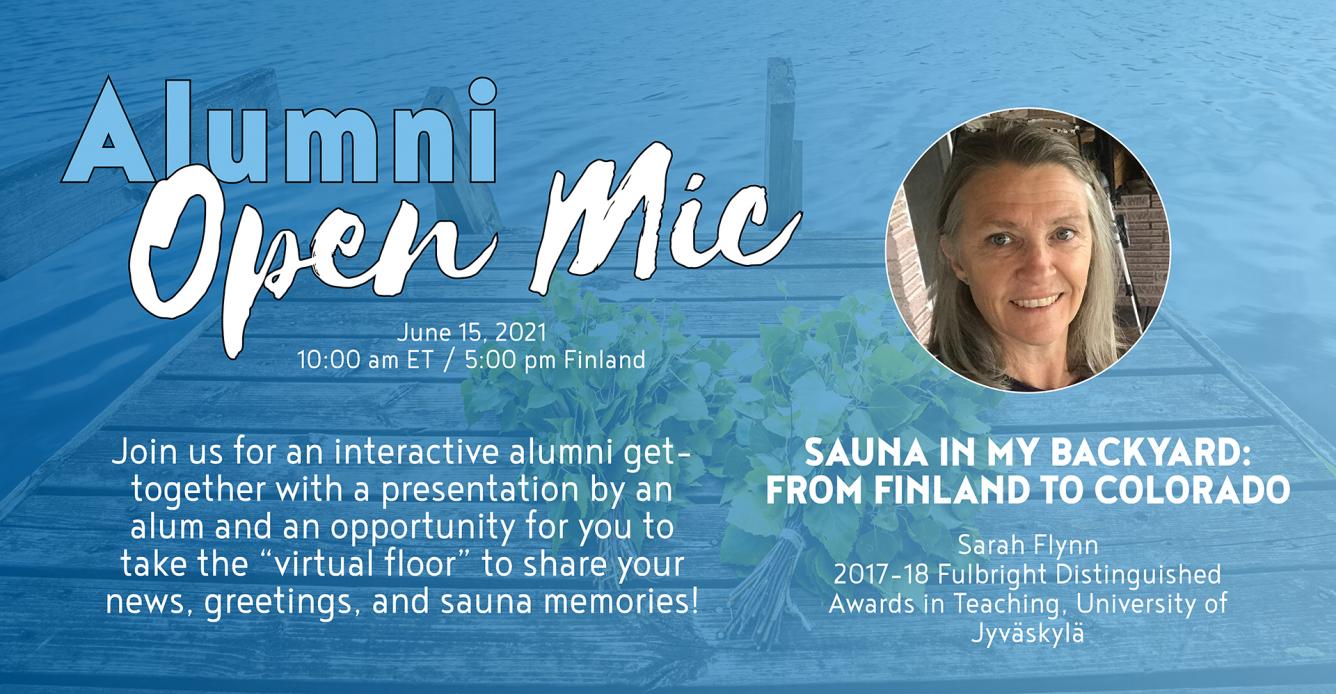 This event is by invitation only.
Tuesday, June 15, 2021 at 5:00 pm Finland / 10:00 am ET / 9:00 am CT / 8:00 am MT / 7:00 am PT 
As we prepare for the upcoming mid-summer and sauna season, we want to invite you to share your favorite sauna memories.
During this informal and casual alumni get-together, we will hear from Sarah Flynn, 2017-18 Fulbright Distinguished Award in Teaching grantee, who with her husband built a wood burning sauna in their backyard. Sarah is in the process of launching a small sauna spa business. Join us to hear more about Sarah's dream of bringing the authentic Finnish sauna to the Denver Metro area!
After the presentation, you will have an opportunity to share your memories, stories, and experiences about the Finnish sauna. Feel free to tell about your first encounter with a smoke sauna, show photos of your favorite sauna, or share tips on where to enjoy the best löyly - in Finland or in the U.S.!
Registration is required, and space is limited!
Program
(All times in ET)
9:55 Zoom Call Open
10:00-10:10 Welcome and Greetings from the Fulbright Finland Foundation
10:10-10:25 Presentation: Sauna in My Backyard: From Finland to Colorado
Sarah Flynn, Distinguished Awards in Teaching Grantee 2017-18, University of Jyväskylä
10:25-10:45 Discussion
10:45-11:00 Alumni Open Mic - an Opportunity for You to Take the Floor
11:00-11:10 Brainstorming Activity: Share Your Ideas for the Next Alumni Open Mic Presentation Theme
11:10-11:15 Wrap-up
11:15 Event Ends