Alumni Open Mic with Elizabeth Whitney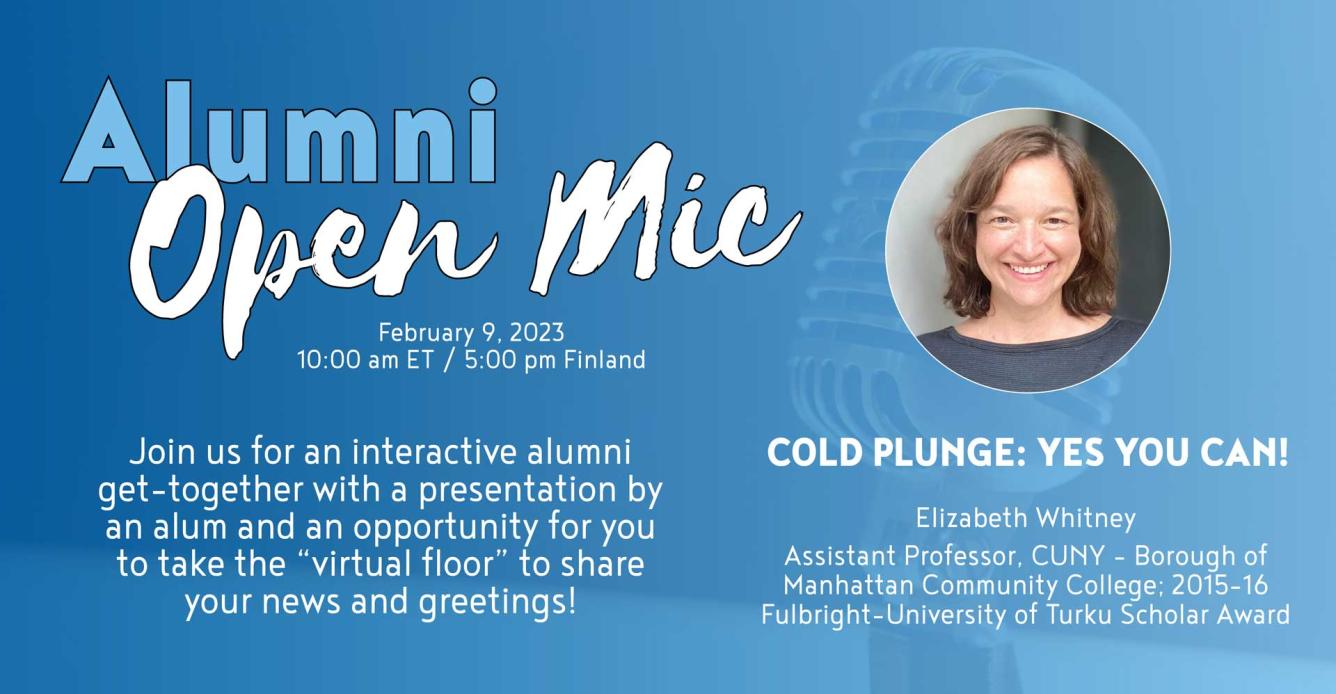 This event is by invitation only.
Thursday, February 9, 2023 at 5:00 pm Finland / 10:00 am ET / 9:00 am CT / 8:00 am MT / 7:00 am PT 
It's time for the first alumni open mic of the year!
If you've ever wanted to try cold water swimming or cold plunges but aren't sure about how to get started, join us for a practical chat about the basics. And, if you're already practicing then please share your enthusiasm during our open mic to motivate others! The Alumni Open Mic event brings together the Fulbright Finland alumni community, from both the U.S. and Finland. Engage with an alumni expert speaker and then share your own news, greetings, and thoughts during the open mic.
During this informal and casual alumni get-together, we will hear from Elizabeth Whitney, 2015-16 Fulbright-University of Turku Scholar Awardee, who is currently writing about ice swimming and happiness as a visiting researcher at University of Helsinki in Area & Cultural Studies.
We Want to Hear from You!
During the alumni open mic you will also have an opportunity to unmute yourself and let the Fulbright Finland community know what you have been up to. Share your latest news, look for new connections, or just say "hi" to everyone. The virtual floor is yours.
Registration is required, and space is limited!
Program
(All times in ET)
9:55 Zoom Call Open
10:00-10:10 Welcome and Greetings from the Fulbright Finland Foundation
10:10-10:25 Presentation: Cold Plunge: Yes You Can!
Elizabeth Whitney, 2015-16 Fulbright-University of Turku Scholar Awardee
10:25-10:45 Discussion
10:45-11:00 Alumni Open Mic - an Opportunity for You to Take the Floor
11:00-11:10 Brainstorming Activity: Share Your Ideas for the Next Alumni Open Mic Presentation Theme
11:10-11:15 Wrap-up
11:15 Event Ends