Fulbright Arctic Research in Action: International Collaboration to Address Shared Challenges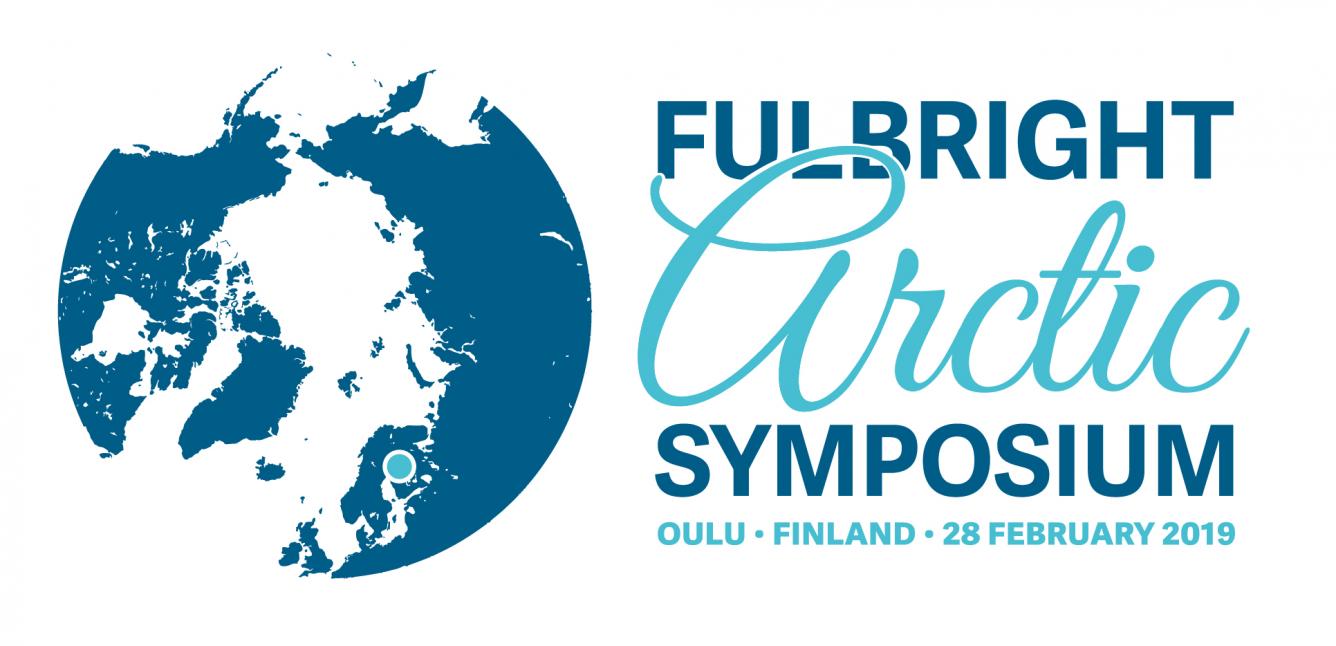 Fulbright Arctic Research in Action: International Collaboration to Address Shared Challenges
Saalastinsali, University of Oulu, at 13:00-16:30
The Arctic is facing profound social, economic, and environmental change and communities are increasingly confronted with critical policy challenges related to issues of health and wellness, Indigenous rights, energy resources, environmental protection, sustainability, infrastructure, education, and regional governance. The social and economic impacts of rapid environmental changes and globalization in the Arctic demand new research approaches and greater public participation. At this midterm meeting of the 2018-19 cohort of Fulbright Arctic Initiative scholars, we invite you to join in this dialogue and become partners to "Address Shared Challenges".
The Symposium is open to the public and free of charge. Join us for the whole symposium or pop in for the presentation of your choice!
Watch the recording of the Symposium below
Program
13:00 Opening Remarks
Jouko Niinimäki, Rector, University of Oulu; Vice Chair of UArctic Board of Governors
Terhi Mölsä, CEO, Fulbright Finland Foundation
13:15 Importance of International Collaborative Research
Arja Rautio, Professor, University of Oulu; Vice President of UArctic for Research 
13:45 The Life of the Arctic Scholar: How Innovative Research and Public Engagement Impact Policy
Michael Sfraga, Co-Lead Scholar, Fulbright Arctic Initiative; Director, Polar Initiative, Wilson Center; Co-Director, Institute for Arctic Policy, University of the Arctic
Ross A. Virginia, Co-Lead Scholar, Fulbright Arctic Initiative; Director, Institute of Arctic Studies, Myers Family Professor of Environmental Science, Dartmouth College
The Fulbright Arctic Initiative is a dynamic network of scholars, practitioners, and community members who engage in international scientific collaboration on pressing Arctic issues while increasing mutual understanding between peoples of the Arctic Nations.  We bring a multi-national collaborative research model to translate theory into practice where individual scholars and teams are addressing pressing public-policy research challenges on community resiliency and sustainability. We are proud to share the innovations of the Fulbright Arctic model and introduce the Fulbright scholars who are dedicated to creating and sharing knowledge to ensure a more sustainable future for all Arctic peoples.
14:00 Session 1: Exchanges Traversing the Arctic: Engines for Creative Research and Lasting Partnerships among Nations and Communities
The Fulbright programs have achieved 75 years of success in building international understanding through the exchange of scholars. Fulbright Arctic Initiative scholars spent up to 3 months at an institution outside their country to build collaborations, access new research facilities, and to share their culture. In this rapid-fire session, scholars will present the cutting-edge questions that drive their work and share why this research matters. Their reflections on the exchange visit experience will demonstrate how the investments from Fulbright foster new relationships that will have lasting impact on Arctic research and policy. 
Dr. Sean Guistini, Nunavut Arctic College, Canada
Nicole Kanayurak, North Slope Borough Alaska, United States
Dr. Josée Lavoie, University of Manitoba, Canada
Dr. Sanne Larsen, Aalborg University, Denmark
Dr. Elizabeth Rink, Montana State University, United States
Dr. Todd Sformo, North Slope Borough Alaska, United States
Dr. Svetlana Tulaeva, Russian Presidential Academy of National Economy and Public Administration, Russia
Dr. Lára Jóhannsdóttir, University of Iceland, Iceland
14:45-15:15 Coffee Break
15:15 Session 2: New Insights on Arctic Community Resilience and Sustainability from Interdisciplinary Fulbright Research Teams
The unprecedented rates of Arctic environmental change have global reach and present profound and urgent challenges for communities seeking ways to be resilient and create pathways to economic, social, and environmental sustainability. Each Fulbright Arctic Initiative scholar contributes to an interdisciplinary working group bringing their research and networks to leverage new solutions to complex problems facing communities and other Arctic stakeholders. These group presentations and panel discussion will highlight why resilience and sustainability are at the forefront of Arctic research topics. How might the Fulbright collaborative model lead to new knowledge to answer questions important to Arctic peoples?
Resilient Communities
Dr. Katie Cueva, University of Alaska Anchorage, United States
Dr. Gwen Healey, Quajigiartiit Health Research Center, Canada
Dr. Christina Larsen, University of Southern Denmark, Denmark
Jon Petter Stoor, Sámi Norwegian National Advisory Unit on Mental Health and Substance Abuse, Sweden
Sustainable Economies
Dr. Eleanor Bors, Oregon State University, United States
Dr. Elena Gladun, University of Tyumen, Russia
Dr. Daria Gritsenko, University of Helsinki, Finland
Dr. Soili Nysten-Haarala, University of Lapland, Finland
16:15 Next Steps for Growing and Supporting International Arctic Research Networks
Michael Sfraga, Co-Lead Scholar, Fulbright Arctic Initiative; Director, Polar Initiative, Wilson Center; Co-Director, Institute for Arctic Policy, University of the Arctic
Ross A. Virginia, Co-Lead Scholar, Fulbright Arctic Initiative; Director, Institute of Arctic Studies, Myers Family Professor of Environmental Science, Dartmouth College
16:30 Closing Words
Stephen Money, Deputy Director, Office of Academic Exchange Programs, U.S. Department of State
The Symposium is part of one-week plenary meeting of the 2018-2019 cohort of Fulbright Arctic Initiative fellows, see the