Fulbright Specialist Program Q&A Session for Aspiring Hosts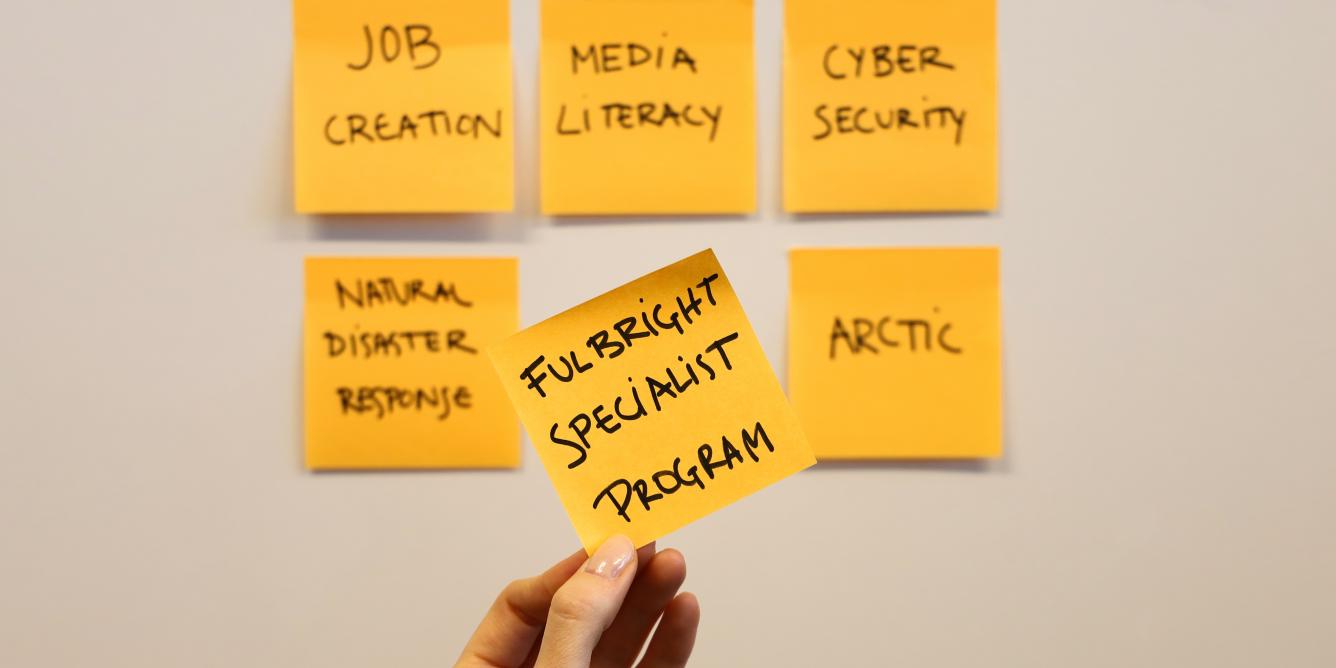 Time: Monday 22.11.2021 at 14:00-15:00
Is your institution interested in inviting a U.S. Specialist over to collaborate and share their expertise? Would you like to hear practical tips for submitting project proposals and hosting Fulbright Specialists?

The Fulbright Finland Foundation organized a Fulbright Specialist Program Q&A Session for those interested in hosting U.S. academics and professionals at their institution for a project from 2-6 weeks. The event will be recorded and the recording will be added to this website after the event. 
View the recording of the session:
Program: 
13:50  Zoom Call Open for Participants
14:00  Welcome & Introductions
14:05  Fulbright Finland Foundation and the Fulbright Specialist Program
14:15  Fulbright Specialist Project Highlights and Tips from the Hosts
Marina Wikman, Senior Lecturer & Faculty Coordinator for International Relations, Satakunta University of Applied Sciences

Marja Airaksinen, Professor, University of Helsinki
14:40  Q&A
15:00  Event Ends
Read more about the Fulbright Specialist Program! 
Speakers
PROFESSOR MARJA AIRAKSINEN, University of Helsinki
Dr. Marja Airaksinen is a professor of social pharmacy and head of Clinical Pharmacy Group at the Faculty of Pharmacy, University of Helsinki. She had her postdoctoral training at the United States Pharmacopeia USP in Maryland, USA. Since 2004, Dr. Airaksinen has led a researcher community on patient and medication safety at the UH. Her publication record consists of 112 publications indexed in PubMed. She has supervised 26 PhD students (completed degrees, several under way). The national key partners include e.g., Ministry of Social Affairs and Health, Finnish Medicines Agency, HUS Pharmacy and professional associations, internationally University of Baltimore, University of Maryland, The Johns Hopkins Hospital/University and University of Florida. Recent funding sources includes, e.g., Academy of Finland (PROFI4: Helsinki One Health, and PROFI6: UHealth). Dr. Airaksinen has hosted 4 visiting Fulbright specialists from the Johns Hopkins and University of Baltimore and helped a colleague to submit her application for a Specialist.
MARINA WIKMAN, Satakunta University of Applied Sciences
Marina Wikman is a Senior Lecturer at Satakunta University of Applied Sciences. She has worked as a visiting lecturer at Bangkok University in Thailand and Changzhou University in China, and given intensive courses in Austria and Russia, and also been on teacher exchange e.g. in USA. Furthermore, she has also written about international online collaboration and acted as editor for Satakunta UAS publications.