Alumni Open Mic with Michael West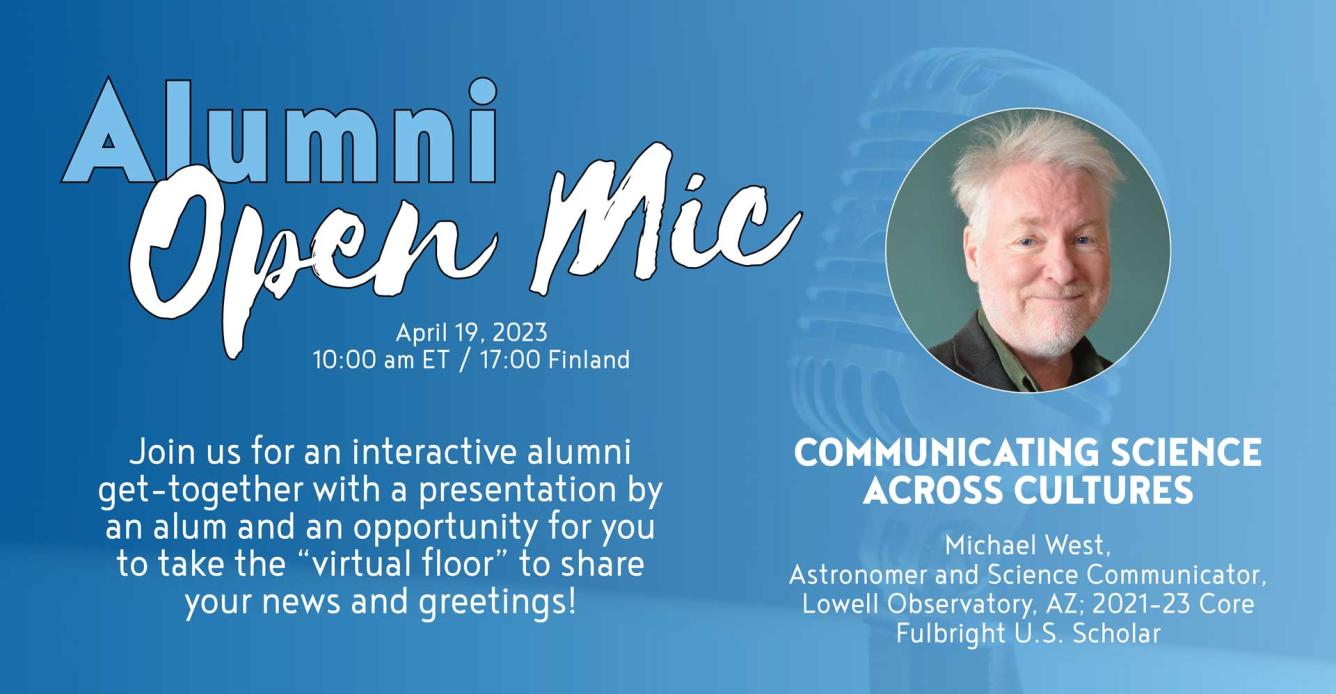 This event is by invitation only.
10:00 am ET / 9:00 am CT / 8:00 am MT / 7:00 am PT / 5:00 pm Finland 
Time for another alumni open mic! Join us, as we bring together the Fulbright Finland alumni community, from both the U.S. and Finland, for an inspiring event. Engage with an alumni expert speaker and then share your own news, greetings, and thoughts during the open mic.
The guest speaker is 2021-2023 Core Fulbright U.S. Scholar Michael West, who will talk about communicating science with the public by using culture as a bridge to reach diverse audiences. He will highlight some of his experiences teaching science communication at the University of Turku and what he has learned from visiting science education and cultural centers throughout Finland. 
We Want to Hear from You!
During the alumni open mic you will also have an opportunity to unmute yourself and let the Fulbright Finland community know what you have been up to. Share your latest news, look for new connections, or just say "hi" to everyone. The virtual floor is yours.
Registration is required!
Program
(Finnish time, EET)
16:55 Call Opens
17:00 Welcome and Greetings from the Fulbright Finland Foundation
17:10-17:40 Presentation: Communicating Science Across Cultures (the presentation will be recorded for internal purposes)
Michael West, Astronomer and Science Communicator, Lowell Observatory, AZ; 2021-23 Core U.S. Fulbright Scholar, University of Turku
17:40-17:55 Discussion and Questions
17:55-18:15 Alumni Open Mic 
18:15 Event ends