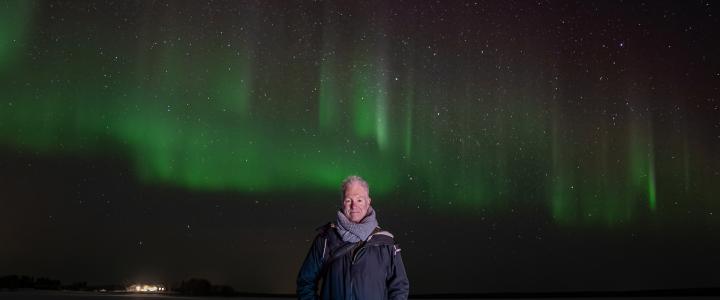 Fulbright Finland News Magazine
Communicating Science Across Cultures
When I was in high school, I read a book that changed my life. It was astronomer Carl Sagan's marvelous collection of essays, The Cosmic Connection. Sagan's lyrical prose and insights into how the universe works sparked a curiosity I'd never felt before. I went on to get a Ph.D. in astronomy and have been a professional astronomer and educator for nearly four decades. I'm proof that science communication matters.
Many scientists are eager to share their research with the public. But most have had little or no communication training and, consequently, write or speak in ways that are often difficult for non-scientists to understand.
In an age of widespread misinformation, citizens and decision-makers need access to credible scientific sources.
Yet the need for scientists to be effective communicators has never been greater. In an age of widespread misinformation, citizens and decision-makers need access to credible scientific sources. Moreover, as the public face of research, scientist communicators can help inspire the next generation of explorers. A child fascinated by science might grow up to discover a cure for Alzheimer's disease or be the first human to walk on Mars.
Culture as a Bridge to Diverse Audiences
Today, scientists have more ways than ever to get their message out. Twitter. Instagram. YouTube. Facebook. TikTok. Podcasts. Blogs. Newspapers. Magazines. Television. Radio. And more.
But competition for the public's attention is fierce, and attention spans have gotten measurably shorter. Scientists must communicate in a way that's engaging, understandable, and relevant to people's lives if we want them to pay attention.
Good communicators know that the best way to connect with an audience is to tell a story, and the surest way to reach someone's mind is through their heart. As biologist-turned-filmmaker Randy Olson says in his book Don't Be Such a Scientist, "you have to have a story."
There's a rich synergy between science and culture. Both try to explain the world through stories, whether we call them theories, novels, paintings, or prayers. Weaving these stories together provides a powerful way to reach diverse audiences. For example, creation stories from around the world can give context to scientific theories about the origin of Earth's oceans. Or a comparison of different cultures' views of constellations in the night sky could lead into a discussion of how the constellations change over time as stars move through space.
Learning from Finnish Colleagues
I had the pleasure of spending two months as a U.S. Fulbright Scholar at the University of Turku, where I taught an eight-week course on Communicating Science with the Public. Thanks to the flex option of my grant, I'll do the same in 2023.
I also learned a lot from Finnish colleagues. I'm especially grateful for the kind hospitality of scientific and cultural centers that I visited throughout Finland to see firsthand how they communicate with the public. Highlights included visits to the Heureka, the Finnish Science Centre in Vantaa, the Arktikum Science Centre in Rovaniemi, the Sámi Museum Siida in Inari, and the University of Turku's Botanical Garden on the island of Ruissalo.
It has been a delight to learn more about Finnish culture and to serve as an ambassador for American culture, embracing the Fulbright spirit of promoting cross-cultural interactions and mutual understanding.
Michael West
2021-23 U.S. Fulbright Scholar, University of Turku
Michael West (pictured in Rovaniemi, Finland) is an astronomer and science communicator at Lowell Observatory in Flagstaff, Arizona. He received his Ph.D. in astronomy from Yale University and has held research, teaching, and leadership positions on four continents.
Read the whole Fulbright Finland News magazine 1/2022!