Blog
Fulbright Finland & Future Songwriting
Finland has been a longstanding leader in education. This past week, as a Fulbright Finland Inter-Country Travel recipient, I gained a better understanding why.
The Fulbright Finland travel grant for U.S. Fulbrighters in Europe is the only one of its kind among the European Fulbright participating countries. What makes it unique is that school teachers are also eligible to apply, not just professors. Terhi Mölsä, Chief Executive Officer of Fulbright Finland Foundation, shared the reasoning behind their decision: they value having teacher voice, viewpoint and expertise at the table when discussing solutions to today's global challenges. This reason speaks to the cross-disciplinary, holistic and innovative spirit of the Finnish education community. The Foundation hopes that other Fulbright countries will join them by including school teachers as eligible participants in their travel grants so that Fulbright Finland teachers also can have the same opportunity.
During my five days in Helsinki, I had the opportunity to attend a Future Songwriting training by INTO School, visit the Resonaari program and interview its founder, meet the Fulbright-Finland Foundation staff and fellow Distinguished Award in Teaching recipient, Argine Safari, present to the INTO School team and several staff members of Lycée Franco-Finlandais d'Helsinki and experience a Finnish sauna!
The Creative Europe program of the European Commission selected Future Songwriting in July 2018 as the only major collaborative project under Finnish management. Future Songwriting is based on the INTO SCHOOL concept, developed in Finland called Ihan Oma Juttu. The main goal of the project is to make composing an integral part of music education, inspire teachers and pupils to take a creative approach to music and create their own compositions.
The Finnish expression "Ihan Oma Juttu", meaning 'my own thing', refers to the joy that children can experience when creating their own music.
The Future Songwriting project will provide training using Garageband for teachers in 15 schools in three Finland, Germany, and France. This hands-on training will take students through the process of creating, recording, mixing, performing, and publishing. I was honored to attend the training as a member of the Musical Futures' team and present the Musical Futures approach to music-making in the school classroom.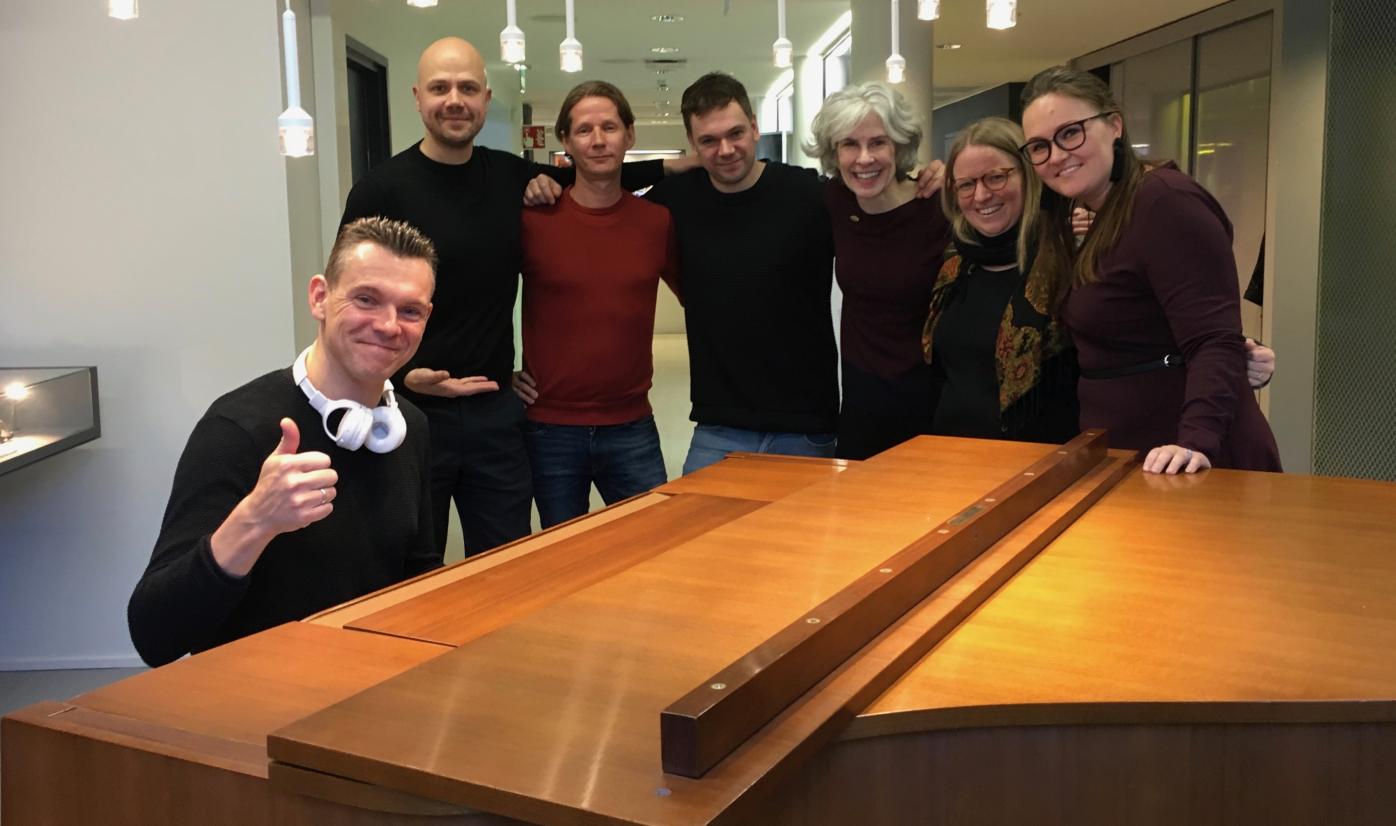 During the first day of training, the INTO team had us select an item from a bag full of found objects. I pulled out a plastic necklace, while others the lid to a pot, a spoon, a book, stapler, etc.). We then recorded the sound of our object any way we liked and created a Found Sound Orchestra by holding our iPads in a semi-circle and having volunteers conduct us – gesturing certain sounds to be played or gradually asking us to play louder or softer using our volume keys. Then the INTO team guided us through all of the Garageband Smart instruments including keyboard, guitar, drums, electric bass and strings. Again we played as an orchestra by limiting our chord menu to C, G, Am and F and moving from one chord to the other every 8 beats. The next day, we looked at plug-ins and song structure before creating our own 32-bar compositions using this form: Intro, Verse, Chorus, Verse, Chorus, Bridge, Chorus, Chorus. The final day we observed a multi-age class of 20 students between the ages of 11 and 14 work together in teams to work through the same process. As always, the kids were much more adept at using the tools and jumped right into the creative and collaborative process.
The INTO Team believes that "the project has a positive effect on the well-being of young people and that it prevents social marginalization. Marginalization of children and young people is one of the most significant social problems in Finland. When a young person is marginalized and falls into social deprivation, it will cost society roughly one million euros before he or she turns 60 years old." I appreciate that the Finns approach education with holistic and long-term goals.  
This belief in the power of music for well-being, creativity and student identity/agency is also shared by Kaarlo Uusitalo, the creator of the Resonaari program. I had the honor of meeting Kaarlo at the Resonaari site – a home in a residential neighborhood, which provides unique musical experiences to 325 students ages 8 to 80 years old, many of whom experience cognitive and physical challenges. I sat down with Kaarlo at his dining room table while music-making could be heard throughout the house. His interview and tour of the program deserves a separate blog post so stay tuned. 
While in Helsinki, I had dinner with fellow Fulbrighter, Argine Safari, who had been observing a music class using a phenomenon-based learning approach. It was wonderful catching up and exchanging ideas. I also enjoyed a sauna at Allas Sea Pool with members of the INTO school research team. While at my Fulbright Finland luncheon, Terhi shared that the Presidential Palace is directly across from the Allas sauna, which speaks to the egalitarian nature of the Finnish culture. "Where else can you take a sauna and see the President's Palace while you're cooling off in the outdoor seapool? " I agree! 
Thank you Fulbright Finland Foundation and the INTO Team for making my trip to Helsinki such a memorable and educational one. The time spent at the Fulbright Finland Foundation office talking about educational issues is testimony to how supportive, involved and interested the entire Fulbright Finland team is in forming lasting international relationships with its grant recipients. I look forward to connecting with the Fulbright Alumni chapter in Alaska now that I'm officially an alum!