Finnish Fulbright Welcome Network
For Fulbright Finland alumni in the U.S. to support new Finnish and U.S. grantees
"We went on a long hike and to a University of Washington football game! We have a lot of similar interests, so it has been great." - Fulbright Finland grantee and Finnish Fulbright Welcome Network Member
Fulbright Finland News 2/2022: Snapshots of Welcome Network Encounters
Fulbright Finland News 2/2018: A Warm Welcome to the U.S. - Personal Connections through the Alumni Network
Fulbright Finland News 1/2017: Read how The Buddy Program Inspired the Finnish Welcome Network!
Finnish Fulbright Welcome Network
Opportunity to network with Fulbright Finland alumni and grantees
The Finnish Fulbright Welcome Network was launched in 2016 and initiated by a U.S. graduate student grantee in Finland in 2015-16, Stephen Horvath, who has found the Finnish alumni connection very valuable and hopes we can establish something similar in the U.S. As many of you know, there is currently a well-established alumni program within Finland to support U.S. grantees to Finland. This is a means to give back some of that Finnish hospitality.
Together we have developed a program, the Finnish Fulbright Welcome Network, which we hope you will find appealing. The Welcome Network is developed for the alumni in the U.S. to bring together Finnish and U.S. Fulbright Finland grantees and help everyone stay involved with their Finland and Fulbright experience.
The point of this program is to make it more affordable and easily accessible for Fulbright Finland grantees to the U.S. to travel through the country and become acquainted with various parts of it.
Each year, we share the Welcome Network members' contact information with newly selected Fulbright Finland grantees. This will enable the new grantees to get familiar with the Fulbright Finland alumni activities and network before their grant term begins. Many of them might also appreciate alumni support prior to their trip to Finland and to the U.S.
By signing-up as a member of the welcome network, you may be contacted by a Fulbright Finland grantee
who is soon starting their grant term in the U.S. or in Finland
who is planning to visit your city, perhaps to attend a conference, visit colleagues important to the study/research project, or simply to explore. Or your city might be the actual host city for the grant project.
We will also share with you the list of grantees coming from Finland to your home state so you can be directly in touch with them. This also gives you an opportunity to network with the Fulbright Finland alumni living close by. 
We will keep your contact information in the network until you wish us to remove your information from the list. Please keep us updated if your contact information changes. 
If your contact information has changed, please update it by filling out this contact form.
Having the chance to network with other Fulbright Finland alumni and grantees is a valuable aspect of the Fulbright Finland programs. If you are contacted by a Fulbright Finland grantee then you can discuss the details of their needs and how you are able to respond. Always it is up to you to decide how involved you want to be. It might be that your own travel and work schedule limit your ability to respond to a specific inquiry, and this is very understandable. There are no predetermined expectations about how you might interact with a guest, it is up to you as a representative of the Fulbright Finland community.
Currently there are over 110 U.S. Fulbright Finland Foundation alumni members signed up for the Welcome Network and it reaches all the way from California to Maine and from Alaska to Florida!
Do you wish to join the Finnish Fulbright Welcome Network? Please contact Emilia at

[email protected]

.
Questions?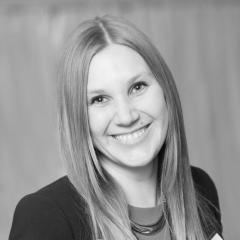 Emilia Holopainen
Program and Alumni Networks Specialist