Return to listing of all FoFF events.
Fulbright Finland Alumni Dinner, at FinnFest 2015, Buffalo, New York
Fulbright Alumni Dinner at FinnFest
This year's FinnFest was in Buffalo, New York, October 9-11.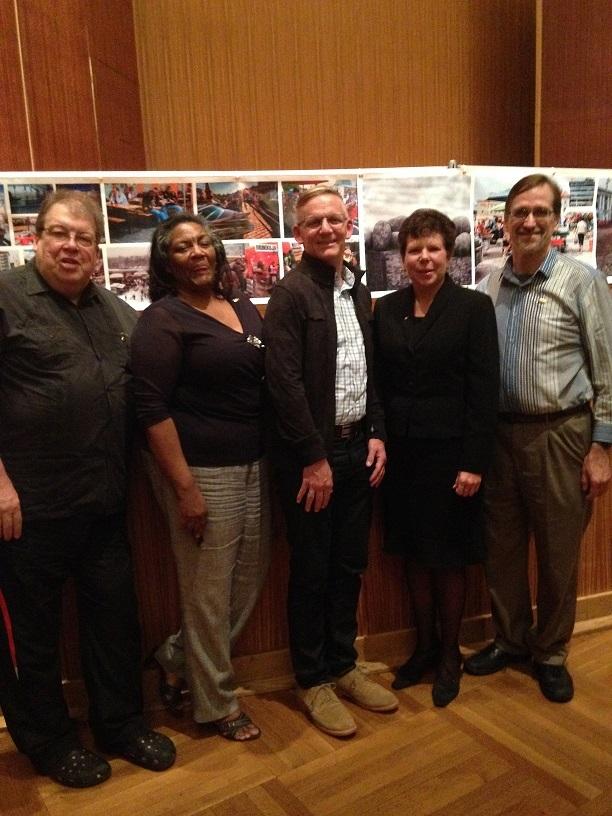 FinnFest is an annual Finnish-American cultural celebration held in various cities around the US. This year there was an emphasis on Jean Sibelius, since it was the 150th anniversary of his birth. 
A dinner get-together for our alumni attending FinnFest, or otherwise in the New York area was being organized at Henry's, the restaurant inside the Kleinhans Music Hall which is a Saarinen designed building. This was also the venue for the Buffalo Philharmonic Orchestra concert at 8 pm.
Our World of Partnerships: Celebrating the Finnish American Fulbright Experience, Boston May 30, 2015
You can find the pictures from the event from Fulbright Finland Facebook page.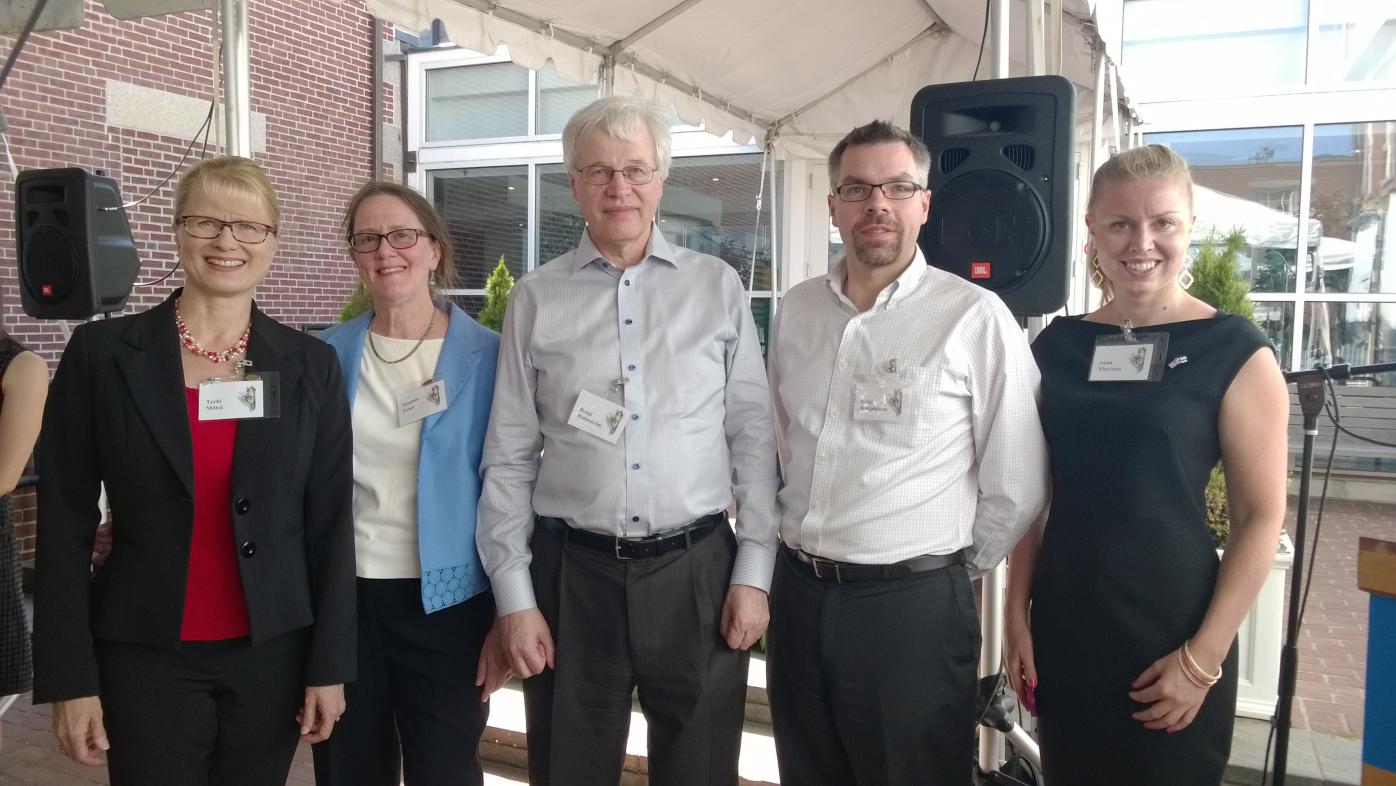 The Friends of Fulbright Finland and the Fulbright Center are hosting an alumni event to celebrate the 65th Anniversary of the first ASLA-Fulbright academic exchange between Finland and the USA and to recognize the 10th anniversary of the American alumni program of Fulbright Finland. The event is organized in cooperation with the Finnish Consulate General in New York and the Finnish Embassy in Washington, DC. It will take place on Saturday, May 30, 2015, at the USS Constitution Museum, Charlestown Navy Yard, Boston, Massachusetts, at 2-4 pm.
In addition to the opportunity to meet other Fulbright alumni as well as new US Fulbright grantees on their way to Finland, there will be a program updating the progress of the Fulbright Finland…for the Future campaign and honoring the many partnerships that make the Finnish Fulbright program one of the most robust in the world. 
The program includes welcome and special announcements by Terhi Mölsä, Executive Director of the Fulbright Center in Helsinki, representatives from the Embassy of Finland in Washington, DC, and the Finnish Consulate General in New York City. Distinguished alumnus Dr. Bengt R. Holmström, the Paul A. Samuelson Professor of Economics at MIT, and 1974 ASLA-Fulbright grantee to Stanford, will speak on the topic of partnerships in the academic and research world. Light buffet is provided.
U.S. alumni of the Fulbright Center are invited to come and join us to raise a toast to the continuing success of Finnish-American Fulbright partnerships and Finnish-American relations!
Artist of the Event
The featured Artist of the Event is Jacquelyn Gleisner, Fulbright U.S. Graduate Student grantee 2010-2011 at Aalto University School of Art and Design.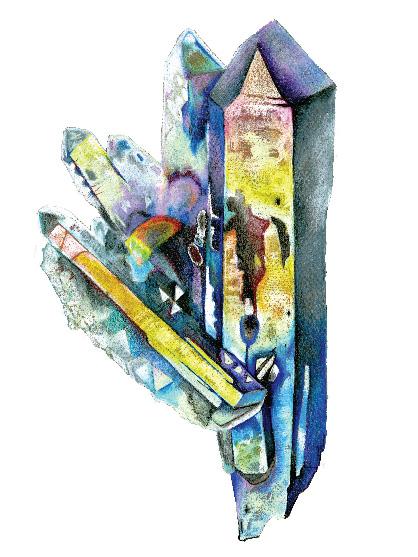 Illustration by Jacquelyn Gleisner
"You know how diamonds – how all crystals – grow, Laurette? By adding microscopic layers, a few thousand atoms each month, each atop the next. Millennia after millennia. That's how stories accumulate, too." – Anthony Doerr, All the Light We Cannot See

In Anthony Doerr's All the Light We Cannot See, an old man explains to the novel's young protagonist, Marie-Laure that crystals grow in the same way that stories do. A story is the result of the gradual layering of different voices, as a network of crystalline atoms extends slowly under the precise conditions. The particular shape of a crystal tells a story of how it has been formed. As an artist and a writer, my work is likewise the product of my cumulative experiences and encounters.

Jacquelyn Gleisner (b. 1984) studied art as a Visiting Researcher at Aalto University in Helsinki, Finland on a Fulbright grant in 2010. The same year, Jacquelyn began writing about the arts for the non-profit Art21's online magazine. This summer one of Jacquelyn's paintings will be installed at the Embassy of Botswana through the Art in the Embassies Program, supported by the U.S. Department of State. Jacquelyn currently teaches at the New Hampshire Institute of Art and Framingham State University in Massachusetts.

www.jacquelyngleisner.com
USS Constitution
Check the museum website for more details www.ussconstitutionmuseum.org.
Thank you to Our Sponsors
Main Partner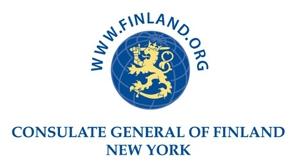 The organizers want to acknowledge with gratitude the financial support for this event by the Finnish Consulate General in New York.
Without their support this event would not be possible.
Supporters
The event has also been supported by Kankaan Hapankorput, you can also find them from Facebook.
Alumni gathering in Minneapolis, MN, 9 August 2014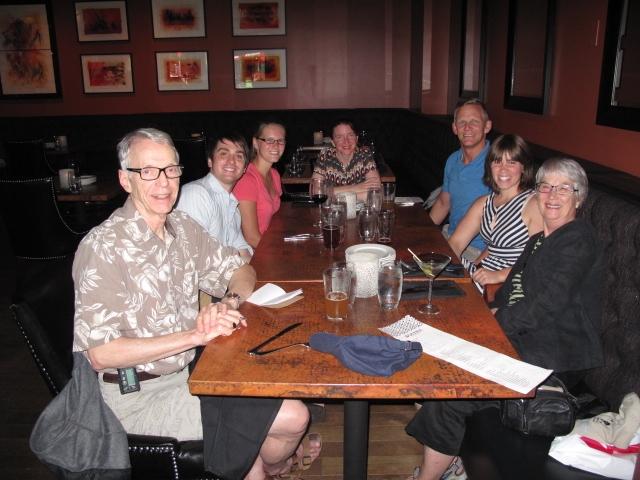 This alumni get-together was planned during the annual FinnFest event, held this year in Minneapolis, MN.  Seven alumni and soon-to-be Fulbrighters met, sharing experiences about Finland, chatting about how to thrive during the darker winter months and about fine points of Finnish grammar.  Alumnus Dan Karvonen hosted the event and perhaps that explains the interest in talking technical about the Finnish language, as Dan teaches Finnish at the University of Minnesota.
Dan presented at FinnFest, speaking on "The origins of the Finns: Are we any closer to unraveling the mystery?"  He also served on a panel about translating contemporary Finnish literature. Dan has recently translated crime novelist Jari Tervo's "Pyhiesi yhteyteen", available now in English under the title "The Saints."  Also scheduled to lecture at FinnFest was alumnus Tim Frandy (2009 Fulbright-CIMO graduate student grantee, University of Lapland) "Knowing the Wolf's Every Name: Decolonizing the Sámi Wolf" and also "Seeing the Forest for the Trees."
San Diego, May 2014
U.S. alumni of the Finnish-American Fulbright program recently met in San Diego.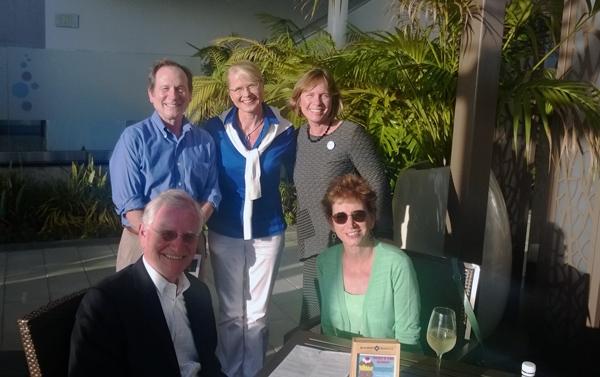 Washington, D.C., March 2014
US alumni of the Finnish-American Fulbright program, current Finnish Fulbright Center grantees, and Fulbright Center team members from Helsinki met at the National Portrait Gallery in Washington, D.C. in early spring.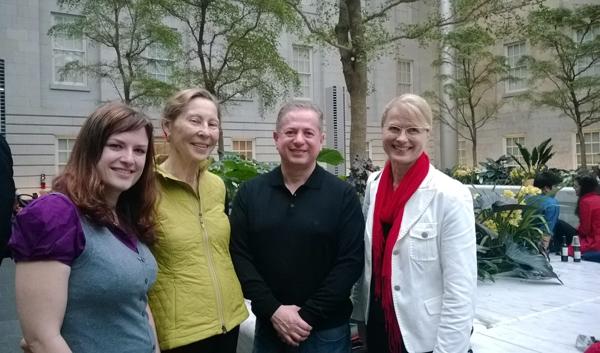 Alumni Gathering in New Haven, CT, March 2014
Alumni of the Finnish-American Fulbright program gathered together in New Haven, CT on March 15, 2014.
Those present included student grantees Carl Rahkonen (1983), Sharon Franklin-Rahkonen (1985), Liz Peterson (2000), Frog (2000), Maureen Farrell (2002) and partner, Tim Frandy (2009),  Lauren Holmes Frankel (2010), Jacquelyn Gleisner (2010), Suzanne Louis (2001 MCPD grantee),  and scholar grantees, Cheryl Fish (2006) and Cheryl Greenberg (2002 Bicentennial Professor in American Studies) and Dan Lloyd (2007) and their 2 daughters.  We renewed memories of our days in Finland and explored opportunities for future collaborations.  These alumni are artists, musicians, writers, professors and staff at universities, service volunteers, researchers, and organizational leaders.
Several alumni were attending an academic conference at Yale. The Society for the Advancement of Scandinavian Study and the Association for the Advancement of Baltic Studies convened a joint conference this year.  Presenting at the conference were:  Carl Rahkonen, Lauren Frankel, Tim Frandy, Frog, Liz Peterson, and Andy Nestingen.  Carl, who was a graduate student grantee at Sibelius Academy in 1983 and now is a professor of music and music librarian at Indiana University of Pennsylvania, presented a lecture on his current research on Finnish composer Martti Nisonen who emigrated to teach at Suomi College in Michigan in the 1920s. 
Carl discovered the large collection of Nisonen compositions at now Finlandia University and continues to examine his works, with special attention to Nisonen's expression of Finnish nationalism.  Also in the field of music, Lauren Holmes Frankel, graduate student grantee at Sibelius Academy in 2010, provided insight from her doctoral research about Finnish nationalism and the establishment of the new national opera largely in the 1970s and '80s.
Two alumni are folklore specialists.  Tim Frandy, 2009 doctoral student grantee from the University of Wisconsin, working on Sami topics in Lappi, spoke on "The Seven Sami Names for the Wolf."  Frog, 2000 grantee at Helsinki University and currently docent researcher there, spoke on mythology in the Austmarr, the Scandinavian/Baltic region pre-16th century.
Elizabeth Peterson, 2000 student grantee at Helsinki University and currently a member of the teaching faculty in the Department of English, spoke on the word "pliis" and how this magic English word has become transformed into Finnish.  Andrew Nestingen, Associate Professor at the University of Washington, spoke on "Aki Kaurismäki and the White Messiah Film" and chaired several additional panels.  His Fulbright student grant was in 1996.
Sharon Franklin-Rahkonen, University of Helsinki student grantee in 1985 and currently Associate Professor of History at Indiana University of Pennsylvania, served as one of the organizers and co-chairs of the joint SASS-AABS conference.

L: Alumni gather together to share memories and speculate about future opportunities to collaborate. Carl, Liz, and Frog proudly show off their new Fulbright Finland…for the Future t-shirts! Thank you for supporting this initiative: Friends of Fulbright Finland Alumni Enrichment Fund.
M: Carl Rahkonen is researching the musical compositions of Finnish-American composer, Martti Nisonen.
R: Lauren Frankel's Nordic folk music group, Linnunrata, performs at the conference final banquet. Lauren plays the accordion.
Dinner for Alumni at FinnFest, Hancock, MI, 2013
FinnFest is an annual celebration in the U.S. of Finnish-American history, culture, and Finnish heritage.  Fulbright Center participated in the 2011 FinnFest held in San Diego, CA, and also in the 2013 30th anniversary FinnFest held in Houghton and Hancock, Michigan.

Alumni of the Finnish Fulbright Program participated in the 2013 FinnFest, June 19-23.  Besides attending numerous lectures, recitations, films, musical entertainments, etc., several alumni volunteered their time at the Fulbright Center Tori booth, sharing information with FinnFest goers about the Fulbright grant opportunities and about living and studying in Finland.  Thanks to Julene Johnson (2010 MCPD grantee at the University of Jyväskylä), Margaret and Gerry Schueman (1996 Teacher Exchange with Kaarinen lukio), Annette Oppedahl (1958 student grantee at University of Helsinki), Beverly Harju (1999 scholar at University of Tampere), Marlene Broemer (2000 student grantee at University of Helsinki), and Suzanne Louis (2001 MCPD grantee at Helsinki University of Technology) for their Tori-time.
9 Fulbright alumni (7 American and 2 Finnish) gave lectures at FinnFest:
Ulla Aatsinki, 2009 Finnish Scholar to Michigan Technical University, lecture:  Americanization, Education, and Finnish Americans in the 1920s: Finnish Americans as Educators
Päivi Hakkarainen,  2011 SIR grantee  to Finlandia University, lecture: Hei Suomi! : Finnish Language Culture Lessons in a Finnish American School
Arnold R. Alanen,  1968 University of Helsinki student grantee, now emeritus at U Wisconsin-Madison--Landscape Architecture, 2  lectures: Making of "Finns in Minnesota" (published by Minnesota Historical Society press 2012)  and Finnish Rural Buildings and Landscapes in Michigan's UP  
Marlene Broemer, 2000 Graduate Student to Helsinki University, now teaching in Portland , OR area,  lecture: Edith Södergran: Poet between Two Borders, Two Wars 
Tim Frandy, 2010 student grantee to ULapland, recently finished PhD at University of Wisconsin, 3  lectures:  Sami Noaidi Tales: Religious Shift and Tensions in Sami Oral Traditions;   Lust, Labor and Lawlessness: The Bad Finn in Finnish American Folksong; Seeing the Forest for the Trees: Birch Leaves, Reindeer, and Sustainability among Sami Reindeer Herders 
Julene Johnson, 2010 MCPD grantee to Jyväskylä,  from UC San Francisco, playing the kantele with  "Kantele Splash"  
Paul Niemistö,  1998 Core scholar  to multiple hosts, Sibelius Museum, Folk Music Institute, Finnish War Archives, Professor of Music at St. Olaf, Northfield, MN ,   lecture: The Writing of "Cornets and Pickaxes": A Journey through Finnish American History; also Paul's  Ameriikan Poijat brass band will perform several times during FinnFest
Carl Rahkonen, 1983 student grantee  at Sibelius Academy,  teaching at Music Department, Indiana University of Pennsylvania, member of the FinnFest USA Board of Directors;  lecture:  Martti Nisonen: Composer of the Copper Country
Sue Saffle,  2000 Bicentennial Chair- spouse, Helsinki University, lecture: Toward a Collection of Finnish War Child Stories
And on mid-summer, Friday evening June 21, 21 alumni and family shared dinner together and reminisced about their time in Finland.  When introducing themselves to the group, invariably some comment such as "It was the best 6 months of my life" or "My time in Finland on the Fulbright changed my life" were made.  So incoming Fulbright grantee, Yue Li from Michigan Technical University was prompted to say "I am looking forward to the best 6 months of my life!"  When he arrives in Helsinki in August 2013, we plan to make it so…
More photos from FinnFest 2013 can be found from Fulbright Finland Facebook page.
60th Anniversary Celebration of the Finnish Fulbright Program
60th Anniversary Celebration of the Finnish Fulbright Program at the Finnish Embassy in Washington D.C., March 26, 2012.
The year 2012 marks the 60th anniversary of the signing of the Fulbright agreement between the governments of Finland and the United States. The agreement, signed on July 2, 1952, made it possible for Americans to discover Finland on Fulbright grants, and to join the tradition of the Finnish ASLA grantees that had begun two years earlier. The anniversary year has been celebrated on both sides of the Atlantic.
The Finlandia hall at the Embassy of Finland in Washington D.C. was full of both new and old Fulbrighters in late March when Ambassador Ritva Koukku-Ronde hosted a celebration for the friends of Fulbright Finland, Fulbright alumni and the Finnish Fulbright study tour participants. Ambassador Koukku-Ronde congratulated the long running program and thanked the alumni for maintaining the vigor of the transatlantic relations. The Atlantic Echo with Fulbright alumnus Michael Holmes (second from left) performed traditional Finnish songs at the 60th Anniversary reception at the Embassy of Finland in Washington D.C.
The Program and the alumni really deserve all of our appreciation for the magnificent work they are doing, said Ambassador Koukku-Ronde in her speech.
The evening at the Finnish Embassy included exchange of stories of experiences in Finland, music, speeches and poetry reading and, of course, Finnish delicacies.
Friends of Fulbright Finland launches a fund raising campaign to endow a new grant for American alumni of the Finnish Fulbright Program.
The good news came at a dinner and reception held March 26th at the Embassy of Finland in Washington, DC.  Guests at the reception and dinner included 17 of our alumni and "avecs" :  Tanya Allen (1998), Christian Benefiel and Elizabeth Preston Moorshead (2010),  Roger and Marja Booker (1974), Henry (Hank) and Kari Bullamore (2000), Mariam Jean Dreher (2005), Ben Hedrick (2009), Michael Holmes (2001), Lynn Lahti-Hommeyer (2009), Kay J. Kohl (2010), Kenneth and Jane Kolson (2006), Mackenzie Lind (2010), Suzanne Louis (2001), Geoffrey McGovern (2008), Joshua Meltzer (2002), Barbara Mossberg (1982 & 1990), Margaret and Gerry Schueman (1996), Catherine Schuler (2004).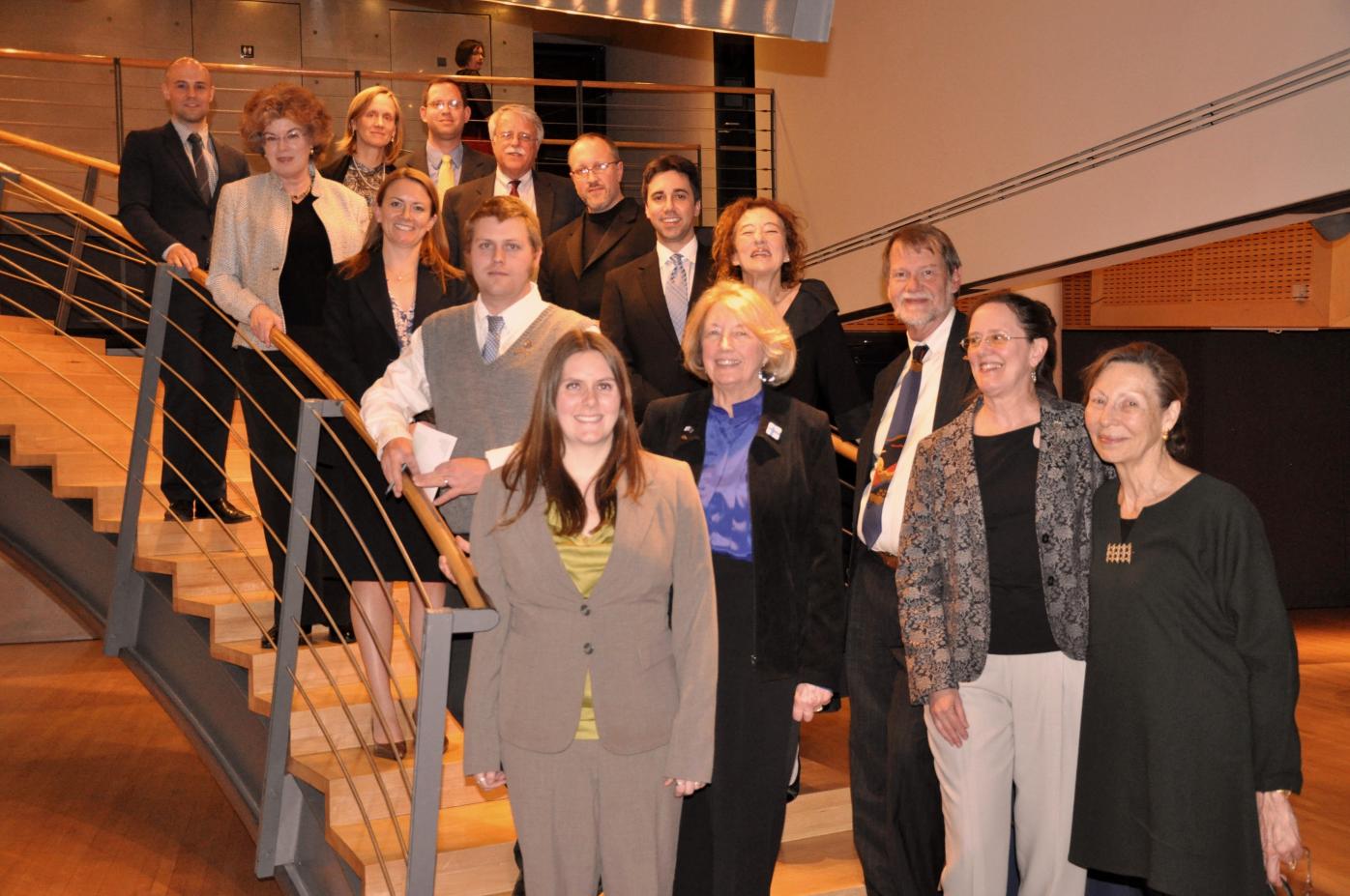 Michael Holmes and his quartet, Atlantic Echo, brought tears to the eyes of those present with their heartfelt rendition of Sibelius' Finlandia, as well as several other Finnish folk and tango tunes.  Barbara Mossberg closed the evening with a reading of her poetry inspired by her Finnish experience, I Carry Finland, and It Is Light.
Suzanne Louis made the announcement that Friends of Fulbright Finland plans to fund a new Fulbright Center grant program and is launching a campaign to raise money in support of the endowment for this purpose.  The grant will assist an American alumnus of the Finnish Fulbright Program to return to Finland to renew and invigorate academic and professional connections.  Ken Kolson established the precedent of giving the first gift to the Alumni Fund last year, thereby affirming that the project would have support from its own alumni.
Ambassador Ritva Koukku-Ronde very graciously hosted the evening to honor alumni of the Fulbright program in Finland and to celebrate the 60th anniversary of Finnish-American academic exchanges through Fulbright. She emphasized the value of alumni in maintaining the program's vigor. Terhi Mölsä, Fulbright Center Executive Director, offered an overview of the highlights of the Fulbright program in Finland.  Its history in fact commences just after World War I, when Finland received a loan from the US for rebuilding the country.  Fast forward to 1976 and the remaining loan payments were made as a lump sum which was used to create the Trust Fund that exists today and will help to finance the Fulbright program in Finland in perpetuity.  During the six decades that Finland has participated in the Fulbright program, over 1 500 Americans have had a Finnish Fulbright experience…that's a lot of alumni!
More pictures from the event can be found from  Fulbright Finland Foundation Facebook page.
FoFF Alumni Art Exhibit at FinnFest, San Diego, CA, 2011
Alumni of the Finnish Fulbright program gathered in San Diego, CA in August 2011 to participate in FinnFest.
An Open House meeting was held in the home of 2006 Fulbrighter, Michael Parrish and Peggy Strand for alumni.  Besides eating great home-made tacos, alumni heard more about the Friends of Fulbright Finland network and learned of the possibility to make contributions to the Finnish Fulbright program.  It was exciting, but not surprising, to hear from each alum how the Finland experience had provided a crucial element to their lives, both personal and professional.
Numerous alumni assisted at FinnFest by "manning" the Fulbright Center information booth at the Tori marketplace. FinnFest participants learned first-hand from experienced Fulbrighters about the available grant programs and the opportunity to come to Finland  to pursue studies and research.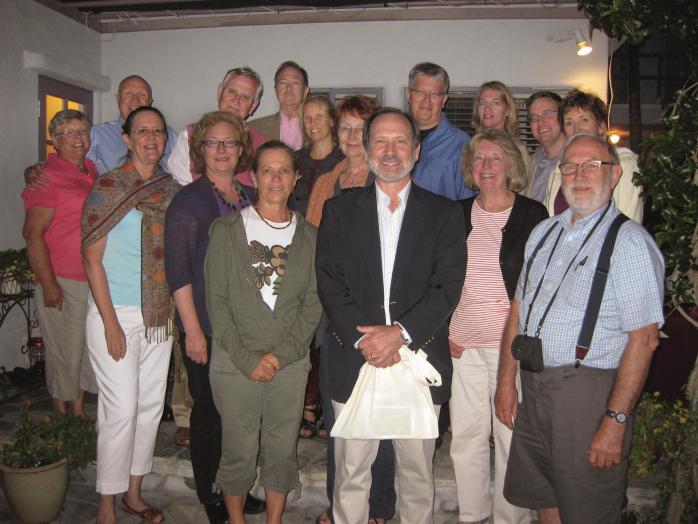 An art exhibit sponsored by the Friends of Fulbright Finland displayed the works of four alumni artists, Cherie Sampson, Sabra Booth, Karen Kunc, and Jacquelyn Gleisner. Over 165 people visited the exhibit, and at the opening the Consul General from the LA Finnish Consulate, Kirsti Westphalen, welcomed the audience and remarked about the strong value alumni bring to the promotion of Finland and of the Fulbright program.
Both Julene Johnson and Mary Koske played in the FinnFest kantele orchestra, and Julene, Margaret Schueman, and Peter MacKeith also gave invited lectures for the FinnFest audience.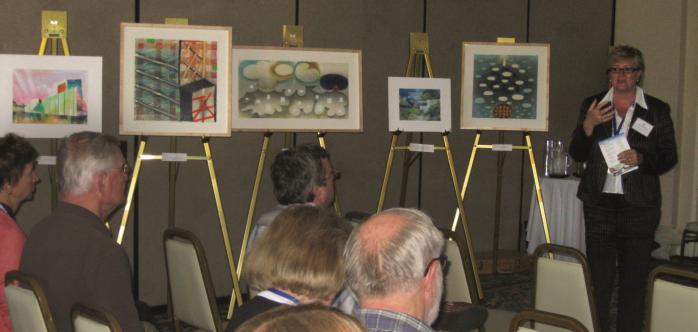 Engaging Fulbrighters who have been to Finland and who are keen to continue connections, to share the Finnish experience, and to offer support to the Fulbright program in Finland is a central goal of the Friends of Fulbright Finland network.