Blog
Reflections on a Return to Finland
My first visit to the University of Eastern Finland (UEF) in Kuopio was as a Fulbright-Saastamoinen Foundation Scholar. This visit was scheduled to last six months from January through June 2020. My wife was to join me for the first half of the visit before her return home in April. We learned that Finnish trains run on time, Finns speak of their nation with pride, to appreciate early lunches, and how to navigate Helsinki and Kuopio. We spent a night on a frozen arctic lake watching the Northern lights dance in the sky. We took side trips to Paris to see the daVinci exhibit, took the ferry to Tallinn, and the Allegro to St. Petersburg to explore the Hermitage. We visited the Ateneum and other museums, tried local delicacies, and thoroughly enjoyed our experience. We formed lasting friendships with our colleagues. Unfortunately, our visit ended abruptly in mid-March due to the COVID pandemic.
The Fulbright grant supported the development of a new graduate course at UEF. This course led to a Masters' thesis project that was recently completed. I found Finnish students to be serious, highly motivated, and reserved in the classroom. Providing the course in person allowed for informal discussions that provided important insights into Finnish culture and the lives of my students. These discussions played an important role in increasing student engagement with me and their classmates as the semester progressed. 
Did my wife and I experience culture shock? Yes, but it often was a source of joy and on occasion frustration (Finnish banking comes to mind). Adapting to a different culture and environment is a learned experience. I've been very fortunate to have had the opportunity to visit other nations and work in different locales. These life experiences likely tempered the culture shock I experienced in Finland. 
Going from Finland back to the USA at the height of the initial COVID wave; however, proved to be a much more shocking experience. Quarantine. Zoom classes. Science denial. Vaccinations. Anti-vaxxers. Shortages. Increased polarization. Insurrection. Shut downs. Fake news. COVID fatigue. The list of ways the pandemic directly or indirectly affected daily life is quite long and all of us have been touched by it in some way. It brought out the best and worst in some people.
My second visit this past month has been supported by a Fulbright-Saastamoinen Foundation Distinguished Chair in Health Sciences grant. I taught the same course again, but this time we used a hybrid model of instruction. Most students joined the class by Zoom. I hope they were able to master the course content, but I missed the opportunity to chat with students. I was concerned that the hybrid format may result in students becoming more withdrawn and less engaged. One way I tried to engage students was to ask for their help in identifying local birds. Each class session included a new round of photographs – and through these photographs they were able to virtually join me on my travels in Finland. Seeing photographs of wolverines in Karelia and seabirds off the coast of Helsinki was something they looked forward to and led to the informal discussions I desperately sought.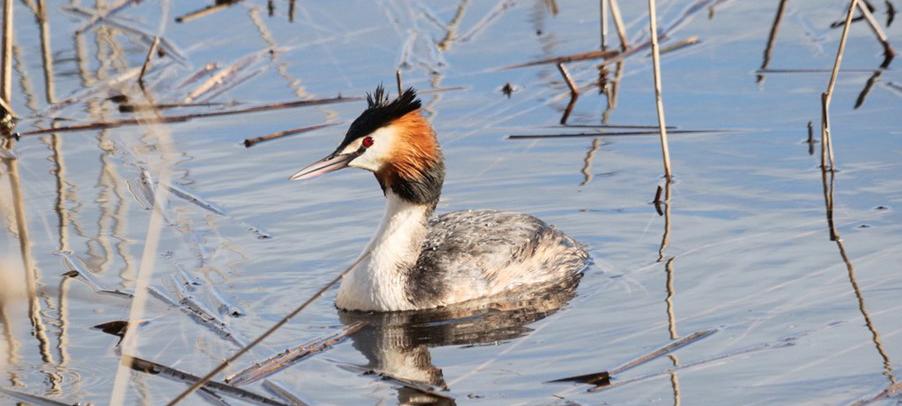 Beyond teaching - cultural learning through a Finnish university 
My experiences teaching in Finland pre- and post-COVID have left me curious whether the tendency of Finnish students to be more reserved in the classroom allowed them to adapt to online courses more readily than their counterparts in the USA. I wonder whether UEF is a "party school" or if these exist in Finland. It's not apparent that this is a motivating factor for the selection of a Finnish college or graduate program. This observation leaves me wondering whether the pandemic and the move to online education equally affected U.S. and Finnish student perceptions of their college experience. I'll leave it to other more qualified individuals to perform these research studies.
The Ukraine war has been a topic of conversation at numerous lunches. I come away more impressed than ever with my colleague's knowledge of local and international events and their faith in Finnish democracy and institutions. Given the current state of affairs back home this remains a pleasant culture shock that I'll miss upon my return to the USA in a few weeks. 
On reflection, I'm grateful that the pandemic disrupted my first visit to Finland, and I was honored with a second Fulbright-Saastamoinen Foundation grant. The intervening two years allowed me time to reflect on my initial experiences and led me to approach this visit differently. I've spent more time exploring Finland and I have enjoyed watching the transition from winter to spring occur. Familiarity with my colleagues, UEF, and Kuopio allowed life in Finland to "slow down" for me. Anyone reading this blog with a competitive sports background will understand the meaning of this phrase. I remain ever grateful to my colleagues at UEF, some of whom are picture below. I also remain grateful to Fulbright Finland for this opportunity.