Blog
Smart Grid Solutions in Finland
In her blog post, Salena Bantz writes about smart grid technology, the focus of her master's thesis and what is considered one of the most important tools for mitigating climate change. She also shares her experiences of camping in the snow!
The electric grid is the largest machine in the world. Our dependency on this machine is often taken for granted. On a normal day in Finland, the grid must supply reliable power to charge electric vehicles, heat buildings, light spaces, brew coffee, and warm the sauna. We are also in a state of climate emergency. Wind and solar power are effective solutions for reducing greenhouse gas emissions, but the traditional grid is not built to handle intermittent energy sources that rapidly change. 
The smart grid provides a path forward to a more efficient, reliable, secure, and greener electricity system. My passion for electrical engineering and environmental responsibility intersects in the topic of smart grid technology. For the past nine months I have studied electrical engineering in Tampere, Finland with the Fulbright–Tampere University Graduate Award.
My master's thesis research beginning this autumn will focus on smart grid reliability. Outside of Tampere in the Lempäälä municipality there is a self-sufficient microgrid that uses solar panels, gas engines, and fuel cells to power the Marjamäki industry area. This innovative energy system uses the latest smart grid technology solutions to ensure grid reliability, resiliency, and efficiency. In normal operation the microgrid contributes to the public grid, but it can also work on its own as an islanded network. 
An intelligent automation system supports the reliability of the microgrid. My thesis work will use network modeling, protection relays, and the real-time simulation environment at Tampere University to investigate the microgrid automation protection solutions using data from real power outages.
It has been rewarding to study smart grid technology in Finland because of their commitment to environmental responsibility. Finland invests in key projects like the Marjamäki microgrid to meet their long-term climate and energy strategy goals. Their strategic aims are to reduce greenhouse gas emissions, shift from a dependence on electricity imports to self-sufficiency, and replace electricity generation based on fossil fuels. 
Smart grid technology is considered one of the most important tools for mitigating climate change. Significant investments and research are needed to realize these solutions globally, and I look forward to being a part of the generation that works to re-invent the largest and most important machine in the world.
Camping in the snow - enjoying the Finnish winter
Living in Finland has reignited a spirit of toughness within me and has motivated me to test my limits in the classroom – and in the cold. 
This winter I have enjoyed ice fishing, cross-country skiing, downhill skiing, ice swimming, ice skating and ice hockey. I've braved every activity alongside my friend Hanne. We spent this winter training for an ultimate camping voyage by skiing in the frigid cold, ice fishing during a snowstorm, and sleeping in snow forts. As the season drew to a close, we were ready for a final winter quest.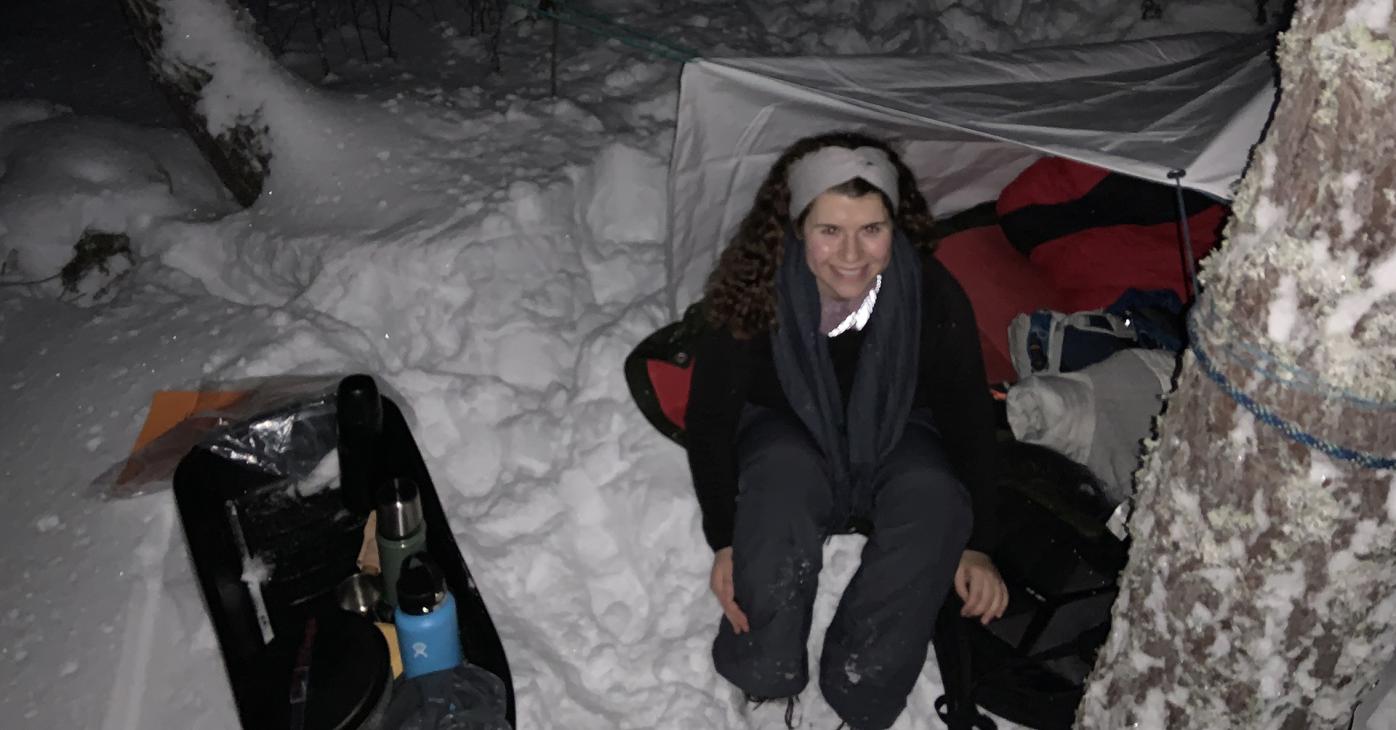 The journey began with a cross-country ski trek across a large lake in the Tampere area. We strapped our camping gear to a sled and tied it around our waists to drag behind us. After a few hours we approached a small island on the lake. My clothes were drenched with sweat from the skiing. As we settled onto the island, my body cooled down very quickly and started to shake. We drank some tea to warm up then got to work. As I drilled several holes around the island for fishing, Hanne collected the wood for the fire. We also used some rope and tarp to make a shelter to block the wind. 
 
A few hours later we had only caught one fish. I tried my best to start the fire with matches and wood shavings, but the wind was too strong. We were shivering cold and running out of daylight. As a last resort we burned parts of the first aid kid to get the flame to hold. The fire lit up and we were able to cook our fish. To finish the night, we walked out onto the frozen lake to see the beautiful stars above us on the clear Finland night.
"It's hard to exactly remember what first motivated me to cross the snow field in my bare feet, but I think it was an earnest desire to try something hard and prove to myself that I could."
The rest of the evening did not go as well. Although we had spent many nights in preparation, that night was the coldest and longest. Neither of us slept for more than a few hours. Packing up in the morning and making the cross-country ski trip back was hard work. We returned just in time for some hot coffee and a morning sauna. Hanne and I decided that it would be the last time we would ever sleep outside in the Finnish winter. 
It's hard to exactly remember what first motivated me to cross the snow field in my bare feet, but I think it was an earnest desire to try something hard and prove to myself that I could. In the same way, applying for a Fulbright scholarship and studying in a demanding degree program has been extremely challenging and rewarding.
I am humbled by the growth I have experienced academically and personally through my Fulbright in Finland. As the days stretched and the clouds parted, I felt a strong sense of satisfaction with my first Finnish winter and the challenges we overcame.