Friends of Fulbright Finland Alumni Council
The Friends of Fulbright Alumni Council was established in May 2015.  As a working group, its purpose is to consider how to develop the American alumni program further through gatherings, enhanced communication, FoFF Alumni Enrichment Award support and development, and other topics as suggested by alumni.
It consists of 6 American alumni of the Finnish Fulbright program, recruited from throughout the US and representing all the different grant programs.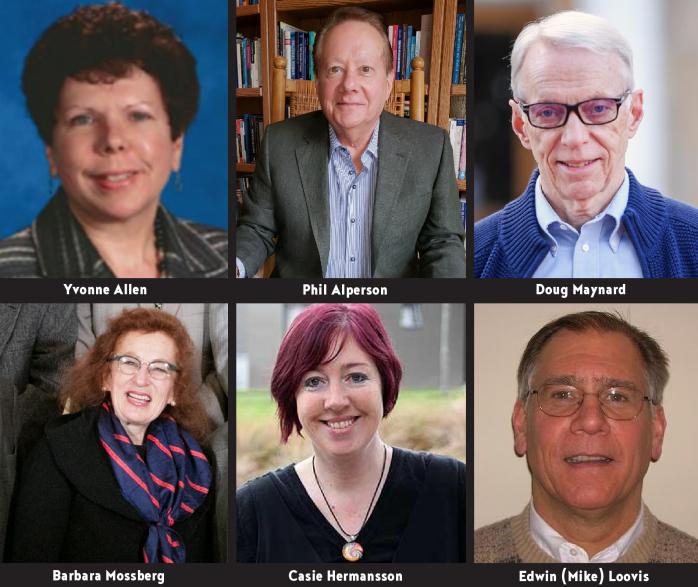 Members for the Term Ending in May 2021
Barbara Mossberg
1982, 1990 Bicentennial Chair in American Studies, University of Helsinki
Eugene, Oregon
Casie Hermansson
2014, Fulbright-University of Turku Scholar Award
2016, Friends of Fulbright Finland Enrichment Award
Pittsburg, Kansas
Edwin (Mike) Loovis
2010 Scholar Grantee to University of Jyväskylä
Special Project Adviser for the Rediscover Suomi Journey
Cleveland, Ohio
Members for the Term Ending in May 2020
Yvonne Allen
2014 Fulbright Distinguished Award in Teaching, University of Jyväskylä
Campbell, New York
Phil Alperson
2012 Scholar Grantee to University of the Arts Helsinki, Sibelius Academy
Philadelphia, Pennsylvania
Doug Maynard
2006 Scholar Grantee to University of Helsinki
Madison, Wisconsin
Former Council Members
Members for the Term May 2017 - May 2019:
Hank Bullamore
2000 Scholar Grantee to University of Turku
Frostburg, Maryland
Joan Kluwe
1999 Graduate Student to Metsäntutkimuslaitos, Rovaniemi
Anchorage, Alaska
Members for the Term May 2016 - May 2018:
Nancy Commins
2011 Fulbright-University of Turku Scholar Award
Louisville, Colorado                              
Karen Martin 
2013 Distinguished Fulbright Award in Teaching to Jyväskylä University
Healy, Alaska
Ben Zeller
2012 Scholar Grantee to Åbo Akademi
Lake Forest, Illinois
Members for the term May 2015 - May 2017:
Bradley Boehringer
2014 Fulbright-Cimo student grantee to Laurea University of Applied Sciences
Portland, Maine
John Helling
2011 MCPD grantee to Helsinki City Library
Bloomington, Indiana
Kenneth Kolson
2006 Scholar grantee to Oulu University
Alexandria, Virginia
Suzanne Louis
2001 MCPD grantee to Aalto University
Charlottesville, Virginia
Paul Majkut
2007 Specialist grantee to Jyväskylä University
San Diego, California
Council members are appointed for 2 years.
Council members have been active personally in the various FoFF projects:
Ken Kolson represented the American alumni on the Finnish Embassy's Suomi100 planning committee
Nancy Commins and Phil Alperson have held FoFF gatherings at their homes
Yvonne Allen coordinated a get together at the FinnFest in Buffalo in 2015
Mike Loovis presented a special recognition gift, photo of the "Spirit of Finland" sculpture, to the Finnish Ambassador at the November 2017 reception
And numerous Council members have donated to the FoFF Alumni Enrichment Fund, joined the Welcome Network and promoted Fulbright Finland through the Centennial Ambassadors initiative.