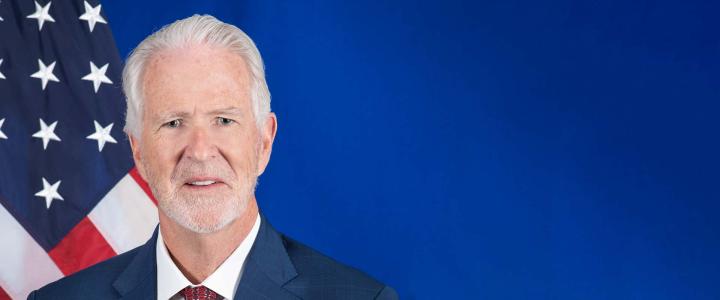 Fulbright Finland News Magazine
Addressing Today's Most Pressing Global Challenges
The year 2022 has been remarkable in the U.S.-Finnish relationship. Finland and the United States share a long history as dependable partners and this year has shown that our bonds are stronger than ever.
Finland's steadfast support for Ukraine against Russia's unprovoked and unjustified war has been a testament to our shared commitment to protecting democracy, human rights, and the rule of law. Our cooperation to address climate change challenges and counter disinformation have likewise reinforced Transatlantic security. I look forward to welcoming Finland as a NATO Ally soon. Collaboration in the Arctic, trade and investment, and shared research and innovation on emerging technologies between the United States and Finland are robust and growing.
Educational exchanges have played a pivotal role in deepening our ties. I was pleased to see Finland double the number of higher education and science counselors in the United States this year. The relationships that develop from this investment will support internationalization, advance research, and enhance business opportunities. Over the last few months, I've also had the opportunity to visit multiple universities across Finland and I've been impressed with the top-notch research facilities and strong interest in strengthening academic research and collaboration with the United States. I hope we can continue to build these connections through the Fulbright Finland Foundation.
The Fulbright Finland Foundation is one of our greatest allies in supporting cross-cultural ties and academic cooperation.
It is clear that solving global issues will require bright minds and committed talent, working together, and sharing best practices. The Fulbright Program is the flagship exchange program between Finland and the United States, and as such, the Fulbright Finland Foundation is one of our greatest allies in supporting cross-cultural ties and academic cooperation. As honorary chair of the Foundation Board, I appreciate the opportunities to meet with current exchange participants, alumni, board members, and Foundation staff to learn about their innovative projects and the tremendous impact Fulbrighters have on their communities.
The Fulbright Finland program, of course, is so much more than a traditional exchange. It is an interface between the United States and Finland. Fulbright has been described as an "avenue of hope" connecting more than 6 000 American and Finnish students, scholars, and professionals since the inception of the program more than 70 years ago. At the same time, I consider Fulbrighters to be trail blazers, embodying the principles and values that are needed now, more than ever, to shape a shared, democratic future.
I am thankful for the generous investments made this year to the Fulbright Finland Foundation by its partners and donors. Among them, the Bruce A. Fowler Fund will provide additional support for Fulbrighters with disabilities, and the Idman Foundation will support awards for master's study in the United States. I recently traveled to Tampere to participate in an Idman Foundation event to announce the scholarship. These and other new partnerships will allow us to advance our goal of providing even more scholarships for qualified grantees on both sides of the Atlantic.
As we approach 2023, I am hopeful for what lies ahead. Whatever realities we may face as a global community, whether they present challenges or opportunities, Fulbrighters will continue to lead and work together to address today's most pressing global challenges.
Douglas T. Hickey
Ambassador of the United States to Finland
Read the whole Fulbright Finland News magazine 2/22!