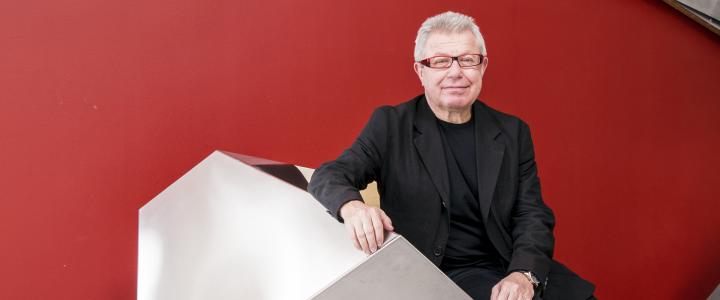 Fulbright Finland News Magazine
Architecture Communicates to the World
Architect Daniel Libeskind is internationally renowned for iconic designs including the World Trade Center reconstruction in New York. A Fulbright professor in Helsinki in the mid-1980s, his creative relationship with Finland continues today with Studio Libeskind's ambitious urban renewal project in Tampere. Here he reflects on his unconventional career path, his experiences of Fulbright and Finland, and his belief in architecture's ability to communicate across barriers.
Daniel Libeskind admits taking an unconventional route in his career as an architect. Born in Lód'z, Poland, in 1946, he came to the U.S. as a teenager with his family, settling in the Bronx. A gifted musician, he decided to study architecture at college, thus embarking on a journey which would see him transform from architectural theorist and teacher into one of the key international figures in architecture, winning prestigious design competitions for projects such as the Jewish Museum in Berlin and the master plan for the reconstruction for the World Trade Center in New York.
"When I was in school I was kind of a rebel, and I never designed a single building," he recalls. "I thought, what is the purpose of designing the building if you don't have a social situation, a budget, or a political setting? So I drew something else. I didn't draw fantasy buildings that the teachers proposed, but I did my own structure of architecture, what any piece of architecture has to contain, in the sense of its ground, its geometry, its potential space, its light. You know, I never worked in an architectural office either. I tried, but I thought it was a little boring, so I took a crazy path. It's a path that led me to things that I love doing."
Unconventional Spirit
Libeskind has retained this unconventional spirit throughout his career, drawing on both his interdisciplinary background and his deeply-rooted belief in the importance of cultural memory in his designs. How does it feel to be able to translate his ideas into reality? 
"It's a great feeling. It's really a wonder that I'm building on every continent in this world, and that I did it through such a risky path. My very first building was the Jewish Museum in Berlin. I had never designed even a small building before. It was my first chance to do a building, not a fantasy project, but a real building that I believed had an important social and historical mission. At that time I had my own little institute of architecture in Milan. It was just a few people, and the idea was to create a place that was not really practice and not really theory, but something in between. I called it Architecture Intermundium, the space between, and that's how I started."
Libeskind first traveled to Finland in 1970, as a recent graduate keen to experience architecture first hand. "I'd just graduated school at the Cooper Union in New York, and I was awarded a scholarship to study the buildings of Alvar Aalto. I traveled all over Finland, to the small churches, town halls, residential buildings, to see the works of the master. I think that's really the point, you have to learn from the masters. Le Corbusier said that to be an architect all you need to do is travel and read a couple of books. I think it's important to travel and to see architecture, to experience it."
As a Fulbright Professor in Finland
In 1985, a few years before winning the commission for the Jewish Museum in Berlin, he was made Senior Fulbright Professor of Architectural Theory at the Helsinki University of Technology (now Aalto University), during which time he also exhibited at the Museum of Finnish Architecture in Helsinki. "I had a wonderful time. Finland is in many ways the Mecca of architecture; it has such a great tradition of modern architecture, art, and music. It was a fantastic place to be, and I met so many talented Finnish students, young architects, colleagues at the university, and close friends. It was a marvellous experience. I didn't set any practical projects for my students, like designing a bus station, a harmonic hall or a museum. But I gave more experimental approaches to the creative aspect of how to make whatever it is, a building, a park, a city plan. It was more about the creative process than about a product."
"I think the creative aspect is the key to architecture. Very often universities emphasize practical experience, but I think that should be done when you're working in an architect's office or you're out in the world. The moment of education is the moment of complete freedom, that liberates you from all office routines, practices, the so-called wisdom of reality, and allows you to examine the roots of architecture."
How does this philosophy relate to his own architectural practice now? "My own approach is very practical, very functional, in order to get things built. But just making a building doesn't mean you've produced any architecture, and architecture can exist in a drawing without it ever having to be built. So architecture is a special kind of art. It is grounded deep in reality, but it also includes memory and traditions that are also very deep and not so visible."
This belief is strikingly reflected in Memory Foundations, Libeskind's overarching vision for rebuilding the World Trade Center site in New York. "I think the ground of architecture is not just the site; the ground is the memory that the site contains. When I started working on the Ground Zero reconstruction, I was the only one of the finalist architects who proposed not building anything. Of the sixteen acres, I left eight acres completely free for public space, because I believe the ground for memory is more important than the ground for buildings to stand there."
At the heart of Libeskind's plan is the 9/11 Memorial and Museum, which opened in spring 2014, and includes underground galleries revealing the slurry wall that remained standing despite the terrorist attack. "I used memory as the key to my project. Having the slurry wall foundations exposed to the public was part of the sense that beyond the visible is the invisible."
Designing the Crown Central Deck and Plaza in Tampere
In recent years, Libeskind has renewed his connection with Finland, designing the Crown Central Deck and Plaza in Tampere, comprising an ice hockey rink, housing, commercial space and offices. He explains how the design draws on the context of the site and the city as a whole. "Tampere is a beautiful historic city, and old train lines traverse the space where the arena and the plaza are being built. I thought a lot about creating a platform to make a new space, to bridge the train tracks dividing the city, connecting East and West. So again, the memory of the city, the memory of what surrounds the site, the churches, the buildings, the university, the entire landscape has been brought into it. Even though the site itself is limited, the context is much greater than the site, because it extends to the very margins of the city. And I think that has to be incorporated in the sense of space and atmosphere that the site represents, given all the functions it must possess."
"Too many buildings look like they could be placed in any city. But each site, the genius loci, has a unique space, a sense of light, of what has happened there, and that sense of memory that has to be addressed in a different way. It's really about the spirit of the place. Its culture and history are key to creating something that is not just momentary but will last and be sustainable. We often think of sustainability correctly as material innovations, but I think the most sustainable things are those which are memorable. If we remember something, we take care of it. If it's forgettable, it's not sustainable. That's why we maintain ancient buildings; they are memorable and deep, and that's what makes them sustainable over millennia."
"I think Fulbright is a testament to the centrality of democracy for the practice of architecture, education, or any other field. The ability to send people all over the world to experience other societies is crucial, especially in a world where so many walls are being built today."
"You know, it's not by accident that in the ancient world and in the orient architecture was considered the mother of the arts, the liberal arts such as poetry, astronomy, mathematics, dance, history. What brings them together is memory. Architecture is that interdisciplinary core. Architecture is not just the art of building, it's the art of building a social space, of building a culture. So it's inevitable that buildings done by people not concerned with the liberal arts are not good buildings. They may look nice, they may be well built, but they don't say anything meaningful, they don't tell us any story that could inspire us to be free."
Echoing Le Corbusier's views on the value of travel, Libeskind believes travel and international experience are essential for good architecture and for overcoming barriers. "Travel is important because everybody thinks they live in the center of the world. But all over people have different ideas of how to live and what is important. You have to go out and see things that might even be shocking to you. And yet people are pretty much alike, they have a body, a soul, and dreams. So I think travel educates you to the amazing wonder of the world."
This is why international exchanges such as the Fulbright program have an important role to play, he suggests. "I think Fulbright is a testament to the centrality of democracy for the practice of architecture, education, or any other field. The ability to send people all over the world to experience other societies is crucial, especially in a world where so many walls are being built today."
"Architecture is one of the few arts, like music, which doesn't depend on nationality, ethnicity, race or religion. It's open; you can simply enter a building, walk down a street, move through a space. It doesn't have a wall built into it. Language of course has, because different languages are walls. So architecture has a certain musical quality which gives the chance to communicate to the world, and not just to a limited group or situation."
Read the whole Fulbright Finland News magazine 1/2020!