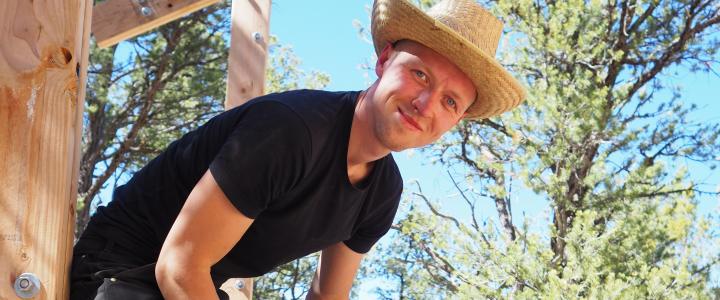 Fulbright Finland News Magazine
Building with Your Own Hands
In addition to his architecture studies at the university, Pekko Sangi got invaluable practical experience by building wooden cabins for a summer camp.
The most memorable part of my Fulbright Finland grant year at the University of Colorado Denver was the Design Build program. This year's Colorado Building Workshop project, led by architect Rick Sommerfeld, was located in Thoreau, New Mexico. 30 students from seven different countries designed, prefabricated, and built six wooden cabins and an outdoor kitchen in only five months during the spring of 2019. The cabins were designed for the children's summer camp of Cottonwood Gulch located in high desert terrain. The building process on site took 18 days.
Building everything with our own hands was the biggest value of this experience; it enabled us to learn things that theoretical studies would have never taught us. Not only did we get an amazingly valuable experience about architectural drawing sets and construction, but also about entrepreneurship and the whole process and market in our field as we worked in cooperation with real companies.
I knew a few of my fellow Finnish architecture students had received the same scholarship before me and Taisto Mäkelä, Associate Professor and Director at the College of Architecture and Planning at the University of Colorado Denver personally visited Tampere University. Those connections made me feel warmly welcomed to the U.S. even before I arrived. The Finnish Fulbright Welcome Network was also an important resource: a local Fulbright Finland teacher alumna contacted me soon after my arrival and drove me immediately to the Rocky Mountains. During the year I met a great number of young people in Denver from all over the country, and many of them had Finnish or other Nordic heritage. This made me feel that coming to the U.S. as a Finn was even more meaningful.
It feels great to remain as a part of the Fulbright Finland family after my time abroad. I decided to join the ASLA-Fulbright Alumni Association's Fulbright Buddy program. I'm glad to be able to share the hospitality and to show my home country to the U.S. grantees, and to help them get the most of their time in Finland.
Read the whole Fulbright Finland News magazine 2/2019!