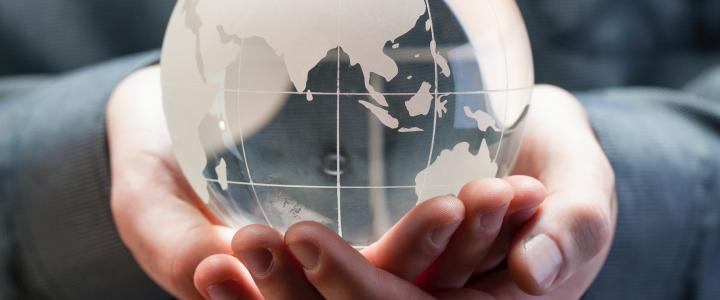 Fulbright Finland News Magazine
Citizens and Science Diplomacy
Science diplomacy is a relatively new term. But it is an old practice – and integrally connected with the Fulbright Finland Foundation programs.
Early in their orientation training, newly selected Fulbright Finland Foundation grantees begin discussing the Foundation's programs and their multiple and complementary roles.
Academic and professional exchanges enable the flow of knowledge and ideas across borders, and contribute to the internationalization of higher education and research. Moreover, they are cultural and public diplomacy programs, with grantees serving as citizen-diplomats, sharing their diverse backgrounds and cultures. Many of the programs have characteristics of science diplomacy or knowledge diplomacy, with a distinct focus on helping solve global challenges. The largest of the programs that the Foundation works with, the global Fulbright Program, was founded after World War II as a peace program, to help promote international understanding following the war. And ultimately, all of the Foundation's programs are leadership programs, where leadership is understood not as a position or title but as a personal choice that anyone can make – leading by taking responsibility and creating meaningful change.
Cultural and educational exchange has been recognized as a pillar of international diplomacy for decades. Science diplomacy, in comparison, is less known. Generally speaking, science diplomacy refers to international operations and actions that combine science and foreign relations, but the definitions of the term vary considerably depending on perspective and emphasis. "New Frontiers in Science Diplomacy," a report published by the Royal Society in 2010, outlines three dimensions of science diplomacy. Science in diplomacy refers to science advising and informing diplomacy, and science-informed decision-making. Science for diplomacy refers to science cooperation improving international relations, or the capacity of science and scientists to create and sustain contacts, collaboration, and confidence-building even in cases where diplomatic relations between countries may be difficult or do not exist. And diplomacy for science refers to the potential of diplomacy to enable and facilitate scientific work that requires large-scale international collaboration, for instance through large international infrastructures, multinational funding, or joint legal or governance solutions.
There is a growing need to deepen the dialogue between national governments, international actors, and the international scientific community.
There is a growing need to deepen the dialogue between national governments, international actors, and the international scientific community. Science diplomacy can help achieve this goal by providing crucial information for decision-makers, strengthening international collaboration, and helping scientists in their work both as scientists and as science diplomats. Science, like diplomacy, has always been international, and it flourishes through people-to-people collaboration – just like the Foundation's programs.
Operating under the motto "Together Shaping the Future," the Foundation strives to awaken an interest in the role that individual citizens can play in creating meaningful change and tackling local and global challenges. Aspects of science diplomacy are evident in, for instance, the Foundation's strategic award program titled Seeking Solutions for Global Challenges, with its focus broadly aligned with the United Nations Sustainable Development Goals.
"Towards An Enabling Science Diplomacy," a comprehensive report commissioned by the Finnish government and published in May 2021, evaluated the development and state of Finnish science diplomacy. The report made ten recommendations for the strengthening of science diplomacy, and one of its specific recommendations is utilizing existing networks such as Fulbright in the planning and implementation of the science diplomacy efforts in the future.
The Foundation recently convened its current U.S. Fulbright grantees with one of the authors of the report, Johanna Ketola, for a conversation on science diplomacy, its history and future directions, and the different ways in which Fulbright students and scholars can contribute to science diplomacy. The insightful conversation concluded with the participants highlighting their responsibility to share their research and the relevance of their findings with audiences outside of their discipline, building awareness and understanding of the research topics among new and broader audiences.
As our global community tackles increasingly complex challenges, the long-standing practice of people-to-people exchanges is more important than ever, and the Fulbright Finland Foundation is proud to play a role in connecting the next generation of science diplomats.
Kohti mahdollistavaa tiedediplomatiaa
https://julkaisut.valtioneuvosto.fi/handle/10024/163144
Lue raportti tiedediplomatian tilasta Suomessa sekä suositukset suomalaisen tiedediplomatian kehittämiseksi.
Report on Finnish science diplomacy, includes an introductory summary in English.
Read the whole Fulbright Finland News magazine 1/2021!