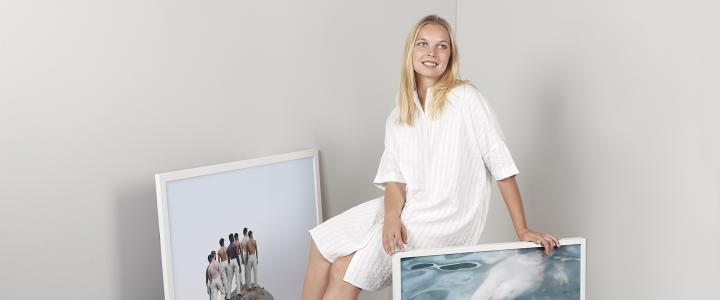 Fulbright Finland News Magazine
Conversation with Cultural Blending
We live in a global age and the fluidity of immigration today challenges us to reconsider the old ways of thinking about national identity. People are no longer bound by geographical borders of countries and only a few places on earth can be said to remain monocultural. Bigger metropolitan cities are starting to resemble a 'human mosaic' where we are moving from multiculturalism, which emphasizes the coexistence of different individual cultures to polyculturalism, which indicates the integration of cultures.
I got to experience this first hand during my Fulbright Finland grant period in New York and later living here in Los Angeles. Big metropolitan cities are in a process of constant social, psychological and cultural change due to the blending between cultures. For me, coming from Finland which still remains fairly homogeneous, living in that kind of environment changed my perspectives on immigration and cultural exchange for good.
Even just within the Fulbright community, that I got to know during my years at The New York Film Academy, we had grantees from all over the globe: Indonesia, Egypt, Lithuania, Spain and Hungary to mention a few. I learned so much about the world by talking and exchanging ideas with them and listening to their perspectives. We had all come to America because of our love for arts and storytelling, whether it be in a visual or written form. Their stories would carry a part of them and their heritage within them, while drawing inspiration from their new surroundings here in America.
The exchange of ideas and being immersed between two cultures myself lead me to my thesis project Kekta. I wanted to explore in a visual form what cultural blending between Finnish and American looks like.
I started by identifying the building blocks of Finnish culture and the identities of Finnish people. That lead me to two significant works of cultural heritage: our national epic Kalevala and Aleksis Kivi's Seitsemän Veljestä (Seven Brothers). I took these stories and created scenes that are inspired by the immemorial beliefs of unity between humans and nature, and cultural traditions that have been passed on for generations in the form of oral folk tales. I photographed them in American landscapes with people around the world who now live in America, creating a new narrative of polycultural identity.
Studies show clear correlations between cities with the largest amounts of immigrants and the largest number of creative industries. A culturally diverse environment can produce more creative thinking, which more likely leads to artistic practices later in life.
When cultures are brought together the interactions between members of these groups create new ways of thinking. Communication, understanding and respect are the first steps towards a more equal world and artists in global cities are the frontline messengers for cultural change. At its best encounters and collaboration between cultures help us to understand and increase racial equality in the post-colonial world and draw new, more creative ideas in arts, politics and science by pulling from larger archives of knowledge and inspiration.
Lotta Lemetti is 2015-2016 Fulbright Finland Undergraduate Grantee. Her photographic project Kekta has claimed international recognition as it has been exhibited in New York, Los Angeles and Italy. It won the Culture section of Latitude Life APS's International Photography Competition and ended up as the First Place Winner of the overall competition bringing Lemetti the Photographer of the Year 2018 title.
For an even more encompassing experience, Lotta Lemetti created a video, in which she asked people to read lines of poetry in Finnish, corresponding with the scenes that they were portraying: https://bit.ly/2Yt0frr
Read the whole Fulbright Finland News magazine 2/2019!