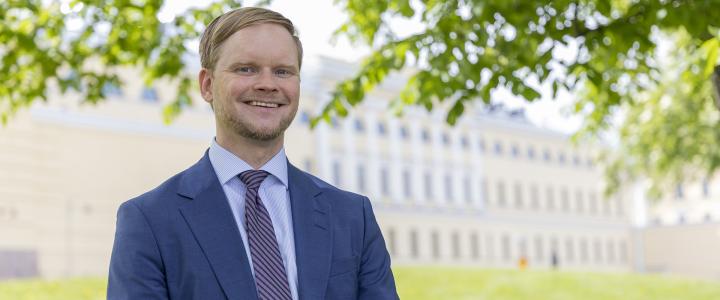 Fulbright Finland News Magazine
Diplomacy and International Exchanges Go Hand in Hand
Fulbright Finland alumnus Jukka Välimaa reflects on his work as a diplomat at the Ministry for Foreign Affairs of Finland and the United Nations, his experiences as a Fulbright fellow at Georgetown University, and the role of international exchanges in developing a diplomatic career.
Jukka Välimaa has recently returned to Finland after several international postings with the Finnish Diplomatic Service, most recently as First Secretary at the Permanent Mission of Finland to the United Nations in New York. In 2010 he left Finland for Washington, D.C. having secured an ASLA-Fulbright Graduate Grant to Georgetown University's prestigious Master of Science in Foreign Service program. A Fulbright Finland Renewal Grant enabled him to extend his studies at Georgetown, later interning at the UN and working as a consultant at the World Bank. Jukka was able to fulfil his long-term goal of becoming a diplomat by joining the Finnish Foreign Ministry and Diplomatic Service in 2013, with postings in Cairo, Egypt and the UN headquarters in New York. Since returning to the Foreign Ministry's Helsinki headquarters last summer, he continues to focus on UN affairs.
So what does the work of a Finnish diplomat involve? "When you work for a diplomatic service of a small country, you get to do all kinds of things," Jukka explains. "In Cairo, in my portfolio, I had development affairs, trading relations, as well as cultural affairs and country brand promotion. Then as a delegate at the UN in New York, I was working in the UN Budget Committee. Now in Finland, I work primarily on UN Security Council issues and international candidatures. Finland is currently a member of the UN Human Rights Council, and several years from now, Finland is standing as the Nordic candidate for the UN Security Council for the term 2029–30. My work involves planning for that longer-term goal, and closely following the UN Security Council. I also follow the discussions at the UN General Assembly."
"It's hard not to mention that it's a tense international atmosphere at the moment. You can also notice this at the United Nations, which is supposed to be the forum where difficult topics can be discussed to maintain international peace and security. But obviously, lately it has been very polarized. Even before the Russian invasion of Ukraine, the atmosphere has been quite tense. The international community has now strongly condemned Russia's aggression and violations of the United Nations Charter." 
Fulbright Prepared for a Career in Diplomacy
Jukka reflects that his Fulbright experiences provided a strong foundation for his current work. "Getting the Fulbright and going to Georgetown was extremely important as preparation for me to get into this career. Before studying in the United States, I knew I wanted to join the Finnish Foreign Service at some point. I did my first master's here in political history at the University of Helsinki, which looked at international relations from a historical point of view. I went to the U.S. primarily to look for a specialized master's degree in international affairs that builds practical, policy-orientated skills, which would prepare me well for this career."
"At Georgetown we were writing short papers all the time. This was different from my experience at university in Finland, where we had much longer research papers. Being able to produce short briefing papers is a skill that is very much appreciated in the policy world. You need to be able to analyze and summarize a complex topic in a couple of pages. I write briefing papers, if not daily, at least on a weekly basis. For example, if a Minister or a top official in the Finnish  Foreign Ministry is meeting someone to discuss UN Security Council issues, I provide background and talking points. You have to be very brief and concise." 
"Other highlights from my Georgetown days were the practical discussions on contemporary policy issues," Jukka explains, noting that the faculty included highly respected practitioners such as the former U.S. Secretary of State Madeleine Albright and former Secretary of Defense Chuck Hagel.
"At Georgetown we worked on a lot of case studies, including a simulation of the situation in Egypt. When I was posted to the Finnish Embassy in Cairo several years later, I felt like I understood the country a little bit already. There was also a strong emphasis on networking skills and other working life skills, which are very useful for my work now."
"The student cohort was diverse. I think there were around 90 people in my year, and of those at least a third were international. Even many of the U.S. students had international backgrounds." Jukka says his classmates often sought out his European and Nordic point of view on international topics, which helped hone his skills in representing his country abroad. "I still have many friends from the program at Georgetown, as well as from Fulbright events and associations in Washington. Many are employed in the same field of work, for example, in the U.S. diplomatic service. So, every now and then I bump into former classmates."
The Georgetown program also provided excellent support for Jukka to complete internships and gain crucial professional experience alongside his studies. "During my two years at Georgetown I worked first at the United Nations Secretariat, and then I traveled to West Africa to work for the Government of Liberia."
Peace and International Cooperation
The Fulbright Finland Foundation's brand promise is Together Shaping the Future, and the Foundation's strategy is broadly aligned with the UN Sustainable Development Goals, including peace and international cooperation. What encouragement would Jukka give to the future generation of Fulbright Finland Foundation grantees and future diplomats? "I think international exchanges are extremely valuable. The Fulbright program itself started as a peace program, and it has decades of history of getting young Finns acquainted with the U.S. and the U.S. way of thinking. I think this has been very important. Now we have many generations of Finns who have experience of working and studying in the U.S." 
I think international exchanges are extremely valuable. The Fulbright program itself started as a peace program.
"I would say that a career in diplomacy and international exchanges like Fulbright go hand in hand. The Foreign Ministry looks for people who already have some international experience, and that's usually the common denominator among those who get recruited. These types of exchanges build perfectly for a career like this. I would really like to encourage younger Finns to have courage when it comes to applying abroad. Finns are a little bit too shy sometimes, and for me at least it was important to realize that hey, I can do this. That doesn't come very naturally for Finns. I wasn't really expecting to get into those U.S. university programs, but I did eventually. Of course, I had a lot of help and support from the Fulbright Finland Foundation as well."
"What I enjoy most about my job is getting to work with extremely important and interesting topics. When I was a student, I was very interested in foreign policy and the United Nations. If I was a student, and I was told that I would be working on these issues, I think I would feel very excited about that. At the UN, there are 193 countries and 193 different ways of doing things, so it's good to be exposed to different cultures and points of view. The international aspect of this career is something unique. You need to be ready for a lifestyle where you relocate quite often and live in different countries. It's a great career choice, but you need a sense of adventure as well."
Jukka Välimaa
2010-11 ASLA-Fulbright Graduate Grant; 2011-12 Fulbright Finland Renewal Grant, Georgetown University
Read the whole Fulbright Finland News magazine 1/2022!