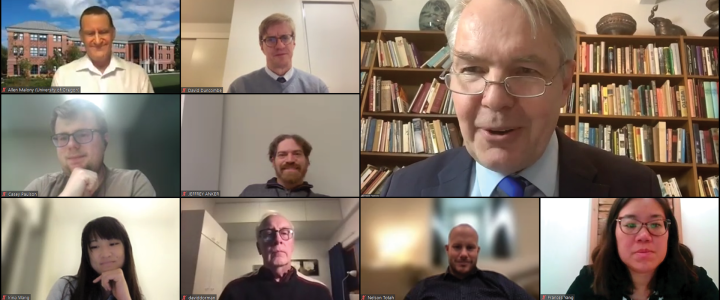 Fulbright Finland News Magazine
Foreign Minister Haavisto and Fulbright Scholars Discuss Science Diplomacy
The Minister for Foreign Affairs of Finland, Pekka Haavisto, recently met with the current U.S. Fulbright grantees in Finland to talk about science diplomacy, what it means in practice, and what both students and scholars can concretely do to engage with and contribute to it.
Science is a powerful force in solving global challenges, transcending the barriers between nations. Given the magnitude of the challenges of our time, however, a much broader engagement in science diplomacy is necessary than is currently the case. The input and participation of established scholars, early career scientists, and students alike, across all disciplines, is critical to help improve the outcomes.
Although science diplomacy is an old practice, the term itself is relatively new and therefore unfamiliar to many. Others may be aware of the concept but less about what it could mean for them in practice. And some confess to being hesitant due to fearing that either "science" or "diplomacy", or both, are outside of their capacity or position. Alleviating unnecessary thresholds and building broader and more inclusive engagement require better familiarization and more training in the key characteristics and challenges of science diplomacy and science communication, as well as an open discussion of the many and diverse opportunities and ways to contribute.
"The conversation with Minister Haavisto and members of the Fulbright Finland community affirmed that we must learn together, across boundaries of disciplines, organizations, and countries, in order to find meaningful answers to the challenging questions posed by the crises humanity faces," says Anita Wagner from Harvard University, currently in Finland on a Fulbright-Tampere University Scholar Award.
From his extensive background and experience working around the globe to help solve some of the most intractable problems of our time, Minister Haavisto shared with the grantees his personal experiences and insights, and offered powerful encouragement for everyone, regardless of age, background, or title, to assume an active role. One should not shy away from the challenge.
"The conversation with Minister Haavisto about science diplomacy was a career pivoting experience for me, during my first week as a Fulbright Specialist in Finland," says Frances Yang from the University of Kansas, currently on her Fulbright at the University of Eastern Finland. "I was impressed by Minister Haavisto's cultural humility, servant leadership, intelligent diplomacy, and scientific understanding. When I inquired about my research area in Finland to identify culturally appropriate, standardized health measurements to make comparisons across countries, in order to identify healthcare solutions in anticipation for the next pandemic, he immediately understood the problem. He gave an example from his own experience when several countries had different ways of measuring the water quality of a river they shared, leading to discrepancies and consequently making the joint discussion on addressing the issue at hand more complicated."
The questions around science diplomacy are typically complex. Allen Malony from the University of Oregon, the current Fulbright-Nokia Distinguished Chair in Information and Communications Technologies at the University of Helsinki, brought up the challenges regarding how to address issues of science denial and anti-science factors in science diplomacy.
"Science diplomacy is founded on the principle that the science matters," he says. "While humankind has the most powerful instruments for scientific discovery ever imagined, allowing us to advance evidenced-based, reliable, scientific knowledge for solving global challenges like never before, it is also important to be aware of science denialism and anti-science factors in society and politics that challenge our efforts to make progress for a better world, one based on scientific reasoning."
The grantees and Minister Haavisto discussed a broad range of fundamental themes, such as how humanities fit into science diplomacy, the role of traditional knowledge, and the balance between cooperation and competition in government-led science diplomacy initiatives. The inspiring exchange, driven by the grantees' insightful questions, gave food for thought for many conversations to come.
"I am grateful for this conversation with Minister Haavisto through Fulbright Finland's thoughtful efforts to make this opportunity available for us. I learned about the term "science diplomacy" for the first time, and now realize this is the mechanism of impact that I have always been passionate about through the translational research that I strive for. My career goal is to ultimately impact and improve the health of all nations. Now, through Fulbright Finland and this conversation with Minister Haavisto, I have science diplomacy as my career mission," Frances Yang concludes.
Science diplomacy will be discussed at the NAFSA: Association of International Educators 75th Anniversary Conference in Washington, D.C., May 30-June 2, 2023, in the session on "Tackling Global Challenges: Science Diplomacy In Fulbright Exchanges", chaired by Fulbright Finland Foundation CEO Terhi Mölsä. If you are planning to attend NAFSA in May, come and join us for this session!
Read the whole Fulbright Finland News 2/2022!