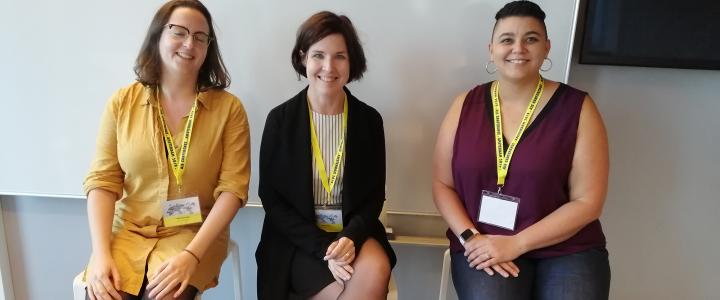 Fulbright Finland News Magazine
Global Exchanges Between Interdisciplinarians
Interdisciplinary approaches have gained in popularity in research and in education. The premise of interdisciplinary studies is that complex problems, such as climate change or global inequality, cannot be understood, let alone solved, by means of any academic discipline alone. By integrating ideas from diverse disciplines, experts can gain more multifaceted views on the world's pressing problems and come up with sophisticated, sustainable solutions. The need to expand our notions of knowledge was also accentuated by J. William Fulbright, founder of the Fulbright program. In his words: "We must dare to think 'unthinkable' thoughts. We must learn to explore all the options and possibilities that confront us in a complex and rapidly changing world."
In line with Senator Fulbright's statement, I argue that Fulbright activities are extraordinary in their capacity to enhance our interdisciplinary learning and research skills. The Fulbright activities I have been involved in – dozens of orientation and enrichment programs in Helsinki, in New York City, and elsewhere in the U.S. – have systematically exposed me to the thoughts of Fulbright grantees and alumni specialized in fields different from my own, ranging from arts to economics and from engineering to education. The organizers of these activities – the Fulbright Finland Foundation, One To World, and the Institute for International Education – have made conscious effort to connect participants with different backgrounds, prompting us to ask new kinds of questions and leading us to discover meaningful connections between seemingly distant ideas.
In 2017, I became affiliated with the Association for Interdisciplinary Studies (AIS), an organization established in the United States in 1979. AIS invites and facilitates dialogue and collaboration between diverse disciplines, paving the way for more versatile and flexible learning environments in the U.S. and around the globe. During my first Annual AIS Conference at the University of Maryland at Baltimore County in 2017, I immediately sensed a genuinely open atmosphere that reminded me of the Fulbright events I have had the pleasure to attend over the years. Hence, I was not surprised to find that many of AIS's founding and leading members, such as Professor Julie Thompson Klein, are also Fulbright alumni.
I realized that the impact of the Fulbright experience on the development of interdisciplinary skills deserved more attention in the AIS community. In October 2019, the 41st annual AIS conference was organized at the University of Amsterdam, the Netherlands, under the theme "Interdisciplinarity in Global Contexts." This was the first time ever that the AIS conference was organized outside of North America. The conference's principal organizers, Professor Machiel Keestra and program manager Linda de Greef were delighted about my proposal to organize a panel discussion featuring Fulbright alumni from different countries and with different backgrounds, this way also celebrating the bridge AIS was now building across the Atlantic.
Fulbright activities are extraordinary in their capacity to enhance our interdisciplinary learning and research skills.
Fulbrighters Establish Interdisciplinary Initiatives
It was easy to find enthusiastic panelists within AIS: Dr. Merel van Goch, currently Assistant professor at the Department of Liberal Arts and Sciences at Utrecht University in the Netherlands, was a visiting Fulbright scholar at Yale University in 2013, with a focus on experimental psychology. Ari Lindeman, Research manager at the South-Eastern Finland University of Applied Sciences, was a Fulbright student at the University of South Florida between 2000˗–2003, integrating business studies and philosophy. Andi Hess works as instructor at the Faculty of Leadership and Interdisciplinary Studies at Arizona State University. The planning of the session was supported by fore-mentioned Professor Klein, who eagerly shared her experiences as a visiting Fulbright Professor in Nepal.
I saw the panelists and Fulbright alumni in the audience nodding in agreement as soon as they heard Ari's opening words: "The Fulbright experience awarded me the luxury of becoming an interdisciplinarian." Indeed, the word "luxury" resonated with many of us. Joint discussion revealed that there were significant differences between ways in that interdisciplinary studies was organized in our countries of origin, but all of us had struggled. Given the hardships we had been through, we never took the genuinely open atmosphere and free exchange of ideas in the Fulbright activities for granted. But we also got used to it, to the extent that we felt that we had to try to increase the level and quality of interdisciplinarity in our home countries upon our return. This is also an expectation inherent in the Fulbright program – while in the foreign country, we are supposed to share our knowledge gained in our home country and learn from the new environment, and then bring that new knowledge back home with us.
There was also consensus among the participants that the Fulbright program had provided us with leadership skills, which proved helpful in our efforts to pave the way for more open learning environments in our home countries. All Fulbright alumni in the room – panelists and audience members alike - had been involved in the establishment of new interdisciplinary initiatives in our home countries following our Fulbright term abroad. We reached the conclusion that it was extremely important for us to stay active as Fulbright alumni and keep in touch with one another, as we were able to understand each other's aspirations in a way that others, who had not previously experienced interdisciplinarity in the Fulbright community, could not. As a collective, we will be more able to recognize and address the kinds of changes that need to be made in our educational institutions, so that they can better respond to the needs of interdisciplinary scholars now and in the future.
Kirsi Cheas is president of the ASLA-Fulbright Alumni Association, founding member and president of FINTERDIS – The Finnish Interdisciplinary Society, and newly elected at-large board member of the international Association for Interdisciplinary Studies (AIS).
Read the whole Fulbright Finland News magazine 2/2019!