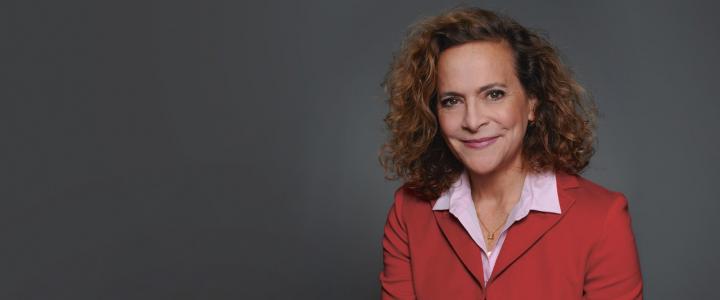 Fulbright Finland News Magazine
Leadership and Learning Across Cultures
Rebecca Macieira-Kaufmann, Head of International Personal Bank U.S. at Citigroup and former President of Citibank California, talks about her experience as a Fulbright Fellow in Finland, her passion for business and leadership, and her cross-cultural outlook on life.
Rebecca Macieira-Kaufmann has made a successful career in business and banking, and says that the core of her work and values is caring about people. Among her many passions, she highlights leadership and intercultural learning as central to her own life and professional development. "I've loved languages and culture since I was a young kid. I went to Chinese bilingual school, and I've studied nine languages over the years. By the time I had my first full-time job I'd worked in five different countries."
This passion for intercultural learning led Rebecca to seek out international opportunities while still an undergraduate at Brown University. Rebecca was studying Semiotics, and already planning a future career in business. She spent her summer vacations working abroad, first at Renault in Paris, and then at ITT in Helsinki. "I was so in love with Finland. I'd always wanted to go to business school after college, but I also wanted to go back to Finland. I was very fortunate. I got into Stanford Business School and was awarded a Fulbright scholarship to Finland at the same time."
A Year of Intercultural Learning
Deferring business school for one year, Rebecca found the perfect fit for her research interests in Finland, hosted by the University of Helsinki and advised by Henri Broms, an expert in semiotics and business, at the Helsinki School of Economics. Rebecca recalls that although she knew she wanted to work on semiotics and international media related to Finland, she needed to define a specific topic. "But then in April of that year, the Chernobyl disaster happened, and that made up my mind. I analyzed news coverage of Chernobyl, comparing The International Herald Tribune with the Helsingin Sanomat, and also with Russian coverage in Pravda. I was excited to look at both east and west news coverage – my big area of interest was how meaning is constructed."
"It was a very deep learning year, and wonderful to stay focused on just one or two topics for a whole year. I got to spend time with Finnish journalists and travel with them, as the Helsingin Sanomat invited me on a journalism trip to Estonia. I got to work on a book with Henri Broms, editing Semiotics of Management. It was a wonderful year, very rich, very intellectually exciting, and I loved getting to know the Finnish culture better."
"I think I lived there in one of the coldest winters," she recalls. "It was -30 degrees celsius, and trains were freezing to the tracks, you couldn't wait outside for the bus. I learned how to drive on black ice, and when you could go walking out on the Gulf of Finland, on the frozen sea. I put my whole house in Finnish, covered in little yellow notes, to learn vocabulary. I learned about how Finnish society operates, how things are based on trust."
Rebecca's connection with Finland lives on in more personal ways. "I'm an ambassador now for Finland here in the U.S.," she laughs. "If anyone has visited me at home, they've probably had karjalanpiirakka or other Finnish food. I took my kids to Moomin Land when they were little. We went to Finland again for fun last summer. My daughter's already been to Finland three times and she's only 19."
Building a Successful Career
On completing her Fulbright scholarship year, Rebecca took up her place in Stanford Business School. "I moved straight from Helsinki to Palo Alto. What a contrast! I even had a pool in my apartment building. I would say I came back with a greater knowledge of the world, of both cultural differences and similarities. Business school is very international, so that helped me a lot. I also had a sense of confidence, as I'd already had my research published a couple of times."
After completing her studies, Rebecca continued working abroad, including a job in Hong Kong, followed by three years in London working in international strategy consulting. "I was always looking for new cultures, new places to go. This time though, I wanted to work in English. It was a little ironic that I wanted to work in English but because of my language skills I was also assigned to work with Finnish and French clients!" she laughs.
On returning to the U.S., Rebecca decided to focus on business management. She moved into the financial services sector, where she has built up a highly successful career over 25 years, including as CEO of Banamex USA, overseeing the U.S. banking operations of Grupo Financiero Banamex, the second-largest bank in Mexico. She is now one of Citibank's most successful female executives, formerly President of Citibank California and now Head of Citibank's International Personal Bank.
Taking on New Challenges
"All of it has been tough, nothing is easy! But I think I look for challenge, and for me, I'm in the perfect job. Managing people, being managed by people, working with regulators, meeting client needs, keeping employees motivated, getting the best value for customers… it's a lot of juggling, a lot of demand. Working with others is my greatest joy and greatest reward, as my colleagues become my family."
"I love people, and what I love about the financial service industry, is that money creates value for people. It's really about what people do with their money, they save to buy a home, to create a small business, to retire, to give money back to society... everyday we're helping people live their lives and their own values. That's why I get up in the morning."
Rebecca adds that taking on a leadership role, listening to and encouraging others, are some of the most rewarding aspects of her job. In addition to her responsibilities at Citibank, she is active in the wider community, and often gives presentations at business schools and other institutions on leadership, team-building, and business transformation. Through both her work and community activities, she has been recognized as an important role model for women in business, and has received a number of awards, including being named the 2010 Financial Woman of the Year by the Financial Women's Association of San Francisco.
"When I went to business school, I would say about a third of my class were women, and when I got into executive-level management, perhaps 18–20% of executives were women. Now I would say there are many more women, and it feels like there's much more parity compared to when I started. Before, women in senior roles didn't necessarily have children, but now many do. I think that now those who want to have kids are able to balance that with their career."
Rebecca believes young women should feel empowered to pursue careers in business and finance, and that a Fulbright scholarship offers a valuable opportunity to develop one's professional experience and outlook on life. "My advice is to just go for it, because if you don't it won't happen. Whether it's your job, your grant, or moving abroad, you have to try, so don't give up. I think a lot of people might be naysayers, but there are a lot of people who are yaysayers! When you have a challenge, listen to the positive people in your life. But above all believe in yourself, tell yourself you can do it."
Importance of Investing in Fulbright
"John F. Kennedy said about the Fulbright program that it may be the best example of 'beating swords into ploughshares, of having some benefit come to humanity out of the destruction of war'. It fosters mutual understanding between people of the U.S. and people of different countries. It's an amazing program; it's not political, it's so open and broad. The whole aim is to bring people together."
Rebecca argues for the importance of continuing to fund and invest in the Fulbright program, both in the U.S. and in Finland. "It is a way, one by one, to have that cross-border, cross-cultural understanding. It's so different from what you can learn about another culture by reading the news or watching a movie. When you live for a year abroad it makes you more of a global citizen. There are very few things in this world that are not crossing boundaries all the time, but it's so valuable to understand that all places have their local traditions, their local knowledge, and not everything is like how we see it. You need to learn to see things from a local's eye. I think it's priceless. It gives you a window into different interpretations, and we all need more of that in the world."
Read the whole Fulbright Finland News magazine 1/2019!