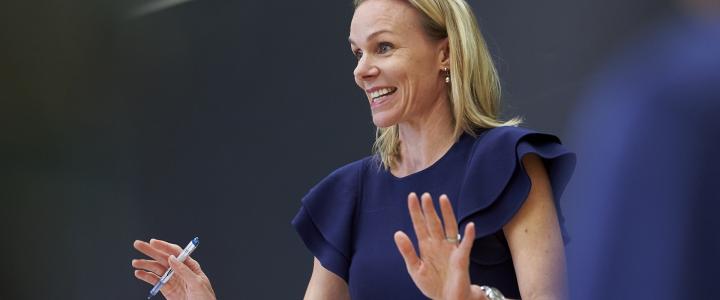 Fulbright Finland News Magazine
Part of the International Conversation
Leading legal academic Professor Anu Bradford talks about the impact of Fulbright on her life and career, her research on global regulations, including the international influence of the European Union, and her views on how international exchange helps to foster understanding and dialogue in a contested world.
Anu Bradford is one of the world's leading experts in international trade law and the global impact of EU regulations. Originally from Tampere in Finland, she was educated at the University of Helsinki before an ASLA-Fulbright Graduate Grant took her to study comparative law at Harvard, an experience she describes as "life-altering."
"It was a pivotal turning point in my career, but also a way to get to know American society. Looking back, it was by far one of the best and most consequential years of my life. Harvard was a really dynamic, energizing, invigorating place to study law, and I fell in love with U.S. legal academia. There was this kind of positive contestation, and I saw how confident students were in defending their views, often questioning established theories. The energy spilled out of the classroom, and when we walked out, we continued to debate and discuss. So, I delved in, I fit in, and I really felt at home. It became clear to me I wanted to be a legal academic, to continue being part of these conversations."
"Legal classroom culture in the U.S. is a much more interactive experience, which was very empowering for me. They use the Socratic teaching method, which means professors ask students a lot of questions. It's a collective process of figuring it out together, so as a student you need to take ownership of the conversation in a way that you don't if you are more passively receiving information from an authority in the front."
Anu moved back to Europe after her Fulbright, spending time practising law in Brussels and Finland, before returning to Harvard to complete her doctorate on EU-U.S. competition law, also called comparative anti-trust law. She worked at the University of Chicago before moving in 2012 to Columbia Law School in New York, where she is Henry L. Moses Professor of Law and International Organization, and Director of the European Legal Studies Center.
Anu explains that her own approach as an educator builds on her own student experiences during her Fulbright year. "This shared commitment to learning is only possible when you really put the students in charge, when you think of them as the key actors in generating this knowledge with you, and under your guidance. That's the way I teach these days; I rely on the students coming to class ready to contribute to the conversation." 
Anu's latest book, The Brussels Effect: How the European Union Rules the World (2020), named one of the best books of 2020 by Foreign Affairs, draws on her international perspective and background, exploring how the rules and regulations made in Europe affect economic life and society in the U.S. and the rest of the world. 
Straddling Two Worlds 
"I write about the European Union as both an insider and an outsider. I've spent almost all of my professional life in the United States, and I've been writing about the EU as a European and now European-American living in the U.S. I know Brussels, I know EU law, I know it the way a European does, yet I've gained the perspective of distance. That's part of what I attribute the success of the book to, that I've been able to straddle these two worlds." 
"EU regulations have a global impact, and Americans feel their effects every day, although they often don't realize it. The food we eat, the air we breathe, the products we produce and consume – a lot of those have been shaped by the laws that come from Brussels." 
Anu is working on a new book about global regulation of the digital economy, and the interplay of American, European, and other legal systems. 
"There's the American approach, which is more techno-libertarian, leaving the tech companies alone and letting them innovate, and the Chinese view, where government tightly controls the internet, what I call digital authoritarianism. Then there's the European view, which very much puts rights and values in the center, trying to establish a more human-centric, ethics-based, fundamental rights-preserving legal approach, enabling an internet that serves humanity as opposed to exploiting it. I'm looking at how these different regulatory models compete for influence globally, and which of them will prevail, focusing on issues such as privacy, artificial intelligence, and regulation of hate speech." 
Anu and her family are based in the U.S. but retain close links with Finland, spending each summer in Finland reconnecting with family and friends. Anu also maintains connections to the University of Helsinki as a Docent in Transnational European Law there. 
"I try to use every opportunity when I go back to Finland to encourage young, ambitious, talented, curious, hardworking people to take advantage of opportunities like Fulbright, because it can really be transformative. It can open new doors, expand your horizons, help you grow professionally and personally. Finland can seem very far from the hallways of American universities like Harvard, and it can seem that gap is unbreachable. Often in countries like Finland, parents don't save that kind of money for college or graduate school education, it's not part of the culture, so studying in the U.S. is often just not feasible without institutional and financial support. My first goal was to get the Fulbright, so I would have a pathway and the financial means to make it."
Long-Lasting Impact
Anu adds that, beyond financial support, the Fulbright Finland Foundation helped her navigate the application paperwork, as well as providing crucial orientation to U.S. society and culture through a preparatory course at Georgetown University. "I was able to hit the ground running and make the most of my scholarship," she explains. More broadly, she emphasizes the importance of Fulbright and international exchange programs in supporting international relations, and the long-lasting positive impact such exchange can have on individual lives. 
Exchange programs can have tremendous impact and shape entire lives – the way people think, the way they converge, the way they make their personal and professional choices. It all fits into the broader vision that we should have about the world.
"The Fulbright program helps to enhance understanding. When you think about how contested the geopolitical situation is these days, it's all the more important that we enable new generations of people to be part of each other's societies, to bridge and connect, even on an individual level, even at times when collaboration between governments is not so straight forward. In recent years it has sometimes been difficult to collaborate with America, to understand what America stands for, or how America conducts its international relations with the rest of the world. It's vital to find different ways for universities, organizations, and leaders of all kinds to continue the conversations that are true to the principles that I think both Europe and America really value – deep open dialogue, freedom of expression, and the idea that we ultimately have so much in common – and to be able to build on those points in common to overcome the issues where we do disagree." 
"I believe that being able to be part of different conversations is critical for the peace and prosperity of all. Exchange programs can have tremendous impact and shape entire lives – the way people think, the way they converge, the way they make their personal and professional choices. It all fits into the broader vision that we should have about the world."