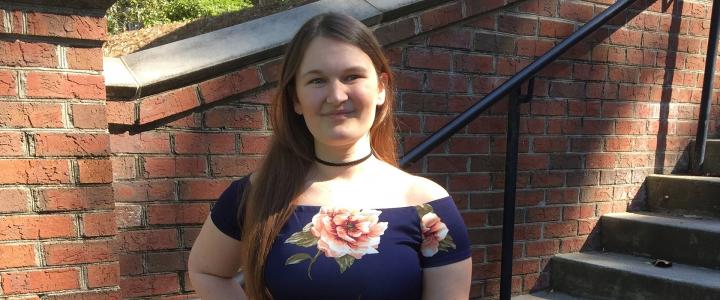 Fulbright Finland News Magazine
On a Path Toward an Inclusive and Accessible World
They say the sky is the limit, but I have to disagree. In reality, it is only the beginning of things limited by our sight. Growing up as a legally blind person in rural Georgia in the U.S., I wish I would have known from a very early age that things are never truly impossible unless you allow them to be. I did eventually come to understand this, but it definitely was not the 'easy' way.
After many long, and often frustrating, years of having society's misconceptions about what it means to be blind thrusted at me through remarks such as "blind people shouldn't be doing that," or "no, it's too difficult for you," I unfortunately started to internalize what I was hearing, and I accepted that it was true. Thus, I began limiting myself, which – unbeknownst to me – only further perpetuated the stereotype that I, as a blind person, was incapable of becoming a productive and contributing member of a global society.
Making Dreams a Reality
Fast forward to 19-year-old me walking to my Forensic Psychology course on a crisp autumn morning: I suddenly hear the roaring of a jet engine soaring above me, taking off to some exquisite, faraway destination.
After I had come to terms with the fact that I wouldn't be magically whisked away to Aruba or Amsterdam instead of having to go to class, I began to think deeply about what I wanted for myself. It didn't take me long to figure out that I knew exactly where I wanted to be, but I was just refusing to accept it because I felt inadequate and somehow undeserving of a chance. "I want to help people"; "I want to make this world a more inclusive and accessible place for people like me"; "I want to ensure that people with disabilities don't ever have to place these limits on themselves and that there are no societal barriers to their success," and a million more thoughts came to me as the sounds of the airplane began to dissipate into silence.
I felt a rush of emotions that came over me like a waterfall, and I still refer to this brief instant as my very own 'watershed moment.' I finally had the courage to admit to myself that I had big dreams but wasn't chasing them. Therefore, I made it up in my mind that I was going to do everything in my power to make my dreams a reality – once my psychology class was over.
I started to seek out every opportunity to blossom as a leader, innovator, researcher, and civil servant. I was led by my university's scholarships advisor to the Fulbright Grant application. I felt that sense of doubt begin to creep up yet again, but this time I was determined not to let it win.
After much encouragement from my advisor, and many talks with myself, I applied for the grant, and, to my utter shock, I eventually received the email that so many students long to appear in their inbox. I had been awarded the Fulbright grant to study my master's degree program in Comparative Social Policy and Welfare at Tampere University in Tampere, Finland! I had finally been given a chance in this world to pursue my passion and do what I love. Immediately I was laser focused upon achieving my goals and not letting this opportunity slip through my fingers, as I had regretfully done so many times in the past.
Researching Attitudes Toward Disability and Ableism
My thesis builds upon my previous research in the fields of criminal justice and disability policy and serves to highlight the need for sweeping social policy reforms, allowing for more accessible and unbiased criminal justice systems across the globe.
I am conducting several comparative studies in order to test the effects of attitudes toward disability and ableism upon the legal outcomes of people with disabilities who have been accused of a crime. Utilizing a series of mock court cases and vignettes to describe a non-violent crime in which evidence against the perpetrator is quite ambiguous, I manipulate the variable of disability status in order to examine if legal decision-making processes seem to differ significantly among participants if a perpetrator is physically disabled, intellectually disabled, or nondisabled.
Furthermore, I am interested in screening participants to measure their level of inherent ableism, which is defined as either the subconscious or conscious belief that nondisabled people are superior to disabled people in a fundamental manner. I also plan to conduct an extensive literature review and analysis of the historical and social contexts of disability and crime, as well as the policies that currently exist in a variety of nations which aim to eliminate bias or prejudice within the framework of the legal system.
Target nations will be grouped by their welfare state typology, as outlined by Esping-Andersen in his 1990 publication entitled The Three Worlds of Welfare Capitalism, and will represent liberal, continental European, and Nordic welfare states. 
I hypothesize that both levels of ableism and the welfare state type will play a key role in the decision-making processes of study participants, due to the various welfare states' models of disability, namely the medical model and social model. The state's view of disability will likely have a trickle-down effect that will critically influence social policies as well as the attitudes of individual citizens in a given nation. 
Upon the completion of my master's thesis, my research will continue, since much like in the case of the airliner that sparked my watershed moment, the sky is just the beginning of something revolutionary and life-changing for a group of individuals who have been previously marginalized and limited in myriad areas of society, including education, employment, health, and criminal justice.
Welcomed with Open Arms
Making the transition to Finnish life was much easier than I had expected, despite the challenges of traveling abroad during a global pandemic.
Instead of feeling like a burden due to my blindness, I was welcomed with open arms and greeted with so many helpful services which took away any anxieties I had about completing my grant term independently. The Fulbright Finland Foundation, Tampere University, and even my neighbors offered a helping hand in the adjustment to life in Finland, and I knew immediately that this is the path which was meant for me to follow.
I felt an overwhelming sense of pride to be able to call Finland home for even a short period of time, and the spirit of the Finnish people gave me much hope for a future which is inclusive and accessible for all citizens.
Exemplifying Sisu
Throughout my experience as a Fulbright grantee in Finland, I have faced some obstacles, but have had far more triumphs and victories, both big and small.
I have learned more than I could have ever imagined, both in the classroom and outside of it. I have come to truly accept and love myself as a person with a disability, I have started to visualize how I fit into this big, confusing world as a changemaker, scholar, and leader, and I have gained a deeper appreciation for the Finnish way of inclusivity and equality for all people, regardless of ability status.
I also learned a few Finnish words, with my favorite being sisu: Finnish concept described as stoic determination, tenacity of purpose, grit, bravery, resilience, and hardiness. Due to the Fulbright Finland Foundation taking a chance on me instead of simply labelling me as incompetent or incapable of achieving anything noteworthy, they took a chance on the small-town blind girl from the deep south, who definitely isn't perfect, but who exemplifies the concept of sisu – even though it took her a long time to realize that.
Instead of accepting defeat and proving others right that blindness is what holds you back, I have confidently stepped into the cockpit, sat in the Captain's left-hand seat, and took off on my journey to illustrate to others just like me that this is only the beginning of something much, much bigger.
Read the whole Fulbright Finland News magazine 1/2021!