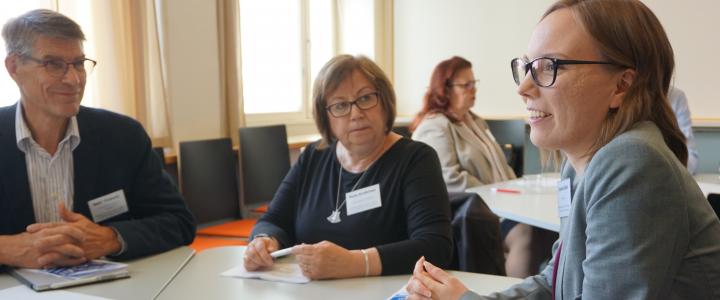 Fulbright Finland News Magazine
"SUPERHOST" - Making Most of the Host Experience
Finnish hosts play a significant role for U.S. grantees before and during their adventure in Finland.
Practices for hosting U.S. Fulbrighters vary in Finnish higher education institutions, and while some U.S. students and scholars are well prepared for their stay in Finland, others have to establish their own networks and get adjusted in the new academic and cultural environment very independently. As a way to further develop and nurture the host-grantee relationship, the Fulbright Finland Foundation organized a workshop for Finnish hosts in August 2019 with support from the U.S. State Department's USAStudyAbroad office.
The workshop brought together hosts of U.S. students, teachers, and scholars from Finnish higher education institutions, and provided them with an opportunity to share and discuss best hosting practices. Leasa Weimer, an experienced scholar-practitioner in the field of internationalization of higher education and also a new Fulbright Finland Foundation staff member facilitated the workshop.
"The event gave insight on the network of current grantees in Finland, as well as valuable benchmark information on how other host universities handle their support services for arriving grantees," says Marja Nyberg, HR Coordinator of the International Staff Services from the University of Jyväskylä. "The introductions gave insight on Fulbright Finland's role in the process, and it also clarified what is especially expected of the host organizations."
Visualize the host-grantee relationship as a two-way bridge, where the host and grantee exchange and share their culture and professional insights.
Two-way Bridge
An overview of Fulbright Finland Foundation services, resources, and guidance for hosts was followed by an interactive panel discussion with hosts and former grantees.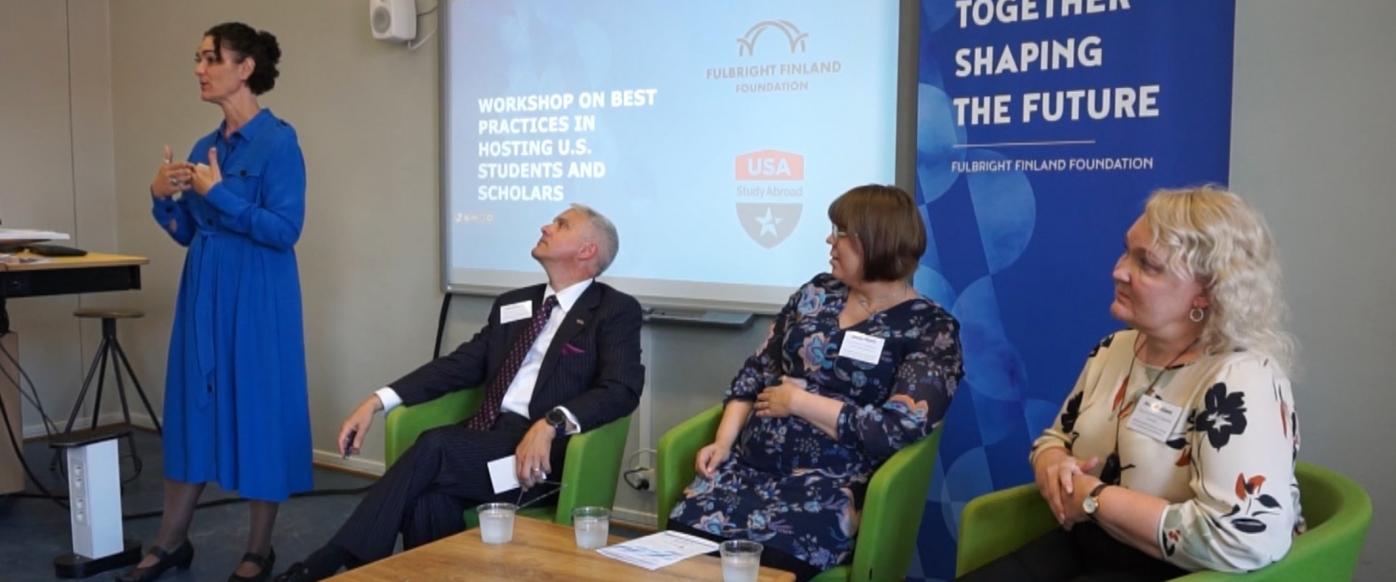 "Visualize the host-grantee relationship as a two-way bridge, where the host and grantee exchange and share their culture and professional insights," Leasa Weimer encouraged the participating hosts and panelists. "At the same time, the host serves as a bridge to further develop internationalization at home efforts by facilitating opportunities for the U.S. grantee to meet and interact with other staff, students, and university initiatives."
Anu Härkönen, Head of International Affairs at Turku University of Applied Sciences, drew attention to the importance of hosting international guests from the national and institutional perspective.
"It would be very useful to share best practices and work more together with other Finnish universities hosting Fulbright grantees. After all, it is in everyone's interest that the grantees enjoy their time in Finland. It would be great, if the grantees had the chance to get more contacts from higher education institutions from all around Finland. For this the coordination and help of the Fulbright Finland Foundation is needed," she says.
Hanna Pöyliö, University Teacher at the University of Jyväskylä and Project Coordinator at Niilo Mäki Institute, has been a 'superhost' for several grantees over the years and she shared her top tips for ensuring grantees have a positive experience. "It's like a hobby for me," Hanna confessed as she talked about how she invites her grantees to participate in Finnish traditions with her family.
John Broussard, Professor of Finance at the Estonian Business School, spoke from his experience in Finland as the 2016-2017 Fulbright-Hanken Distinguished Chair in Business and Economics. He focused in on the importance of host communication, particularly in educating the grantee about the jewels of the university, region and the Finnish work-life balance philosophy.
Good Hosting Practices Contribute to Positive Experiences
The panel of experts agreed that educating hosts (both administrative staff and faculty members) about best hosting practices has a positive impact on U.S. students' and scholars' study or research period in Finland. Positive experiences can increase the likelihood of long-term trans-Atlantic collaboration between Americans and Finns.
The panel discussion laid the foundation for a workshop that challenged the participants to brainstorm concrete ideas to help current and future hosts make the most of the experience. Best practices were shared between new hosts and hosts with a proven track-record of going beyond basic procedures in helping U.S. students and visiting scholars to feel welcome, get settled, and connected with professional networks.
Key Takeaways
Think of the hosting responsibility in three phases: pre-arrival (6 months to 1 day before arrival), welcome (1-2 weeks after arrival), integration (remainder of visit)
Design a 'hosting team' that includes academic staff, human resources staff member and a staff member from the international office
Ensure that the grantee has the academic calendar
Schedule a pre-arrival video call to prepare them for their arrival, discuss both host and grantee expectations, the feasibility of their project with current local context, and get to know one another
Upon arrival, schedule a welcome coffee to introduce the grantee to research team/department
Throughout grant period, serve as a conduit connecting the grantee with key individuals in their discipline at their home institution and in other Finnish institutions
Read the whole Fulbright Finland News magazine 2/2019!