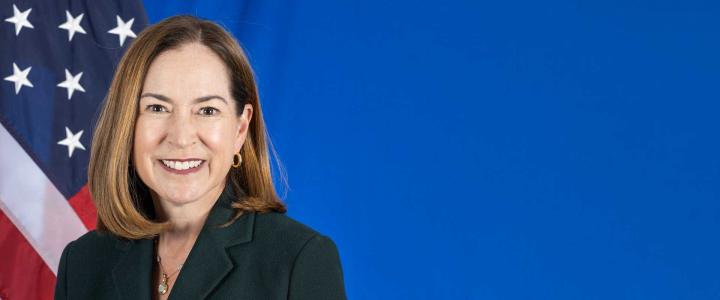 Fulbright Finland News Magazine
U.S.-Finnish Fulbright Partnership Grows Stronger
As Finland joins the NATO Alliance and further deepens its close and longstanding relationship with the United States, I want to recognize the essential role that educational cooperation and people-to-people exchange play in our bilateral partnership and in finding global solutions to improve lives worldwide.
The dynamic Fulbright Finland Foundation is the primary interface for our two governments' bilateral work in education, science, and culture.
The Fulbright Finland Foundation's strategic focus is on collaborating to seek solutions for global challenges. Their particular strengths include areas of technology where Finland is a world leader; climate change, especially in the Arctic; and science diplomacy programs to advance the shared priorities of our two countries.
The Foundation's programs to increase media literacy and foster STEM research and innovation will help to sustain and strengthen democracy, economic opportunity, and prosperity in both our countries.
The dynamic Fulbright Finland Foundation is the primary interface for our two governments' bilateral work in education, science and culture.
The U.S. government is proud to fund the Fulbright Program – through the Bureau that I lead and with support from the U.S. Congress – in partnership with the Finnish government, for exchange programs that bring our students, scholars, and universities – and our peoples – closer together. These educational and research opportunities have led to innovative partnerships in many fields of academic and professional endeavor.
As many readers will be aware, Fulbright is the U.S. government's flagship international educational and cultural exchange program. Fulbright builds lasting connections between the people of the United States and the people of other countries, strengthening mutual understanding between nations and advancing knowledge across communities. Upon their return to their home countries, Fulbrighters join thousands of alumni serving as leaders across the globe and in every field. Fulbright alumni include 62 Nobel Prize recipients, 89 Pulitzer
Prize winners, and 41 who have served as a head of state or government. Together they are part of a network committed to working together on global solutions to improve lives around the world.
With a renowned educational system, Finland is also one of the top destinations for U.S. educators to learn about primary, secondary, and vocational education. Finnish teachers can also learn much from the breadth and diversity of our U.S. system of education. Fulbright teacher exchange programs have built a powerful network of alumni who serve as thought-leaders and agents of change in the education sector in both our countries.
People-to-people exchanges are about coming together, learning from one another, and building lasting relationships. The Foundation's over 6 000 Finnish and American alumni are inspiring action and cooperation all across our societies; as individuals, they are personally committed to strengthening relations between our two nations.
The Fulbright Finland Foundation has an innovative model for partnering with Finnish higher education institutions and private foundations and to develop and co-fund Fulbright awards for both Finns and Americans. We encourage other Fulbright Programs in Europe and worldwide to consider this as a model.
The Foundation has also been a leader in multilateral engagement through Fulbright. As a regional leader, the Foundation has convened many gatherings in the Nordic and Baltic region to engage Fulbright participants and alumni on issues that include media literacy, disinformation, and the Arctic.
I would like to thank all our Finnish partners for your diligent efforts to make the Fulbright Program in Finland so innovative and inspiring. Our continued cooperation will strengthen the relationship between our countries and peoples even more.
Lee Satterfield
Assistant Secretary of State
Bureau of Educational and Cultural Affairs
U.S. Department of State
Read the Fulbright Finland News 1/2023!