No Dead Ends in Learning
By Annie Marostica Ransom
Published on June 22, 2020
I got off the bus at Kirjasto 6 with an extra kick in my step. I was excited, nervous, and anxious about finally booking not just one, but two workshops in the next two weeks. One was with a group of student teachers for a science methods class at the University of Jyväskylä and the other was for a group of science teachers participating in a phenomenon based collaborative project through the LUMA Centre (LUMA is abbreviated from "luonnontieteet", the Finnish word for natural sciences, and "mathematics"). I had been working my way up to these opportunities for the last 5 weeks. Meeting with people, cultivating relationships, and earning the trust of these amazing professors who would ultimately give me the opportunity to try some new things with their projects. In that moment, I felt my Fulbright journey starting to come together. Since arriving in Finland, I had been struggling with my expectations not matching my observations.
While in Finnish classrooms I had not seen the catalog of reading, discussion, collaboration, or engagement strategies that teachers roll through in schools back home in Southern California. Jigsaws, science talks, hand-up pair-up, SLANT, TAPPLE, CHAMPS, and all of the ubiquitous acronyms which American teachers live their professional lives by were completely absent from my Finnish classroom experiences. I did not see teachers in a continual state of improvement, being contacted by publishing companies, teaching networks, and school administration about the newest and most effective strategies or online programs or curriculum they should be using to increase learning. 
"The classrooms were filled with people who cared about each other and cared about learning. They were welcoming and full of trust, sometimes too much for my comfort."
Grade 3 students were allowed to leave the classroom to common school spaces to work on projects; a small group of middle-school boys shot water out of the sinks at each other during a combustion lab without the teacher saying anything, and multiple teachers allowed cell phone use without restriction or consequence. But the grade 3 students were productive, the boys were unharmed and got to work when the teacher eventually made his way over, and the kids on cell phones kept to themselves while everyone else worked. 
"I struggled between seeing these situations as an amazing display of independence and ownership of learning or perhaps a neglect by the teacher for the missed learning of their distracted students."
At the time, I was bothered when I saw teachers allowing students to disengage from their learning, wanting them to try something else to get that student to participate in the lesson. But now, in the thick of distance learning, I'm wondering if all that guidance and support has contributed to our students not being able to make the jump to independent learning successfully. In the U.S., teachers take on a lot of responsibility for their students' learning. In Finland, the student is expected to take more responsibility. There are pros and cons to both situations that made me stop and think deeply about my own practice. These moments are still with me today, making me question, reflect, and seek more information. That is the beauty of being tossed out of your comfort zone, the reflection process is rich and extensive.
More broadly, Finland is undergoing very similar shifts in education policies and practices to the U.S. but their approach is distinctly different. When change is on the horizon, it is up to the individual to get on board. From the Finnish educators I interviewed, it seems that to impose change on another person, no matter how well intended, is a violation of trust and professional autonomy. This was and still is hard for me to understand. My process for approaching change in education is just not done in Finland. Even my job as a science coach would not be very prevalent. I became so interested in this phenomenon. 
"I yearned to learn more about how Finnish culture creates change movements when the very idea of them seemed counter to societal norms."
Besides the two workshops I had scheduled, I was also rejuvenated by a recent visit to Schildt Secondary School where I met with their counselor, Satu, who at that very moment was knee deep in an effort to create a change movement on her campus. There were about 10 teachers on staff who were a part of an organization called Team Academy and that they were teaching them how to change the culture of the 60 or so staff members on campus. We had a lot in common and she invited me to not only be a part of the Team Academy meetings but also a guest speaker in several classes. She also introduced me to teachers who would potentially be interested in collaborative planning. This meeting was incredibly exciting! 
Opportunities were arising and I was taking them despite feeling scared and anxious. It had been a while since I was so far out of my comfort zone but I liked it. 
"The frustration, discomfort, and tendency to make quick judgements were all signs that I had a lot to learn and needed to lean in."
I was ready to find out more about how Finns approach change. This is what made the events that followed over the next two weeks so completely devastating. 
It started with an email from the U.S. State Department issuing a travel warning which was basically a strong recommendation to return home. After discussing the situation at length with my husband, Ed, and fellow Fulbrighters, we were committed to staying and were going to form a strong support network. But as events escalated our options began to become more limited. My closest Fulbright colleague was the first to leave as her family needed her home due to COVID hardships. Schools eventually shut down and we worried about being sequestered in our 61.5 m2 (660 ft2) apartment with our two loud and wild American kiddos. I'm pretty sure I cried every day for two weeks debating about what to do. I did not want to give up on the experience and I was in denial that things would progress to the point where we would have to leave. 
Things were so calm in Finland. Finland had a little toilet paper hoarding in the beginning but at home people were emptying shelves of our local grocery stores. Ed and I would joke all the time that people had been social distancing in Finland since we arrived in January.
The Finnish sense of personal space is naturally about six feet apart, a cultural difference that gave us away immediately if they didn't hear us first. We felt safe in Finland and didn't want to risk travel. When the U.S. escalated the travel warning to level 4, the State Department officially ended our Fulbright program; my ASPE travel insurance would expire within two weeks. It was also looking more and more likely that even if schools reopened in Finland, they would not allow me in as an international visitor. It was time to leave.
"In the Finnish education system there is always a route to keep learning. You can change your path, begin a new path, or return to an old one at any time but learning doesn't have a dead end… even if you have to go home."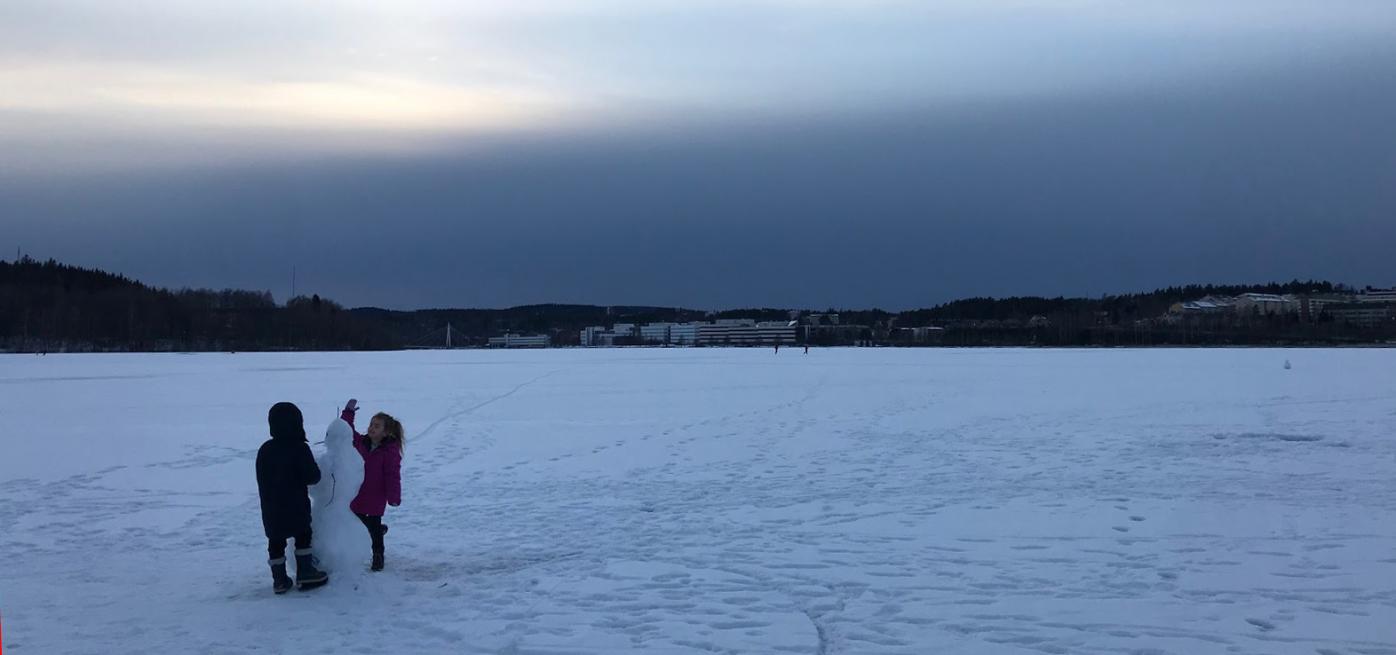 I spent one of my last (and most cathartic) days walking around Lake Jyväsjärvi with another Fulbrighter, Kelsea. We both wanted to walk around the lake at least once while in Jyväskylä and figured it was as good a time as any. The conversation was rich with stories about family history, professional and personal goals, and adjusting to life back home. Much of the discussion was rooted in our decisions around returning home and the Fulbright Program ending. We talked about the loss of not only a chance for adventure and learning but also a lost opportunity for significant personal growth. Leaving at this early stage meant losing the chance to be challenged out of our comfort zone in a way that's irreplicable at home. But Kelsea also reminded me that, just like in Finnish Education, there are no dead ends. In the Finnish education system there is always a route to keep learning. You can change your path, begin a new path, or return to an old one at any time but learning doesn't have a dead end… even if you have to go home.
Although there are definitely more similarities, I naively did not expect to find so many differences between myself and the Finns. It made me uncomfortable but I enjoyed the chance to sit in that discomfort and understand it better. At home now, that discomfort occupies my thoughts. I'm still processing my experience and am encouraged by the new understandings I've arrived at simply by stepping back and observing my life through this slightly altered lense. The more I think about it, the more I realize that I can't understand something different from me, my culture, and my norm by reading or through a virtual experience. I have to be there. I have to return. So I will. I know things will be different with new challenges and new discomforts but I will be there to grow and adventure with my charming family, accidentally creating Finnish Nightmares on busses, in grocery stores, hallways, and restaurants. 
Get ready Finland, the Ransoms are coming back!