Blog
Internationalizing Alumni: Lithuanian and Finnish Fulbrighters Discuss Collaboration in Vilnius
In December 2019, the ASLA-Fulbright Alumni Association reached beyond our annual tradition of organizing a pre-Xmas event in Helsinki – this time, we traveled to Vilnius, Lithuania.
This new international initiative was a wonderful and unique opportunity for our Association to exchange thoughts and experiences with representatives of the U.S.-Lithuanian Alumni Association, the U.S. Embassy in Vilnius, the Fulbright Finland Foundation, and current U.S. grantees in Lithuania and in Finland, paving the way for new forms and possibilities for cross-regional collaboration in the future.
The initial spark for the trip can be traced to the seminar "Truth Matters: Strategies for Combating Manipulated Realities," organized by the Fulbright Finland Foundation on March 13, 2019. Fulbright grantees and alumni from diverse Baltic and Nordic countries attended the Seminar as participants of the Fulbright Finland Foundation's Nordic-Baltic Fulbright Initiative. During this inspiring event, Lithuanian Fulbright alumni Kristina Juraité and Inga Zaksauskiene, and Finnish ASLA-Fulbright alumna Kirsi Cheas, discussed joint challenges that the seminar got us to think about: What kinds of activities could we organize to facilitate more fruitful dialogue between Fulbright alumni, current grantees, and other experts, decision-makers, and citizens in our societies, in order to combat manipulated realities and to solve other complex challenges of our times? How could we, as Fulbright alumni, contribute to the Nordic-Baltic Initiative, as part of the broader Fulbright goal to improve intercultural relations and mutual understanding between people across regions? 
We realized that these questions deserved further attention, and Kristina and Inga warmly welcomed a Finnish Fulbright delegation in Vilnius in December so that we could continue our conversations. In addition to Kristina and Inga, our ASLA-Fulbright Alumni Association is deeply grateful to Fulbright Finland CEO, Terhi Mölsä, who not only joined us on this trip, but provided enthusiastic support to our Finnish-Lithuanian alumni dialogue from the start. We also want to express profound gratitude to Public Affairs Officer Sara Veldhuizen Stealy, Alumni Coordinator Inga Sidrys, and International Exchanges Specialist Rasa Baukuviene at the U.S. Embassy in Vilnius, as well as to Auste Valinciute, president of the US-LT Alumni Association, for finding the generous time and for making the effort to host our Finnish Fulbright delegation's visit to Vilnius. We most genuinely appreciate the chance to have met many Lithuanian Fulbright alumni, including Konstantinas Andrijauskas, Auste Kiskiene, and Indre Barsauskaite, as well as current U.S. grantees in Lithuania, including Brock Mays and Abby Scripka. Our ASLA-Fulbright Alumni Association was represented by president Kirsi Cheas and vice-president Magnus Backström, and our Finnish delegation also included current U.S. grantee in Finland, Anne Yoncha, who flew to Vilnius all the way from Oulu!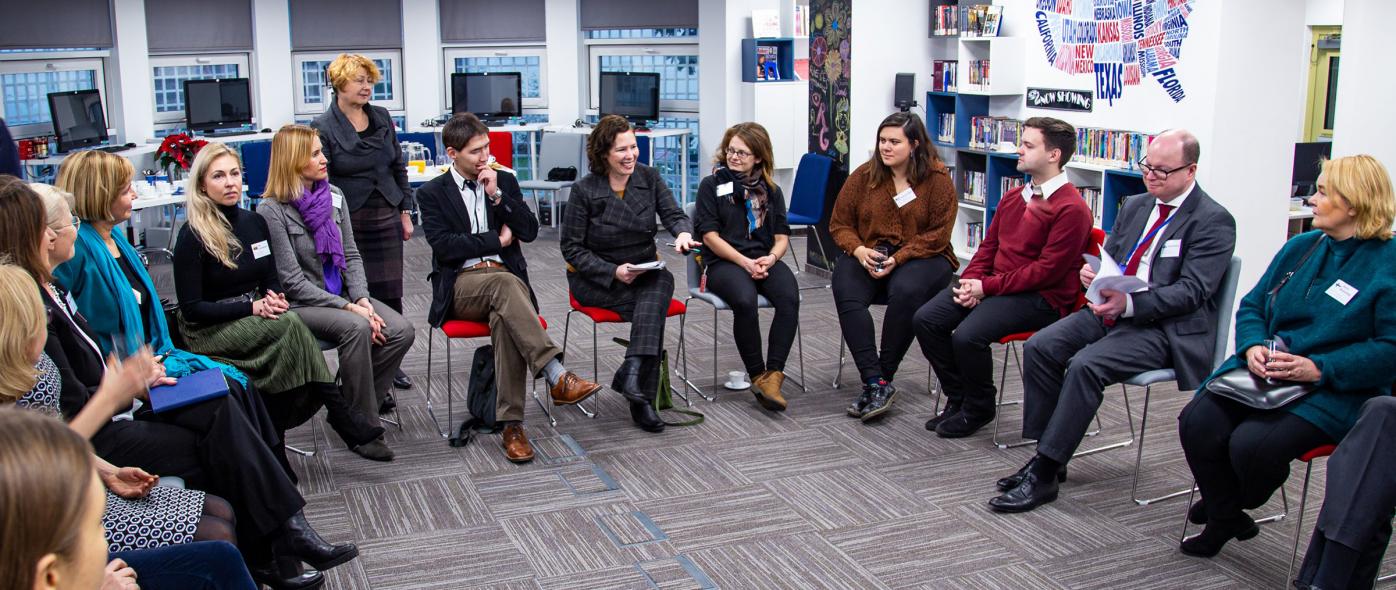 At our gathering at the U.S. Embassy on December 13, we all first introduced ourselves, after which Auste and Kirsi gave brief presentations about the US-LT and the ASLA-Fulbright Alumni Associations. Conversations between alumni were continued at the Vilnius Christmas Market and the Lithuanian alumni also led us to lovely restaurants and sights around their beautiful city. Throughout the trip and at the Embassy event, Lithuanian and Finnish alumni concurred on the primary importance of joining forces as alumni to spread more knowledge about the prestige, value, and potential of the Fulbright program among different educational, research, and other institutions in our countries. The Fulbright program regularly provides students and scholars, not only professors who have already advanced far in careers, with access to the world's finest educational institutions and with possibilities to learn from the globe's leading scholars. It is our role, and honor, as alumni associations, to provide the returning Fulbrighters and current U.S. grantees with an open environment where their capacity, potential, and role is fully recognized. Strengthened by such communities and support from other alumni, we will be better prepared to make an impact in our home countries and spread knowledge about the role of the Fulbright program into different spheres of our society. 
Despite historical differences – the US-LT Alumni Association was established in 2011, while the ASLA-Fulbright Alumni Association is among the oldest Fulbright alumni associations in the world, founded already in 1953 – our principal challenges seem to be very similar: how to manage to organize events that inspire more alumni to participate and to make a long-term commitment to the Fulbright community, so that we can truly make an impact together and support one another in a fruitful and sustainable manner. As a young association, and with far less Fulbright grantees and alumni than in Finland altogether, the US-LT Alumni Association has come up with novel means and new strategies to engage the alumni through projects of all kinds, while the ASLA-Fulbright Alumni Association builds on our long history and established events and activities which we have found functional.  The driving force behind both countries' Alumni associations, we found, is the positive energy of enthusiastic alumni, who take their Fulbright mission seriously, and the valuable support and guidance from the Fulbright Finland Foundation and the U.S. Embassy. We concluded that cross-national conversation between alumni is a great way to share best practices. We eagerly look forward to further opportunities to learning from each other, and plans for further dialogue are already under way.
Photos: U.S. Embassy in Vilnius