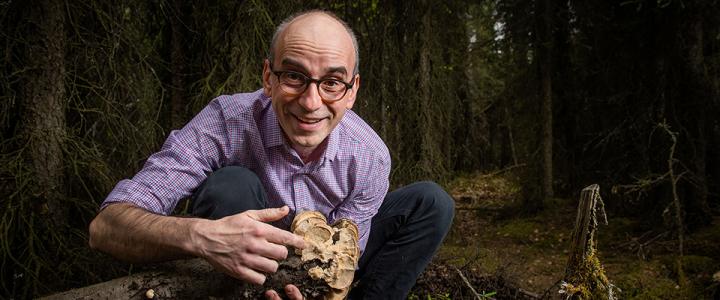 Fulbright Finland News Magazine
Boreal Forest Inspired Mycelium Materials to Solve the Plastic Pollution Crisis
In our era of disruptive climate change, we need solutions that offer alternatives to environmentally persistent and fossil fuel intensive products such as polystyrene and other plastic packaging. And we need them fast.
Boreal forests of Finland and Alaska are a rich with organisms that provide sustainable alternatives to fossil based materials. This Fulbright project centered on the synthetic biology to develop carbon-neutral forest based materials for the emerging bio-economies across the Circumpolar North.
Every day millions of containers made of plastic foam are filled with fish, vaccines, and other perishable items and shipped around the globe, emptied, and discarded. Their recycling is not cost effective. In the landfill these containers start to break up and eventually end up in our oceans. Floating in the global ocean, they are broken down into smaller and smaller pieces and never fully disappear. They are carried to the deepest oceans, the tallest mountains, and even, through the food we eat, into our bodies. Exposure to microplastics is now part and parcel of our global environmental crisis. As public health concerns over microplastics grow, health and climate action policies around the world are increasingly banning single-use plastics. However, the COVID-19 pandemic created an unprecedented increase in use single-use plastic containers to carry with no compostable or carbon neutral alternatives in sight. We must do more through applied research and innovation to solve this global problem.
As a mycologist, I was always fascinated by the biological diversity of fungi in the boreal forests covering large parts of Alaska and Finland. Many of these fungi digest cellulose in trees and create complex structures with mycelium, the root network of fungus. I thought "If we just learn from their behavior and tame these cryptic organisms to help us bio-fabricate materials that perform on par with expanded plastics we can ditch plastic foams!"
Collaboration with VTT offered a tremendous opportunity for co-inventing.
I teamed up with engineers to develop a biotechnology to "grow" a lightweight and strong material at a lab scale. The initial tests were encouraging but to develop this material we needed a strong international collaboration with a forest-based biomaterials expert. When I learned that a team of researchers at VTT has been developing methods to turn cellulose, the food source of many fungi, into a foam a lightbulb went off. I knew that by combining expertise and working side-by-side we could bring a new sustainable, safe, and insulating biomaterial to life. Thanks to the Fulbright-VTT Award in Science, Technology and Innovation, I got to work at the VTT Technical Research Centre of Finland collaborating with the wonderful group of dedicated researchers and we were able to do just that. We are currently developing bio-based alternative to plastic foams. It can be used to "grow" light and thermally insulating shipping containers and green building insulation. Best of all, mycelium-cellulose foam is safe and can be composted in your garden. Collaboration with VTT offered a tremendous opportunity for co-inventing.
As a society, Finland has invested in strong environmental conservation, great public education, and created a powerful technological base for developing pioneering biomaterials.
Right now we are developing a new mycelium-cellulose technology that we called Co-Foam. By developing forest based bio-technologies we also create a workforce of skilled professionals that integrate into the emerging circular economy in the North. We are applying Co-Foam initially to creating insulated vaccine and seafood containers because of our familiarity with, and in response to immediate demand from, these markets for a sustainable way to keep the vital medicines fresh, our fish delicious, and our planet healthy.
Philippe Amstislavski is Associate Professor of Public Health at the University of Alaska Anchorage, AK.
Read the whole Fulbright Finland News magazine 1/2021!