Alumni Open Mic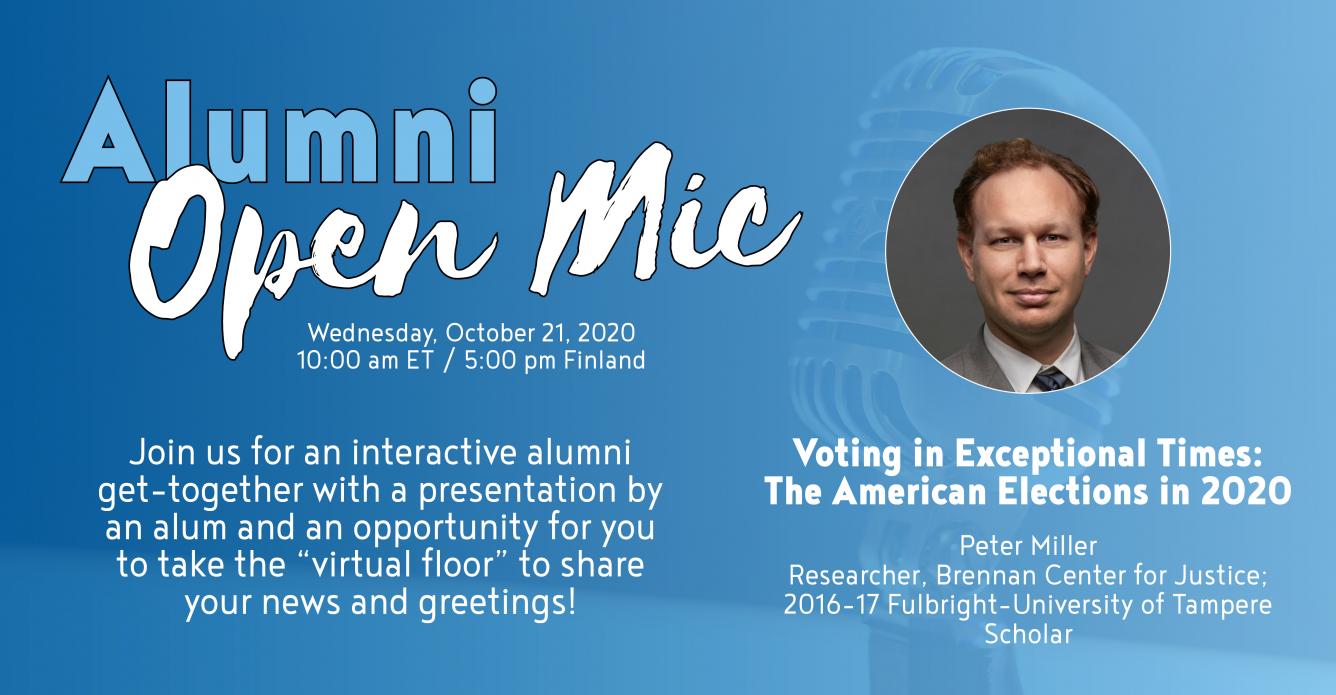 This event is by invitation only.
10:00 am ET / 9:00 am CT / 8:00 am MT / 7:00 am PT / 5:00 pm Finland 
We want to bring together for the first time ever the Fulbright Finland alumni community on both sides of the Atlantic for an opportunity to hear from an expert speaker and share your own news, stories and greetings during an alumni open mic.
The guest speaker of this inaugural event is 2016-17 Fulbright-University of Tampere Scholar Peter Miller, who will talk about the factors that make the 2020 elections distinct from what is normally expected in an election: voter registration drives are considerably down compared to 2016, turnout is expected to be quite high, in particular the rate of early and mail ballots and the election occurs during an unprecedented pandemic. The presentation will be followed by Q&A. 
Read shortened version of Peter's presentation on Fulbright Finland News magazine 2/2020: Early Voting in the 2020 American Election
We Want to Hear from You!
During the event, you will have an opportunity to let the Fulbright Finland community know what you have been up to. Share your latest news, look for new connections or just say "hi" to everyone. The virtual floor is yours. 
Registration is required, and space is limited!
Program:
(All times in ET)
9:50 Zoom Call Open
10:00-10:10 Welcome and Greetings from the Fulbright Finland Foundation
10:10-10:25 Presentation: Voting in Exceptional Times: The American Elections in 2020
Peter Miller, Researcher, Brennan Center for Justice; 2016-17 Fulbright-University of Tampere Scholar
10:25-10:45 Q&A
10:45-11:00 Alumni Open Mic - an Opportunity for You to Take the Floor
11:00-11:10 Brainstorming Activity: Share Your Ideas for the Next Alumni Open Mic Presentation Theme
11:10-11:15 Wrap-up
11:15 Event Ends