American Voices Seminar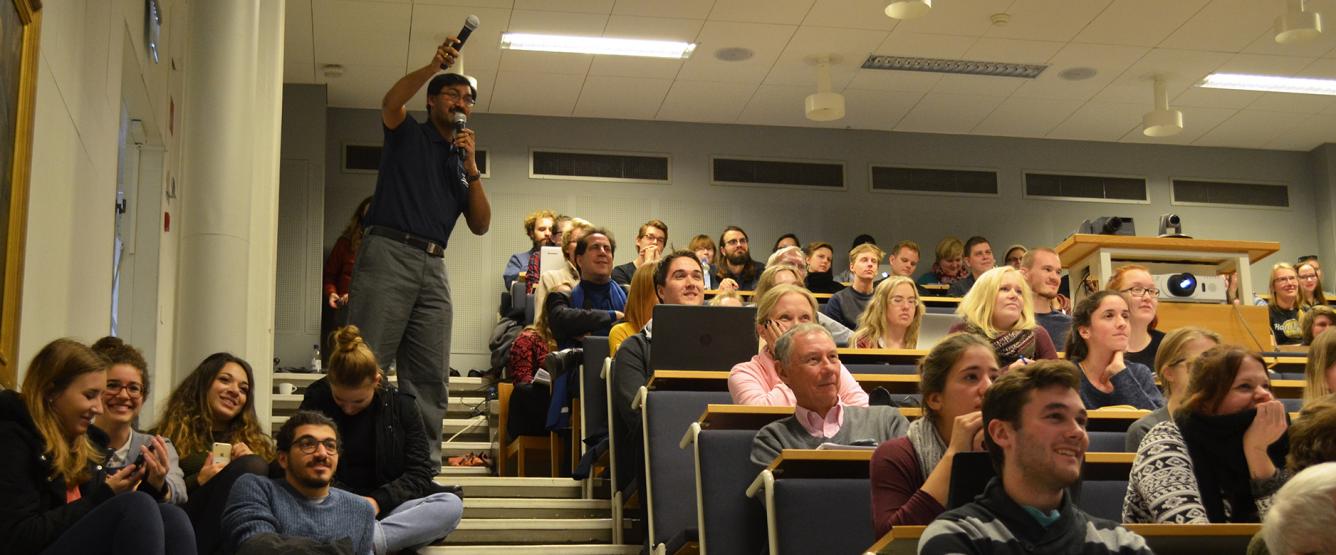 The seminar provides an opportunity to learn about various aspects of the American society and culture through the experiences of American Fulbright grantees currently in Finland. The seminar is organized by the Fulbright Finland Foundation, John Morton Center and the Department of English at the University of Turku with financial support from the U.S. Embassy in Helsinki.
The 28th American Voices Seminar takes place on October 8-9, 2021, at the University of Turku.
Program
Friday, October 8, 14:00-17:15 American Voices Seminar, Tauno Nurmela Hall
14:00–14:15 Welcome!  
Janne Korkka, Senior Lecturer, University of Turku
Piia Björn, Vice Rector, University of Turku; Member of the Fulbright Finland Foundation Board of Directors
Terhi Mölsä, Chief Executive Officer, Fulbright Finland Foundation
14:15–15:00 Social Issues in the U.S.
Presenters: Fred Markowitz, Erika Benson, Steven Livingston, Aditya Johri
Chair: Leasa Weimer
15:00–15:05 Greetings from the Fulbright Finland Foundation
15:05–15:35 Refreshment break
    
15:35–16:20 Finnish American Communities and Traditions Today
Presenters: Mirva Johnson, Emma Mulhern, Sean Wachsmuth, Alyssa Rodriguez
Chair: Janne Korkka
16:20–16:30 Break
    
16:30–17:15 Collegiate Sports Mascots
Speakers: Brian Chabowski, Sujata Ramnarayan, Laurel Anderson, Paul Heald
Chair: Janne Korkka
Friday, October 8, 14:00-17:15 American Voices Seminar, Säästöpankki Hall
14:00–14:15 Welcome! (livestreamed from Tauno Nurmela Hall)
Janne Korkka, Senior Lecturer, University of Turku
Piia Björn, Vice Rector, University of Turku; Member of the Fulbright Finland Foundation Board of Directors
Terhi Mölsä, Chief Executive Officer, Fulbright Finland Foundation
14:15–15:00 Teacher Activism on TikTok
Presenters: Kathlyn Elliot, Claire Ramsey, Jessica Stargardter
Chair: María Gutierrez Bascon
15:00–15:05 Greetings from the Fulbright Finland Foundation  
15:05–15:35 Refreshment break
15:35–16:20 The American "Great Outdoors"
Presenters: Kent Johnson, Mark Hersey, Selina Gallo-Cruz, Patrick Crowley
Chair: Pekka Kolehmainen
16:20–16:30 Break
    
16:30–17:15 American College Football
Speakers: Salena Bantz, Christopher Zirkle, Laura Alderfer
Chair: Reetta Humalajoki
Saturday, October 9, 10:15-12:30 American Voices Seminar, Tauno Nurmela Hall
10:15–11:00 American Views on Race
Presenters: Rachel Szekely, Jade Roberts, Abraham Kipnis, Kenn Oldham
Chair: Janne Korkka
11:00–11:30 Refreshment break
11:30–12:30 Queer Language and Culture
Presenters: Devina Boughton, Meg Jones, Andreas Nolan, Isabel Coppola, Chelsea Bihlmeyer
Chair: Janne Korkka
12:30 Closing Words 
Saturday, October 9, 10:15-12:30 American Voices Seminar, Säästöpankki Hall
10:15–11:00 Niche American Daily Life
Presenters: Chloe Kiernicki, Macey Higdon, Edward Stevens, Paul Berger
Chair: Ira Hansen
11:00–11:30 Refreshment break
11:30–12:30 Melting Pot: American Food Culture
Presenters: Caitlin Morris, Tiffany Wang, Giana Ortiz, Jack Garrett, Mikaela Peters
Chair: Pekka Lintunen
12:30 Closing Words 
CVs of American Voices speakers, and other 2021-22 U.S. Fulbright grantees to Finland

Previous American Voices programs
| | |
| --- | --- |
| 27th American Voices | The 27th American Voices seminar took place on October 11-12, 2019, at the University of Turku |
| 26th American Voices | The 26th American Voices Seminar took place on October 12-13, 2018, at the University of Turku. |
| 25th American Voices | The 25th American Voices Seminar took place on October 6-7, 2017, at the University of Turku. |
| 24th American Voices | The 24th American Voices Seminar took place on October 7-8, 2016, at the University of Turku. |
| 23rd American Voices | The 23rd American Voices Seminar took place on on October 9-10, 2015, at the University of Turku. |
| 22nd American Voices | The 22nd American Voices Seminar took place on on October 10-11, 2014, at the University of Turku. |
| 21st American Voices | The 21st American Voices Seminar took place on on October 11-12, 2013, at the University of Turku. |
| 20th American Voices | The 20th American Voices Seminar took place on on October 12-13, 2012, at the University of Turku. |