American Voices Seminar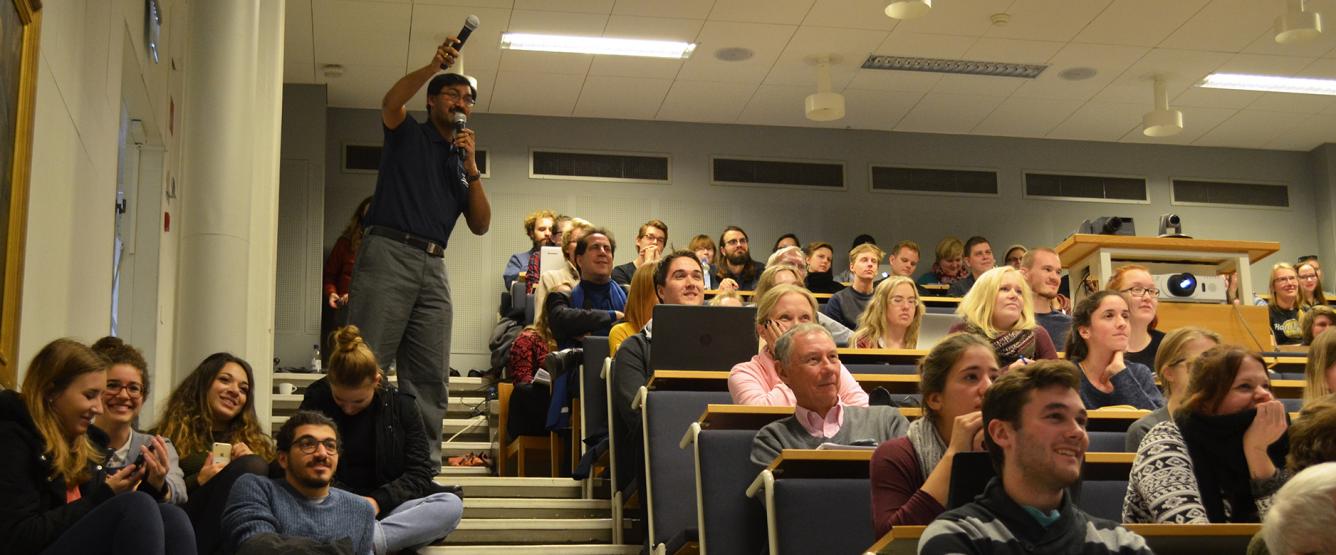 The seminar provides an opportunity to learn about various aspects of the American society and culture through the experiences of American Fulbright grantees currently in Finland. The seminar is organized by the Fulbright Finland Foundation, John Morton Center, and the Department of English at the University of Turku.
The 29th American Voices Seminar takes place on October 7-8, 2022, at the University of Turku.

See the CV catalogue of the 2022-23 U.S. Fulbrighters in Finland.
Seminar Program
Friday, October 7
Tauno Nurmela Hall, University of Turku Main Building
14:00–14:15 Welcome! 
Janne Korkka, Senior Lecturer, Department of English, University of Turku
Piia Björn, Vice Rector, University of Turku; Member of the Fulbright Finland Foundation Board of Directors
Terhi Mölsä, Chief Executive Officer, Fulbright Finland Foundation
14:15–15:00 This Land is Your Land: Acknowledgement of Native People
Presenters: David Tallmon, Allen Malony, Samuel Abrams, Neetika Rastogi
Chair: Benita Heiskanen, Professor, John Morton Center
15:00–15:05 Greetings from the Fulbright Finland Foundation 
15:05–15:10 Special Announcement   
15:10–15:40 Refreshment break
    
15:40–16:25 American College 101
Presenters: Joseph Zinno, Maureen Mascha, Nicholas Zdroy, Claire Agee
Chair: Pekka Kolehmainen, Postdoctoral Researcher, John Morton Center
16:25–16:35 Break
    
16:35–17:20 Finnish Nightmares, American Daydreams - and Real-life Experiences in Between 
Presenters: Susanna Monseau, Jeffrey Anker, Anita Wagner, Mike Putman
Chair: Janne Korkka, Senior Lecturer, Department of English, University of Turku
End of program on Friday
Saturday, October 8
Tauno Nurmela Hall, University of Turku Main Building
10:15–11:00 American Outlaws, Gangsters, and the Search for the Notorious Jimmy Hoffa
Presenters: David Duncombe, Hui Yang, Abigail Smiles, David Witwer
Chair: Tuula Kolehmainen, Adjunct Lecturer, John Morton Center
11:00–11:30 Refreshment break
11:30–12:00 Religion in Modern America
Presenters: Erica West, Peter Amicucci, Casey Paulson
Chair: Mila Seppälä, Doctoral Researcher, John Morton Center
12:00–12:45 Adventures in American Dining 
Presenters: Timothy Sowa, Irina Wang, Stephanie Davidson-Mendez, Patricia Donahue
Chair: Janne Korkka, Senior Lecturer, Department of English, University of Turku
12:45 Closing Words 
Previous American Voices programs
| | |
| --- | --- |
| 28th American Voices | The 28th American Voices seminar took place on October 8-9, 2021, at the University of Turku |
| 27th American Voices | The 27th American Voices seminar took place on October 11-12, 2019, at the University of Turku |
| 26th American Voices | The 26th American Voices Seminar took place on October 12-13, 2018, at the University of Turku. |
| 25th American Voices | The 25th American Voices Seminar took place on October 6-7, 2017, at the University of Turku. |
| 24th American Voices | The 24th American Voices Seminar took place on October 7-8, 2016, at the University of Turku. |
| 23rd American Voices | The 23rd American Voices Seminar took place on on October 9-10, 2015, at the University of Turku. |
| 22nd American Voices | The 22nd American Voices Seminar took place on on October 10-11, 2014, at the University of Turku. |
| 21st American Voices | The 21st American Voices Seminar took place on on October 11-12, 2013, at the University of Turku. |
| 20th American Voices | The 20th American Voices Seminar took place on on October 12-13, 2012, at the University of Turku. |